Hong Kong's lucky mobile number hawkers revealed
Superstitious Chinese snap up auspicious digits
---
It takes just a few minutes and a handful of metro stops to travel from Hong Kong Island to the Kowloon neighbourhood Sham Shui Po (SSP), but the journey takes you to a different world.
Hong Kong Island is a shining consumer paradise. SSP offers a bustling market where Hong Kong's entrepreneurial streak has collided with Chinese superstitions to produce stalls at which chain-smoking hawkers flog 'lucky' mobile phone numbers for as much as £500 a pop.
The luckiest numbers rely on homonyms. Eight is therefore probably the most auspicious number, as the word for eight in Cantonese (baat) and Mandarin (ba) sounds similar to the word for 'fortune' (faat/fa). It's why the Beijing Olympics was timed to begin on 8/8/08 at exactly 8 seconds and 8 minutes past 8:00PM.
The number six is also lucky as it sounds similar to the word for fluidity, and is therefore good for business, while seven symbolises togetherness and nine has connotations of longevity. You'll not find a four in any of these prized phone numbers, though, as that sounds like the word for death – the more fours the worse luck.
Numbers dominated by eight, seven and six are therefore in demand, and such is the local ardour for a lucky number that a mini industry operating on the margins of the law has grown up over the past 15 years.
Hong Kong's government has even consulted on the idea of allowing mobile operators to auction off particularly felicitous numbers to the public for one-off sums under a Special Number Arrangement. The idea never made it into law.
But if you walk down down the bustling street markets of SSP and to a lesser extent Mong Kok, you're still a chance of landing a fortunate phone number.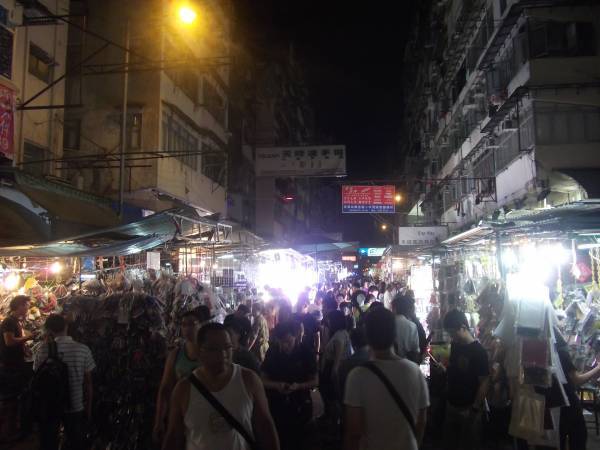 Bustling Sham Shui Po at night
These neighbourhoods are a world away from other Hong Kong locales. In Tsim Tsa Tsui, just a couple of kilometres away, mainland tourists bling themselves up in a manner that would have Mao turning in his grave.
SSP, by contrast, is Hong Kong's answer to Tokyo's Akihabara: numerous stores and market stalls sell everything from surveillance cameras to iPhone 5s, analogue radio gear to vintage 1940s-era cameras, and a whole range of second hand smartphones.
Once home to a bustling trade in counterfeit electronics goods, SSP is largely legit today thanks to a crackdown by local police.
But in among the melee of these pedestrianised streets around the metro station, the eagle-eyed tourist can spot hawker stalls bedecked with lists of apparently random phone numbers. Some are priced as low as HK$100 (about £9) but the most expensive spotted by The Reg was a whopping HK$6800 (£543) for the mobile number: 6983 7777.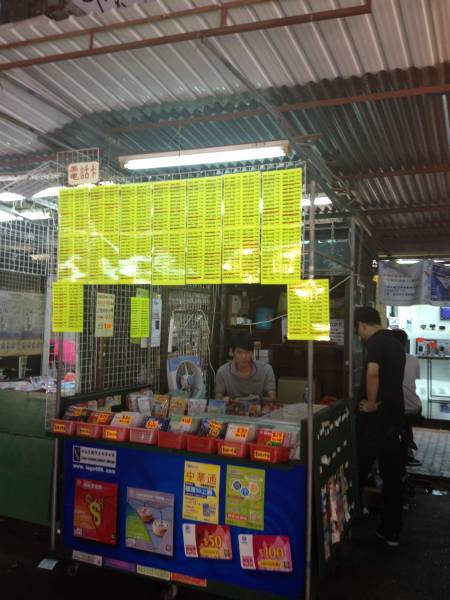 Getting these no-nonsense traders to open up can be a tad problematic for the average gweilo*, even with an interpreter in tow.
We were told, before being dismissed as non-buyers and ignored in favour of customers whose chat may actually translate into a sale, that blocks of felicitous numbers are the most highly prized, which explains the price tag for the digits above
So are these jumped-up phone number-sellers innocent small business owners or engaged in some typically sketchy market-trader dealings designed to exploit local superstitions?
Wong Cheuk Bun, a writer with local tech blog TechBeer, told The Reg that they are definitely selling the numbers legally, although there's no guarantee the sellers are not gang-related in some way.
Where lucky numbers come from
The numbers in question are obtained two ways. The first is if the owner of one decides to try and sell it on for a profit. The second, more common, method is by buying up pre-paid SIMs – they can be purchased in 7-11s, for example – and activating the randomly assigned number to see if it is felicitous.
"If the numbers are lucky they will keep it to sell. If the number is generic they will repackage it and sell it at a bargain price. Typically those SIM cards are nearly void because these cards are idle for a while and not recharged," Wong explained.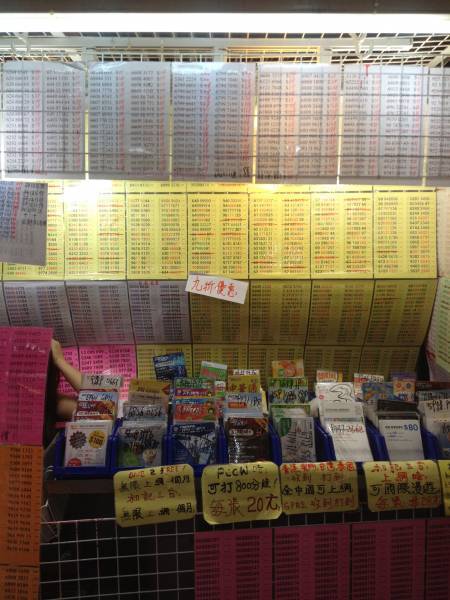 Once a user has bought one they'll find it pretty easy to port over to their contract/smartphone thanks to a number interchange agreement between local operators, however if for some reason the purchased number doesn't work they could be in for a lengthy chat with the operator and the Office of the Communications Authority (OFCA), Wong cautioned.
While the trend of owning lucky numbers has spread to Taiwan and mainland China – it extends to car number plates too, of course – it was Hong Kong where it all started, and it shows no signs of wearing thin, even among the more street-wise younger generation.
A very unscientific straw poll conducted by The Reg among 20-30 year old Hong Kongers found that although only half had visited a hawker, 90 per cent said they believed in lucky numbers and would change their phone digits if necessary. ®
*A Chinese term for a foreigner. Considered self-deprecation when used by a gweilo, but can be very rude when aimed at someone else.