Yes, it's called the iPad mini – and that was one of the few heretofore unknown facts about the new iPad that Apple rolled out at its "a lttle more" event on Tuesday in San José, California.
That and its price: $329 for the entry-level, Wi-Fi model. Pre-announcement speculation was somewhere in the $299 range, with some overly optimistic prognosticators hoping for $249.
The new li'l brother of the iPad – which itself has been upgraded to a fourth-generation model; more on that in a moment – will be available in 16GB, 32GB, and 64GB models, each in Wi-Fi and Wi-Fi + Cellular models: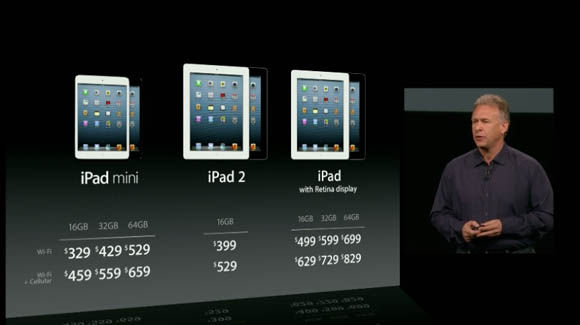 Apple's marketing honcho Phil Schiller reveals the pricing of the full iPad line
A glance at the iPad mini's tech specs reveals the alphabet soup of its Wi-Fi and Wi-Fi + Cellular models. Essentially, the Wi-Fi model supports 802.11a/b/g/n, with n including the 2.4GHz and 5GHz bands, plus Bluetooth 4.0. The more-connected model comes in two versions, one which supports GSM/EDGE plus a plethora of other standards, including LTE bands 4 and 17, and another adds CDMA EV-DO Rev. A and Rev. B, that aforementioned plethora, plus LTE bands 1, 3, 5, 13, and 25.
Pre-announcement rumors put the display at 7.85 inches, but Apple calls the display 7.9 inches. Presumably they're merely rounding up – perhaps because, as Apple's head of worldwide marketing Phil Schiller said in his rollout talk, referring to the larger iPad's 9.7-inch display, "So that's easy to remember, right? Nine-point-seven, seven-point-nine."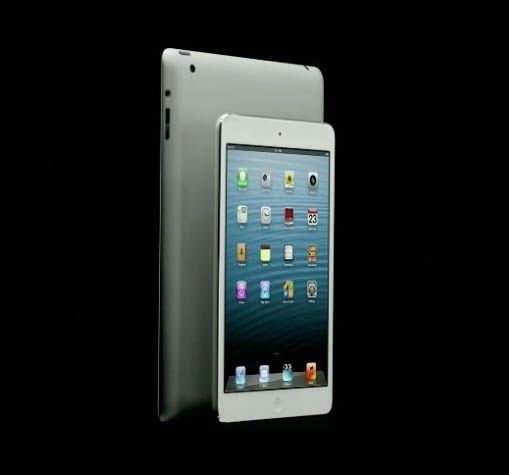 The new iPad mini riding piggy-back on its also-new big brother, the fourth-generation iPad
Despite the display-size difference, both iPad sizes have a display resolution of 1024-by-768 pixels – that is, if you're talking about the iPad 2, which, rumors to the contrary aside, remains part of the iPad line. In the third-generation iPad, that resolution was bumped up to a Retina Display resolution of 2048-by-1536 pixels. The iPad mini eschews the Retina Display.
The iPad mini is powered by an Apple A5 processor, has a claimed battery life of 10 hours, and connects via the Lighning port introduced in the iPhone 5.

Thin enough for you?
That Apple-specific port has also made its way to the new fourth-generation iPad, also announced on Tuesday. It's powered by a new A6X chip, which Schiller said doubles both CPU and graphics speeds. "We were already so far ahead of the competition, this just ... I can't see even them in the rearview mirror."
In addition to the increased CPU and graphics performance, Schiller cited a new-generation image signal processor in the A6X, which he claimed will improve "tasks like face recognition and image stabilization," and he promised that despite the improvements in the A6X's performance, the fourth-generation iPad will maintain the 10-hour battery life of its predecessors.
But back to the iPad mini, which Schiller said is "not just a shrunken-down iPad." Shrunken it is, though: it weighs in at about two-thirds of a pound (a bit over 300 grams), and is 0.28-inch (7.2mm) thick – a thickness he compared to that of a pencil. The top-of-the-line iPad weighs over twice as much and is 2.2mm thicker.
Schiller spent a goodly amount of time comparing the iPad mini to a 7-inch Android tablet – and as you might expect, he prefers the mini. He showed a few examples of the iPad's tab-less iOS 6 Safari browser versus an Android browser, and claimed that Safari's cleaner interface showed 49 per cent more web-page real estate in portrait mode, and 67 per cent more in landscape mode.
He didn't compare prices. At a base price of $329, the 16GB iPad mini is a hefty step up from the – arguably less elegant – 7-inch, 16GB Kindle Fire HD, which can be had for a mere $199, a price kept low presumably by Amazon's desire not to make money on hardware, but rather on content purcahses from its online store.
It's going to be an interesting holiday shopping season. ®
Similar topics