This article is more than 1 year old
Apple's skinny new iMac line: Farewell, optical drives
Adds 'Ivy Bridge' processors; removes built-in CD, DVD spinners
The new 7.85 7.9-inch iPad mini and the upgraded fourth-generation iPad weren't the only bits of kit featured during Apple's "a little more" event this Tuesday in San José, California. Also announced was Apple's new eighth-generation iMac lineup.
Sadly, the event also signaled the end of the presence of optical drives built into Apple's desktop machines.
The four new iMacs – two each of 21.5-inch and 27-inch models – were touted by Apple's marketing chieftan Phil Schiller as having "an amazingly thin edge" that's a mere "5 millimeters thin."
Thin is elegant and all, but such a sylphlike dimension makes the inclusion of a built-in optical drive an impossibility. An SDXC card slot remains, but it's now on the back of the all-in-one, and not on the more easily accessible side, as it was previously.
Schiller made Apple's intentions to eventually eliminate optical drives from their remaining homes in the non-Retina Display MacBook Pros and the all-but-forgotten Mac Pro when, discussing iMac options, he said, "And for those who are still are stuck in the past, yes, you can get an optical drive; we offer a great [$79] SuperDrive that plugs into USB."
Stuck in the past, indeed – he's referring to a past in which you could easily install software from a third-party CD or DVD rather than from Apple's online Mac Store, or watch DVD-based movies rather than ones downloaded from the iTunes Store.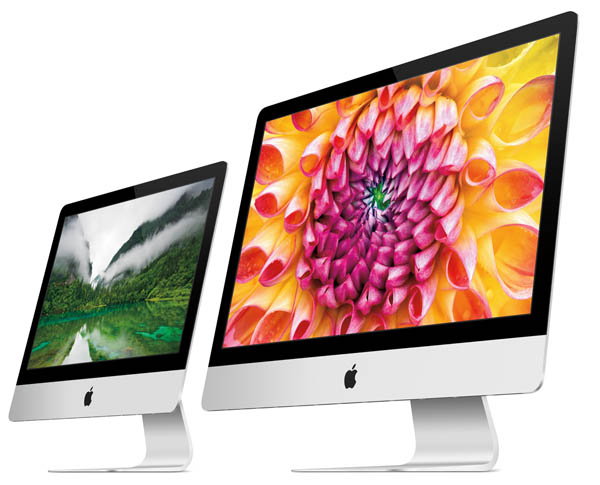 The new eighth-generation iMacs: 21.5-inch and 27-inch
This further increase of Apple's control over your content-access options, however, is offset in part by some of the advances in the new iMacs. For example, the new iMacs are powered by 2.7GHz to 3.2GHz quad-core 3rd Generation (aka "Ivy Bridge") Intel Core i5 processors in the stock models, with 3.1GHz and 3.4GHz quad-core 3rd Generation Core i7s available as options for the top 21.5- and 27-inch models, respectively.
Graphics specs now range from the "Kepler" Nvidia GeForce GT 640M with 512MB of GDDR5 memory at the entry level up to a GeForce GTX 675MX with 1GB of GDDR5 memory at the top end. A GTX 680MX with 2GB of GDDR5 memory is an option on the top-of-the-line model only.
Stock hard-drive storage is 1TB across the line, with the 21.5-inch models' drives spinning at 5400rpm, and the 27-inchers at 7200 rpm. Options include a 1TB Fusion Drive – which The Reg discussed earlier – on the 21.5-inchers, and a 3TB hard drive, 1TB or 3TB Fusion Drive, or 768GB SSD on the 27-inchers.
In addition to the SDXC slot mentioned above, the new iMacs' portage is what you might expect: four USB 3.0, two Thunderbolt, a Mini DisplayPort, and an RJ-45 port for 10/100/1000BASE-T Ethernet. Wireless connections include 802.11a/b/g/n Wi-Fi and Bluetooth 4.0.
To achieve its extreme thinness, the iMac's display is laminated directly to its glass, a process that Schiller said shaved 5mm off its thickness. "That's a huge difference," he enthused, noting that the entire display system is 45 per cent thinner than previously. The IPS displays' resolutions, by the way, are 1920-by-1080 pixels in the 21-inch models and 2560-by-1440 in the 27-inchers.
Apple has also responded to complaints from more than a few iMac owners that their displays were too susceptible to glare by adding what Schiller referred to as a "plasma deposition" process that added a nanometer-thick anti-reflective coating to the new displays.
"You can go home and tell people, 'Today I heard about plasma deposition'," Schiller said with a wee bit of condescension. He neglected to add, however, that you can also go home and tell people, "Today I heard about the end of optical drives in desktop Macs." ®