Remember the Mac mini? That cute li'l system that found its way into everything from server closets to DeLoreans? Well, Apple remembers it as well, and at Tuesday's "a little more" event, Cupertino gave the little fellow its first upgrade in well over a year.
The new Mac mini desktop model is available in two versions, one with a 2.5GHz dual-core Intel 3rd Generation (née "Ivy Bridge") Core i5 with 3MB L3 cache for $599, and a $779 model that's powered by a 2.3GHz quad-core 3rd-gen Core i7, and which can be optionally configured with a 2.6GHz part.

The new Mac mini looks the same on the outside; the changes are in its aluminum-clad innards
The entry-level model has a 500MB hard drive, which the pricier Mac mini doubles to 1TB; both spin at 5400rpm, and a 256GB SSD is available as an option. Stock RAM in both is two 2GB sticks of 1600MHz DDR3 memory, which can be upped to a total of 8GB or 16GB.
A $999 Mac mini server option is also availble, which includes the same 2.3GHz quad-core 3rd-gen Core i7 with 4GB of RAM, but with two 1TB hard drives inside. The server system includes a copy of OS X Server running atop OS X Mountain Lion.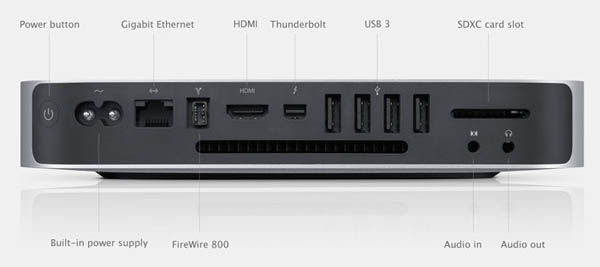 FireWire, Thuderbolt, HDMI, and SDXC carry over from the 2011 version, but USB has been upgraded to 3.0
Cosmetically, the Mac mini is its same cute, accessible self, but turn it around and you'll find one addition to its assortment of ports: four USB 3.0 ports have been added, joining one each Thunderbolt, HDMI, SDXC, 10/100/1000BASE-T RJ-45 Ethernet, audio in and out, and – in a nod to Mac mini users with legacy hard drives – FireWire 800. As before, wireless connnectivity includes 802.11a/b/g/n Wi-Fi and Bluetooth 4.0.
According to Apple marketeer Phil Schiller, "Mac mini is still the world's most energy-efficient desktop – at idle it consumes just 11 watts."
To our eyes, it's also the world's most underappreciated desktop: affordable, compact, and unpretentious. ®