Oldest unreadable alphabet yields to 'tablet' computer
Translation breakthrough close, thanks to camera-in-LED-dome boffinry
---
A new apparatus called the Reflectance Transformation Imaging (RTI) System for Ancient Documentary Artefacts developed by the University of Southampton has brought Oxford boffins closer to deciphering the world's oldest unreadable alphabet.
Described in this paper (PDF), the RTI machine comprises an off-the-shelf Nikon D3X DSLR that sports a 24.5 megapixel CCD. The camera is harnessed to a dome a meter in diameter, the inside of which is studded with 76 LEDs.
An Oxford statement says the RTI works as follows:
"76 photos are taken each with one of the 76 lights individually lit. In post-processing the 76 images are joined so that the researcher can move the light across the surface of the digital image and use the difference between light and shadow to highlight never-before-seen details."
Revealing small details is very useful for the study of objects like Cuneiform tablets published by the Cuneiform Digital Library Initiative (CDEI). Reg readers who paid attention in Classics classes will recall Cuneiform was a system of writing used in ancient Sumeria, where pre-classic boffins hit on the idea of writing by pressing a triangular stylus into small tablets of wet clay. Numerous cuneiform tablets have survived and CDEI pops as many as it can online to help scholars around the world understand ancient Sumer.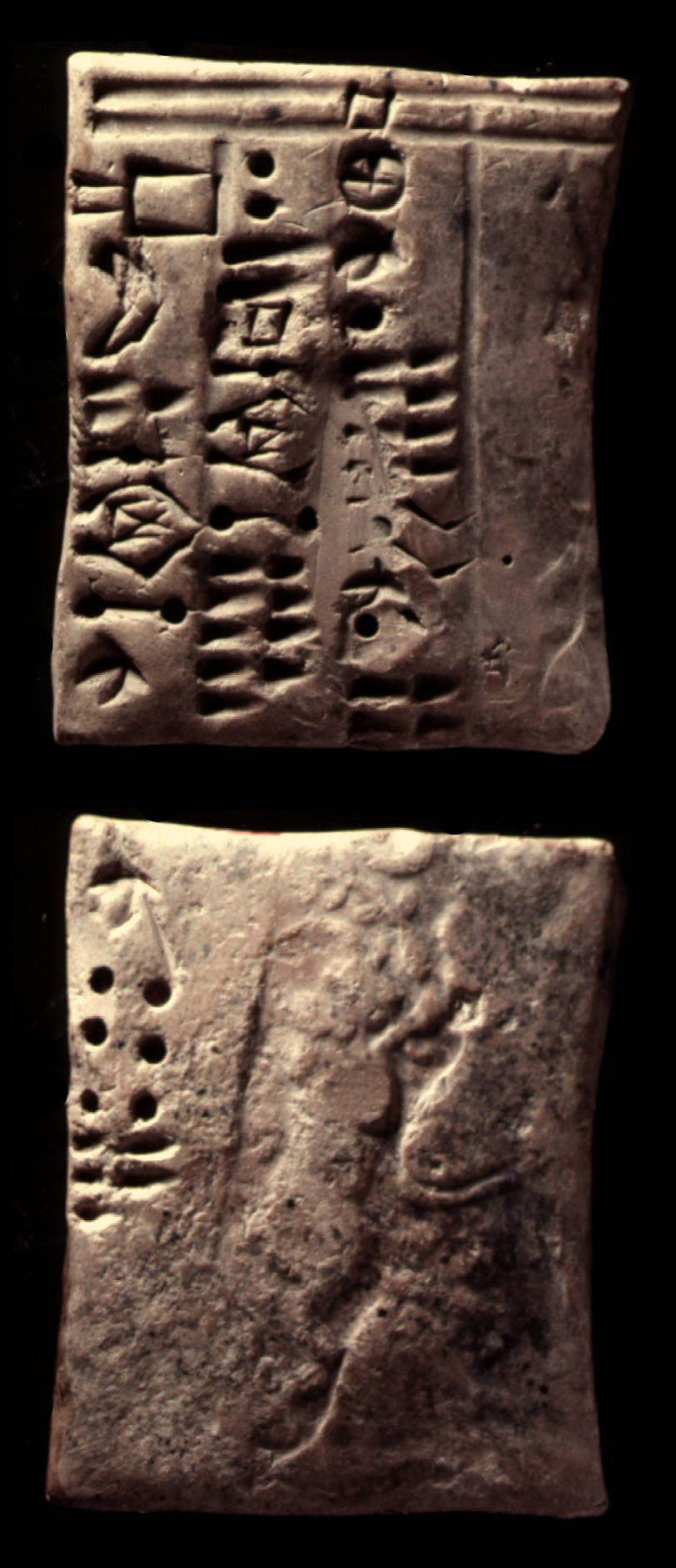 A pair of proto-Elamite tablets
imaged by the RTI.
Click here for a larger image
Clay, however, degrades over time, which can make reading some tablets tricky. That's not helped scholars trying to work with variants of Cuneiform, such as one called proto-Elamite. Dr Jacob Dahl, a co-leader of CDEI and a member of Oxford University's Faculty of Oriental Studies, says he has spent ten years trying to make sense of proto-Elamite without success.
But with the RTI at his disposal, Dr Dahl says a breakthrough is imminent. Or at least possible in about two years, which may as well be imminent given proto-Elamite was last in use about 5000 BC.
"The quality of the images captured is incredible," he said in an Oxford-issued statement. "And it is important to remember that you cannot decipher a writing system without having reliable images because you will, for example, overlook differences barely visible to the naked eye which may have meaning. Consider for example not being able to distinguish the letter i from the letter t."
The sharpness of the RTI-derived imagery will mean CDEI can post ultra-clear images on its site, allowing Cuneiform buffs the planet over the chance to decipher tablets written in proto-Elamite. More scholars working on better images, Dahl hopes, will allow us to once again read proto-Elamite.
And Dahl thinks there's plenty worth reading among the tablets, 1100 of which CDEI has borrowed from the Louvre Museum to digitise with the RTI.
"Looking at contemporary and later writing systems, we would expect to see proto-Elamite use only symbols to represent things," he says in the statement. "But we think they also used a syllabary – for example 'cat' would not be represented by a symbol depicting the animal but by symbols for the otherwise unrelated words 'ca' and 'at'." Proto-Elamite seems to be the first written language to do so, meaning a translation would offer new insights into the history of written language.
We'll let you know if they figure out how the proto-Elamites wrote 'vulture'. ®