This article is more than 1 year old
WD blames hard drive woes on dominant mobile gear, feeble PCs
Platter patter foretells a bleak midwinter
Western Digital's disk sales slumped in its last quarter, leading to lower revenue and profit than in the previous three months. Its next quarter is going to be even worse.
Revenues in WD's Q1 of fiscal 2013, ended 28 September, amounted to $4bn, 17 per cent less than the $4.8bn a quarter before. And Q1 was the first quarter to include Hitachi GST revenues as a result of the acquisition completing, so comparing the first quarter of fiscal 2013 with the same period in fiscal 2012 is pointless.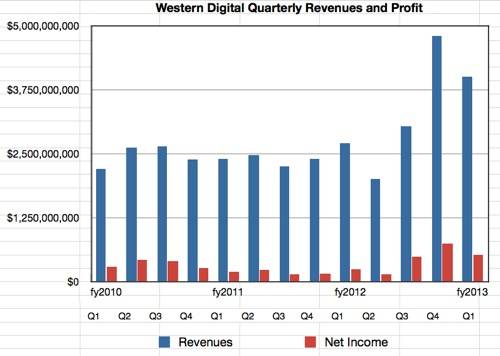 Net profit was $519m, representing a 30 per cent fall from the previous quarter's $745m - but it was $280m higher than a year ago, a 117 per cent increase on Q1 2012's $239m.
The reason for the sequential fall in revenue and profit was that 62.5 million disk drives were sold in the quarter, 12 per cent less than the previous quarter - disk drive demand went down. Why was that? CEO John Coyne said: "The macroeconomic environment is dampening near term demand." The company says it's confident that long-term demand is growing.
President Steve Milligan went into this in more detail in the earnings call: "There are several dynamics currently limiting market demand: first, global macroeconomic weakness, which is impacting overall IT spending; second, product transitions in the PC industry; and third, the continued adoption of tablets and smartphones, which is muting PC sales growth."
Disk sales should grow about three per cent in the long-term, WD reckons, because customers have to "store, manage and connect the massive and growing amounts of digital data in their personal and professional lives. This opportunity extends well into the future".
Milligan outlined three ways WD hopes to build sales in the future:
Hybrid disk-and-flash drives for thin and light mobile devices
A wad of enterprise products including high-performance SSD gear, and high-performance and large-capacity hard disks using sealed drives filled with low-friction helium
Providing easy-to-use home backup systems and removable storage
CFO Wolfgang Nickl said sales to computer manufacturers represented 63 per cent of revenue; distribution channel sales totalled 24 per cent; and retail sales added 13 per cent.
The big question is: will demand actually recover? Competition from flash-based tablets and notebooks will continue although hybrid drives could reduce the impact of pure solid-state rival storage. Windows 8 could reignite PC demand. The overall economic environment seems somewhat stable these days: we're all waiting for changes in China, the euro situation to grind to some kind of conclusion, and the outcome of the looming US presidential election. Nothing is going to happen quickly.
Nickl expects the next quarter's revenues to be between $3.55bn and $3.7bn; demand is continuing to go down, with Nickl referring to "the muted demand environment, a seasonal reduction in our gaming business and a planned reduction of our 3.5in contract manufacturing for Toshiba". A bleak mid-winter is coming. ®