EMC has scraped year-on-year revenue and profit hikes for its third 2012 quarter but reported ever-so-slightly lower numbers than the second quarter, a pattern not seen in the past two years.
Quarterly revenues were $5.28bn with net profits of $626m. This revenue was up 6 per cent year-on-year and down 0.56 per cent sequentially. Profits were up 3.3 per cent annually but down 3.7 per cent sequentially. These revenue and net profits numbers were below estimates from Wall Street analysts.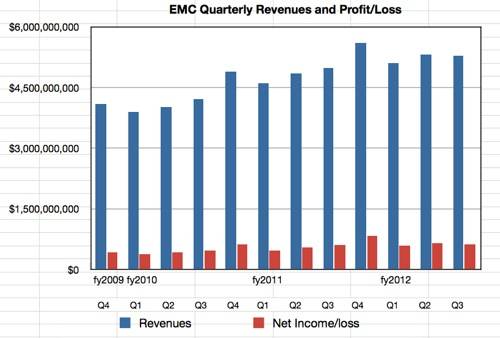 EMC quarterly revenue and profits history to Q3 cy2012
These are the bald numbers. What's behind them? The economy is softening but EMC is weathering that quite well, with CEO and chairman Joe Tucci saying: "EMC's third-quarter revenue and profit growth reflect the resiliency of our business in a more uncertain global economic environment."
COO and president David Goulden said: "For the third quarter, EMC's business continued to grow faster than overall IT spending growth and we gained market share in what turned out to be a more cautionary environment than we expected heading into the quarter. Going forward, we fully believe that EMC will continue to grow faster than our addressable markets and take share, reinvest for the future, and deliver earnings leverage for shareholders."
EMC stated that, on a year-on-year basis:
Revenue from networked storage platforms portfolio, which includes its high-end and mid-tier storage platform products, grew 2 per cent.
Revenue from high-end Symmetrix storage product portfolio, including VMAX, increased 5 per cent.
Revenue from the company's portfolio of mid-tier storage products showed no growth.
Revenue from the RSA Information Security business increased 6 per cent
VMware revenues grew 20 per cent.
More than 300 VSPEX converged system template products have been sold since April this year. The company said demand for Isilon scale-out filers, its backup and recovery systems products, such as Data Domain, Greenplum analytics products, and the VCE converged Vblock systems business all grew but didn't call out any numbers, suggesting that none of them grew more than in the low single digits.
Big Data isn't being translated into big sales.
The outlook is for full 2012 year revenues of $21.6bn to $21.75bn, both higher than 2011's $20bn. That means fourth quarter revenues of between $5.91bn and $6.06bn. Either would be a record. Wall Street was expecting that to be higher too.
Is such a sharp jump in fourth quarter revenues achievable, given a pattern of results from other companies, such as WD, that show a dampening of demand continuing into the fourth quarter? Customers might find their EMC sales reps are more willing to deal than normally as they try to close business in the quarter.
The shares are down 1.44 per cent on the day so far, at $24.68, continuing a decline from $28.2 seen on 21 September, and $29.88 on 3 March. This shareholder value increase thing doesn't seem to be working. ®