One of Australia's two active volcanoes seems to be erupting.
We say seems because the volcano in question, on Heard Island, is located in the southern reaches of the Indian Ocean, 2000km north of Antarctica and closer to Africa than to Australia. That's about as close to the middle of nowhere as it is possible to be.
Heard Island and its neighbour MacDonald Island are Australian territories and are uninhabited, but each possesses an active volcano. Scientific expeditions venture there infrequently, due to conservation issues and the fact the islands have a wretched climate, are thousands of miles from anywhere nice and can only be accessed or supplied by ship.
That means little attention is paid to the islands, with the satellite images such as the one below seldom acquired.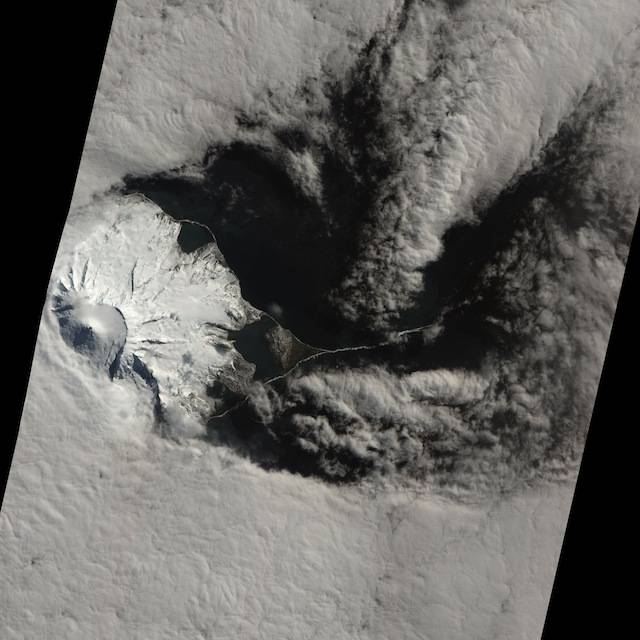 Heard Island, with Mawson peak at left
But NASA's Earth Observatory says the image and other analysis detected heat signatures on Heard Island's 2475m Mawson Peak that suggest recent volcanic activity.
"Although not definitive, this natural-color satellite image also suggests an ongoing eruption," NASA writes. "The dark summit crater (much darker than Mawson's shaded southwestern face) is at least partially snow-free, and there's a faint hint of an even darker area—perhaps a lava flow—within. Shortwave infrared data (collected along with the visible imagery) shows hot surfaces within the crater, indicating the presence of lava in, or just beneath, the crater."
The Australian Government's official Heard and McDonald Island website, which has a nifty .aq domain, reports eruptions on McDonald Island. In 1992.
Heard Island's remote location means any eruptions are unlikely to bother anyone, as the region has no history of colossal, world-shaking, events. Penguins and expeditions that plan to visit the islands are, however, in jeopardy. Two of the latter are scheduled for the near future. In 2013 a solo adventurer plans to sail to the islands and then kayak ashore.
A scientific expedition is eyeing off a visit in 2014. El Reg would love to come along if the expedition needs a seasickness-prone-hack aboard. ®
Similar topics
Broader topics