Windows 8: Painful, incoherent - all words Microsoft doesn't want to hear
First steps with Windows 8 are usually painful and disempowering for users skilled with Windows 7 and earlier, and some things are worse than before even once you are used to it. The biggest issue is nothing specific, but rather a sense that the operating system is less coherent than before. The classic desktop user interface cannot really be dismissed as a legacy feature, because that is where all the applications we want to run live, making it inevitable that users will either live in the desktop and regard all the new Windows Runtime side as annoying clutter, or at best suffer jarring transitions when switching between the two.
By way of mitigation, the long list of things that users think are harder in Windows 8 dwindles to almost nothing after analysis. A right-click in the bottom left corner, or Windows key and X, shows an administrative menu that gets you to things like the Event Viewer or an administrative command prompt quicker than before.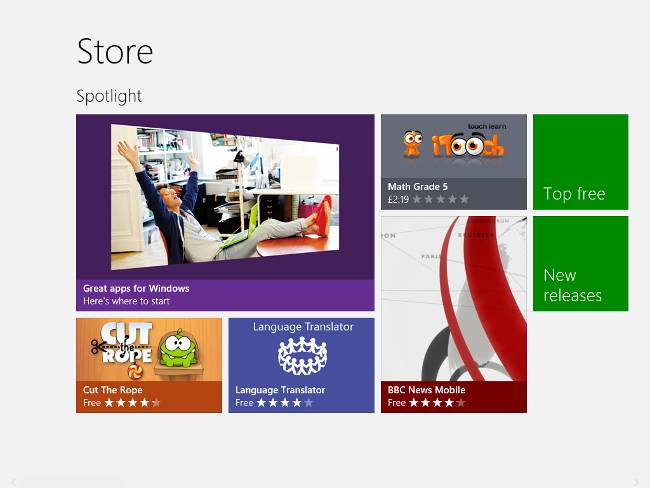 Windows 8 apps: the real reason for upgrading, but still thin pickings
The Windows 7 list of recently opened documents is missing, but right-clicking on an application pinned to the taskbar usually shows one. Even the new Start Screen is not as bad as it first appears, with fast searching and new grouping options that with effort make it work as well or better than before.
Some things are annoying long-term though, like the power button that is hidden on Settings that is hidden on the Charms bar - the new right-hand menu with Search, Settings, Share and other options. Showing the Charms bar is awkward with mouse alone, especially on multi-monitor setups, since you have to move the mouse to the right or left corner of the screen without straying too far into the next display, though you can use the rightmost display to get around this.
The bottom line is that upgrading for desktop-only users is a mixed experience; there are real benefits, but getting to the point where you can enjoy them will not be worth it for everyone.
It is important not to lose sight of Microsoft's goal with Windows 7, which was to make a version of Windows that works well with touch and to establish a new app ecosystem based on the new platform and store. Currently there are about 3,000 apps in the online software shop, but real excellence is hard to find. That said, the experience of installing and removing apps via the store is a pleasure and far removed from the hassles of Windows Installer setups.
Here, then, are the real reasons for upgrading. One is to use Windows on a tablet, where the new version works far better than before even for desktop users. The other is to run new-style apps. Will there be many worth running? That is the question; but given the distribution that Windows 8 will get as the default operating system on new PCs and laptops, there probably will.
You can also expect the howls of dismay from users trying Windows 8 for the first time to quieten eventually as world+dog gets more used to Microsoft's latest effort.
Despite all that, immediately migrating an office of contented Windows 7 users quietly getting on with their work would be a courageous (that is, stupid) decision. The upgrade is worth it, if you can live with a little oddness, but not something to take on lightly while Windows 8 is still unfamiliar to most. ®