Bond on Film The Aston Martin; a martini, shaken not stirred; the Walther PPK; cool one-liners. These are the four elements of the James Bond films that have become established in our collective psyche as trademarks of Ian Fleming's secret agent.
But there's something else that's also become a Bond trademark, and transformed what could have been just another literary character into a national figure on par with the NHS and the Queen: palm-sweating, gut-churning, nail-chewing action.
Skydiving into a nose-diving plane, brutal fisticuffs with a bomber on a crane high above an African building site, ripping chunks out of prime St Petersburg real estate using a former Soviet tank in hot pursuit of a fleeing car, skiing off a sheer mountain drop chased by flat-footed goons, also on skis, to deploy a resplendent Union-Jack parachute...
In the 50 years since Dr No, big action scenes have become as central to the Bond legend as the writing through a stick of sticky pink-and-white seaside rock.
But what's really helped Bond see off Harry Palmer, the Man from UNCLE and Derek Flint, is not the spectacle per se, it's how – and who – conceived and executed them.
For while lassoing an escaping plane from a helicopter (Licence to Kill), coordinating armies of frogmen fighting to the death (Thunderball), or crashing a speeding London Underground train (Skyfall) might seem merely fantastic, a CGI dream, in fact such scenes are all based on the real-life experience and know-how of those behind them – Bond's behind-the-scenes men and women.
These are the people The Reg has been speaking to ahead of October's 50th Anniversary of Dr No and the release of Skyfall.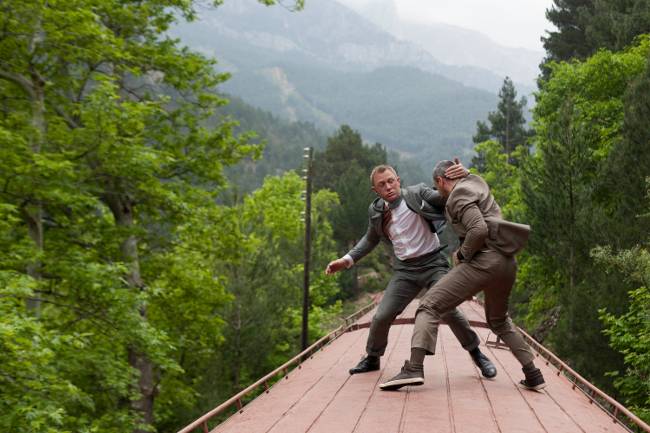 A fight's not a fight unless it's on a moving train, in Skyfall
Sometimes, they tell us, things have been "too real". For example, parts of the aerial chase sequence from the opening of Octopussy – with Roger Moore in a single-seat jet – were axed because they made early Bond audiences feel nauseous.
Other times, where things have become "too creative", the Bond crew has learned from it: they cite as an example the CGI-tastic Die Another Day Aston Martin, which could turn invisible to the naked eye. Just don't walk into it ...
Ahead of the Dr No anniversary and Skyfall release The Reg spoke to three of the technical whizzes to discover what it took to bring Bond to life. We spoke to Skyfall's FX supervisor Chris Corbould; Ricou Browning, who was underwater director on both the Oscar-winning Thunderball (the best commercial performer of the all the Bond films) and Never Say Never Again; and John William "Corkey" Fornof – who conceived, designed and personally flew aerial sequences in Moonraker, Octopussy and Licence to Kill.
Skyfall, which premiered on Tuesday at London's Royal Albert Hall, builds on a rich and compelling heritage. Corbould's latest work includes a specially built London Underground train demolishing a station plus a 25-tonne digger with mechanical arm mounted on a train and ripping apart carriages. Both feature in the Skyfall trailer, here. Do pay attention ...
Looking back into the glorious history of the Bond series, ace stunt pilot Fornof pays tribute to first Bond producer Albert R - AKA "Cubby" - Broccoli for creating an environment that made Bond watchable and believable, from Dr No all the way through to Skyfall. Broccoli was co-producer behind all Bonds until Licence to Kill, with his daughter Barbara now running things.
Fornof portrays a man in the mould of John Ford or David Lean, for whom story was king.
"Cubby is the original," Fornof tells The Reg in an interview over the phone from his home in Frisco, Texas. "A tremendous film maker and what we call old-time type of movie maker, that had the imagination to do what you had to do, made sure you had the time and the money to do it. He was into the different departments talking to people making sure they had what he needed."
Fornof has flown aircraft in more than 46 films, including three Bonds.
"Modern movie-makers are more dollar oriented," he says. "I'll do a movie and you have you have a producer come in and say: 'I told you, you had 12 weeks to prep and rehearse and now you have eight.' I was very honoured that at every party he [Cubby] had me sitting at his table. Same with Michael [Wilson producer and screenwriter] and Barbara [Broccoli].
"The most fun is Bond movies - period," he says of his filmmaking career. "The fun is the production meetings where you put all this together."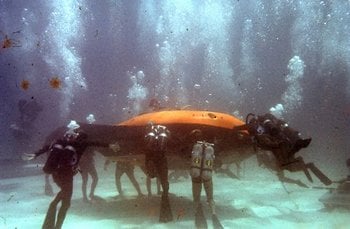 Ricou Browning hired Thunderball's divers and
directed all underwater fight scenes. Photo: Jordan Klein
Thunderball, by director Terence Young, won Bond its first Oscar for visual effects - Goldfinger won Bond's first ever Oscar, on sound in 1964. Thunderball introduced jet packs, a rocket-firing Aston Martin DB5, and - famously - an epic underwater battle between the frogmen of S.P.E.C.T.R.E. and the US Navy armed with spear guns. The combo was so potent it pushed Thunderball into becoming the most financially successful Bond film - adjusted for inflation – making $599,896,000 in the US according to Box Office Mojo. It's the 27th biggest grossing film ever, with Star Wars at number two and Gone with the Wind number one.
All the underwater sequences were directed by Browning, who recalls how Broccoli and co-producer Harry Saltzman had wanted scenes so realistic they'd been trying to sign up underwater legend Jacques Cousteau.
"They had considered using Cousteau," Browning confesses of his interview meeting with Broccoli and Saltzman. "Cubby Broccoli asked why you, rather than him. I said: 'For one reason. We are phonies. Everything we shoot is phony everything he shoots is live, so we can make it better.' So we got the job."