The European Southern Observatory has captured and catalogued a giant image of the centre of our galaxy that, if printed at "normal resolution", would measure 9 x 7 meters.
The nine-gigapixel image from the VISTA telescope at Paranal Observatory – this is just a Web version – has been catalogued by an international team of astronomers to create a catalogue of 84 million stars.
And even that's just a tiny bit of the sky: 315 square degrees sounds like a lot, but it's less than one percent of the entire sky. Observations were carried out using three infrared filters, and the 84 million catalogued stars are less than half of the 173 million objects the survey identified.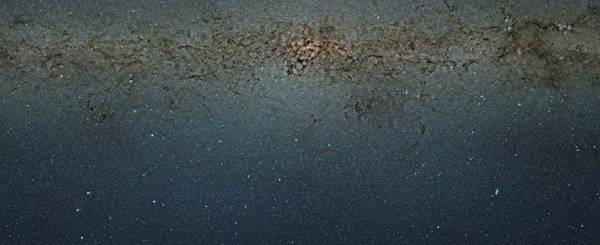 Just a hint of what the ESO's VISTA image looks like ...
The ESO says the survey has revealed a large number of faint red dwarf stars, which are good candidates for exoplanet searches (they suffer a relatively large drop in brightness when transited by an orbiting planet).
VISTA – the Visible and Infrared Survey Telescope for Astronomy – combines a wide field of view, large mirror, and high sensitivity, enabling it to capture an image which, in its raw form, measures 108,200 x 81,500 pixels.
As well as giving the world "the biggest astronomical images ever produced", the team says it's also compiled the largest-ever catalogue of stars in the Milky Way's bulge.
The study has been published in the journal Astronomy and Astrophysics. ®