As promised back at the OpenWorld shindig earlier in the month, Oracle has put the first update to its Solaris 11 Unix into the field. And no, it is not trying to ride on the wave of news relating to Microsoft's Windows 8 operating system for laptops, desktops, and tablets.
Solaris 11, which debuted a year ago, was the first major release of the Unix operating system that spans Sparc, Sparc64, and x86 iron to come out since the former Sun Microsystems launched Solaris 10 in January 2005. Oracle had previewed some of the features in Solaris 11.1 and today it put the code into the field and gave some more details on the nips and tuck and tweaks in the update.
As is the case with most operating system updates, Solaris 11.1 has tweaks to the kernel so it can support current and future processors that are not in the far-off future. Markus Flierl, vice president of Solaris engineering at Oracle, tells El Reg that Solaris 11.1 can run on future Sparc T5 processors as well as the "Athena" Sparc64-X processor from Fujitsu.
The Sparc T5 and Sparc64-X processors were among the most interesting server chips talked about at the Hot Chips conference back in August, and Fujitsu gave out some interesting details about the future Athena servers at OpenWorld several weeks later. Solaris 11 already supported Intel's Xeon E5 processors and the 11.1 update supports the forthcoming "Piledriver" Opterons from Advanced Micro Devices, presumably to be called the Opteron 6300s.
As was the case with Solaris 11, Solaris 11.1 does not run on machines using UltraSparc-I, UltraSparc-II, UltraSparc-IIe, UltraSparc-III, UltraSparc-III+, UltraSparc-IIIi, UltraSparc-IV, and UltraSparc-IV+ processors. These are vintage processors from the late 1980s through early 2000s, so that is not much of a surprise to anyone.
All generations of Sparc T series chips and current generations of Sparc64 processors used in the Sparc Enterprise M systems from Fujitsu that Oracle rebadges and resells, can also run Solaris 11 and 11.1.
Neither Oracle nor Fujitsu have been clear about what earlier Sparc64 iron is supported with Solaris 11, and they did not clear it up this time around with the Solaris 11.1 update. Presumably, anything earlier than the Sparc64-VI is toast. Solaris 10 is still supported on all of this vintage iron, and it is a perfectly respectable Unix operating system.
Solaris 11.1 has over 300 new features and fixes, according to Flierl, and you can drill down into them in this document. And the important thing about the operating system is that through a combination of the Oracle VM for Sparc server virtualization hypervisor (also known as the Logical Domain or LDom hypervisor) and Solaris containers (virtual private server partitions also sometimes called zones), companies can support very old workloads running in virtualized mode on anything from Solaris 8 forward to Solaris 11.1. You have to be on a Sparc T series server to get the broadest support, since the LDom hypervisor does not run on machines based on either UltraSparc or Sparc64 processors.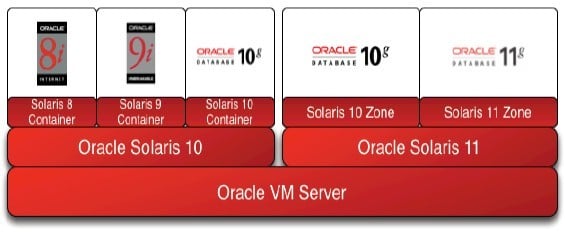 Oracle supports ancient software in the Solaris stack
Interestingly, Solaris and Oracle database release numbers have more or less tracked over the past decade, so you can also consolidate old Oracle database and Solaris operating systems running on creaky old servers onto logical servers based on more modern and higher-performance processors. This is what Sun always wanted Solaris customers to do, and Oracle does, too.
Among the many new features in Solaris 11.1 is a new virtual memory management system that will be needed to scale up performance on future Sparc iron. "It is a very critical part of the system," says Flierl, adding that memory has been tested up to 32TB and the theoretical limit of the kernel is much more than that. The memory management system is also smarter and more dynamic, allowing Solaris to reduce memory contention and boost performance as applications are running
With Update 1, Solaris 11 can also fire up Solaris zones on top of Sparc SuperClusters, which will be enabled in an impending update to that "engineered system" that will come out before the move to Sparc T5 machines next year. The lock manager of the Real Application Cluster extensions to the Oracle 11g database has now been moved down into the Solaris 11.1 kernel, which lowers latency for these locks by as much as 17 per cent.
Oracle databases can be fired up faster thanks to Solaris 11.1 tweaks, and Solaris zones are updated four times faster when software is patched on them. The security subsystem in Solaris also allows admins to be given the right to install software without getting full access to the system.
Solaris 11.1 is shipping today, and the packaging and pricing for the software remains the same. Oracle said back at OpenWorld that it would be hosting a detailed walk through of Solaris 11.1 on November 7, and that event is still on. It's a bit peculiar why Oracle didn't wait until then to make Solaris 11.1 available, but there you have it. The code is available today.
The Solaris Cluster 4.1 software, which is also being updated and which allows multiple Sparc servers to be run as a shared storage cluster, will be discussed on November 7 as well. The feeds and speeds of Solaris Cluster 4.1 were not available at press time.
By the way, the Exadata database clusters, Exalogic middleware clusters, and Sparc SuperClusters are not yet certified to run Solaris 11.1. Oracle will put these machines through the testing paces and offer that as an option to Solaris 11 or, on the x86-based machines, Oracle Linux within a few months, says Flierl. ®
Similar topics