After a three-quarter revenue decline trend, Quantum seems to be turning a corner: revenues are up, losses are down, and the outlook for the next quarter is more good news.
Quantum makes tape and disk and software data protection and file management and access hardware and software products. It earned revenues of $147m in its second fiscal 2013 quarter, ending 30 September, and this was 5 per cent higher than the preceding quarter, though 11 per cent down on the year-ago quarter.
There was a net loss of $12m; an improvement on the prior quarter's loss of $17.2m but still bad news compared to the $3.6m profit eked out a year ago.
The annual revenue decline was primarily attributed to "lower-than-expected OEM and branded tape automation revenue."
CEO Jon Gacek had several good news points to highlight, including:
Record DXi (disk backup and deduplicating HW/SW) sales with an overall 14 per cent increase annually, and a 30 per cent increase in enterprise sales. Enterprise sales have been a Quantum weakness for some quarters so this is really good news. It has sold more than 1,000 mid-range DXi6701/02 appliances.
Record StorNext (file access SW from disk and tape combined) revenue, up 27 per cent year-over-year.
Overall record results of $42m in disk systems and software, up 18 per cent annually.
Still, we're looking at the recent quarterly trend here and Quantum has turned a corner, as the chart shows.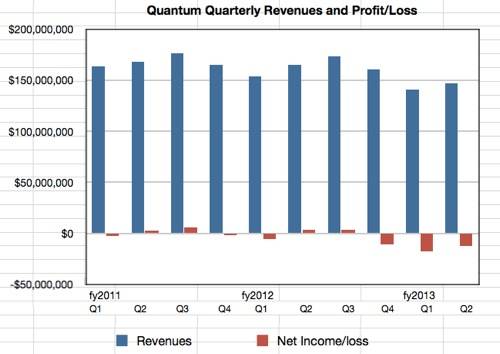 Gacek's canned statement included this: "We believe the shortfall in tape revenue and impact on profits was largely due to the industry transitioning to the latest LTO generation technology. Nevertheless, as we begin the second half of the fiscal year, we are taking actions to reduce spending in certain areas so that we can continue to make the investments that best support our growth strategy."
Next quarter Quantum expects revenues of about $160m, an increase on this quarter and a counter to lower outlooks from WD and EMC, with full fiscal 2013 revenues of around $600m, which compares to $652.4m last year.
If Gacek's strategy, the continuance of the previous CEO's strategy, works, then Quantum will emerge a smaller but much healthier company after eight or more years of concentrated and enduring struggles as tape data protection gave way to disk and the company battled to build new revenue streams after making an expensive acquisition.
Assuming present trends continue it could be back in profit in a couple of quarters, possibly sooner. ®