Symantec CEO takes over global sales chief's job, shows him door
'Best position to win' is with Bennett in every position
---
Incoming Symantec CEO Steve Bennett has reason to be pleased; he's inherited a quarter with moderately positive results, not that he's thanking ousted CEO Enrique Salem for them.
Instead he's told all geographical sales bosses to report to him after announcing the exit of the global sales head, William Robbins. He has also demanded "more growth" from his team.
Revenues for Symantec's second financial 2013 quarter of $1.7bn were up 1 per cent on an annual basis and 2 per cent compared to the first 2013 quarter.
Bennett – who is also chairman and president – was: "pleased with the team's results and progress made this quarter. We delivered solid results during the first quarter of a significant transition for the company".
He said he wants "to deliver greater than 5 per cent organic growth and 30 per cent operating margins on a sustainable basis within the next two-to-three years."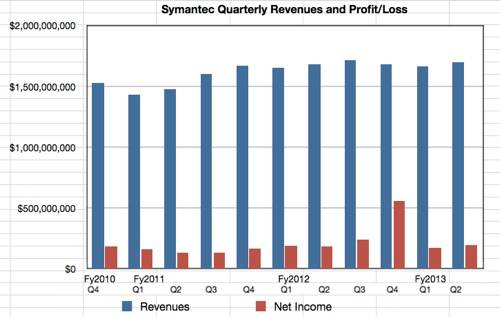 The chart above shows that Symantec's latest results are of the same kind as other quarters, no better and no worse overall. However, the sequential rise against a background of economic malaise is impressive.
CFO James Beer said: "We saw strength in enterprise security and backup as well as growth in consumer security."
Security and compliance product sales were up 6 per cent year-on-year at $512m. Storage and server management product sales were down 2 per cent at $595m. Services were up 2 per cent at $64m.
All world region sales were up 1 to 6 per cent, except EMEA, which went down 4 per cent. Salem was ousted in July because Symantec was not growing in a market facing rampant change from spreading virtualisation, cloud-provided IT, end-point file sharing and synchronisation, and flash storage.
Symantec expects third quarter revenues of $1.72bn to $1.75bn, an up to 2 per cent increase. This is very impressive given the economy's effects on customer-based IT suppliers like Fusion-io and WD, which are seeing declines or no growth respectively.
This is before any Bennett-initiated strategic change can have much effect. About that he said: "Starting with a clean sheet of paper, the team is hard at work developing a strategy and operational plan that will help us deliver more value for our customers and partners so we win in the market and improve our financial performance." Pretty vague, huh.
Hold on, there's more: "This plan will be one that both the leadership team and the Board believe we can deliver against in the short and long term. In the meantime, we also continue to evaluate all of our strategic alternatives to create shareholder value and believe we are on track to share our new strategic direction and operational plan in late January of 2013."
That's it – a twofold idea: run the business better and start out in a new direction, as yet unknown. It seems to El Reg that Bennet doesn't know where Symantec needs to go but he does know it needs to go somewhere and he's the man to galvanise the company into doing just that.
Galvanising is what he's doing operationally too. Get this:
We are moving to change quickly so we can continue to improve our performance on a global basis. With more than 50 per cent of our revenue coming from outside the US, we can no longer operate like a US-based company with global distribution. And as you can see from recent history our growth rates are higher outside the US.

Our head of worldwide sales will be leaving the company. To better position us to win globally, we've decided to elevate the GEO leadership roles and have them report directly to me.
That's brutal – bye bye Bill Robbins. There is no immediate plan to replace him, making Bennett effectively the sales head too - four jobs in one now; there must be more hours in a Bennett day than in everyone else's. ®