Windows 8 unleashed! Midnight launch for world+dog
Will it be remembered as an XP or a Vista?
Microsoft has finally launched its new touchy-feely Windows 8 and Windows 8 RT operating systems, along with grandly opening its Windows app store; they'll all be available beginning 12:01am on Friday in a rolling rollout that's likely to mean a minute after your midnight, wherever you are on God's green earth.
"Windows 8 is a major milestone in the evolution and the revolution of computing," Windows boss Steven Sinofsky said at the New York launch event. "Having surpassed over a billion people using Windows, it's now that we're looking forward to the next billion."
At launch, over 1,000 different computing devices, including Microsoft's own Surface, will be able to run the new operating systems, he claimed, and hardware was available for as little as $300 – or $499 if you want a device with a touchscreen. With the addition of RT hardware, Sinofsky said, Windows will now run not only on x86 processors from Intel and AMD, but also on ARM, for a wide selection of system options.
As for existing users, Sinofsky said there were 670 million Windows 7 users out there (the fastest adoption of an operating system in computing history, he claimed) who would see "potential improvements" in performance, including up to 13 per cent better battery life, 36 per cent speedier booting, and cold-start times of under 10 seconds on new PC lines.
While most of the launch was all about touch, there was also a showing of the desktop screen for those common, garden-variety users who rely on the keyboard and mouse – i.e., most people. A "reimagined" Start button is back in the bottom left corner to launch the tiled Windows 8 app screen, but with a right click option "power users" can access the current range of system tools, including File Explorer.
The Windows Store is now open and ready for downloads, Sinofsky said, and Microsoft had more applications in its Store than "any competing application store had at its opening." Windows represents the world's largest market for developers, and Redmond is offering better financial deal for coders than anyone else, he claimed.
Windows RT devices are only going to be able to get applications from Microsoft's Store, and Sinofsky spun this as an advantage. That level of total control would mean no performance degradation over time, he promised, and an RT machine will be just as stable and fast a year from now as it is today. It already has good driver support, and works with the top 100 best-selling US printers at launch.
RT is also going to be crucial to Microsoft's tablet ambitions, CEO Steve Ballmer pointed out. "For the first time, Windows has first-rate tablets," he said, which is refreshingly honest but must have rankled a little with the companies that spent so much time and effort trying so far. Windows 8 has been fundamentally rebuilt for touch, he said, and people who try it will be hooked.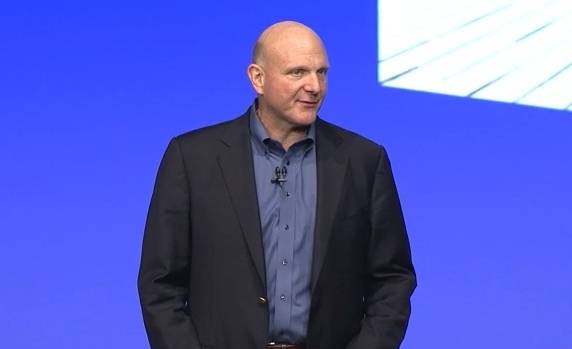 Look at my gorgeous, gorgeous machines
"We've truly reimagined Windows, and kicked off a new era for Microsoft and a new era for our customers. Just stop and look at these gorgeous, gorgeous machines and how alive they all are with activity," he enthused, in his best salesman mode.
Office 2013 was specifically designed with Windows 8 users in mind, he said, with special attention paid to touch and stylus users. Internet Explorer 10 has also been reworked for the new operating system, as have SkyDrive and Skype. In the latter case, Ballmer promised the "best Skype experience on any device."
Staying with communications, on Monday the Windows Phone 8 operating system will get its own launch event, and new smartphones running the OS should be available next month. Code-sharing between Windows 8 and the mobile OS will ensure the same experience on every screen, he assured the crowd – which contained an annoying number of occasionally whooping Microsoft staffers.
For entertainment, Xbox support is built into Windows 8, so that it can act as a "second screen," throwing up facts about what you are watching. Windows 8 users also get access to the free Xbox music and video streaming service, with a promised 30 million songs and media to buy.
You're going to hear the phrase "Windows reimagined" a lot over the coming weeks and months, Ballmer warned, mainly because it's going to be plastered on advertising across the physical and virtual worlds. But this is what the new OS is, Ballmer said, and it would ensure that "Windows 8 PCs are the best PCs ever." ®