APPLE: SCREW YOU, BRITS, everyone else says Samsung copied us
But we will apologise because the judge said we had to
---
Apple has complied with a UK court order by admitting on its website that Samsung's Galaxy Tab did not rip off the patented iPad design. High Court Judge Birss had instructed Apple to publish a statement online and in print after ruling that the South Korean electronics giant had not infringed Cupertino's patent.
The statement can be found via a small link labelled "Samsung/Apple UK judgement" on Apple's UK homepage, and is a mealy mouthed six-paragraph account of the litigation over Apple's registered design.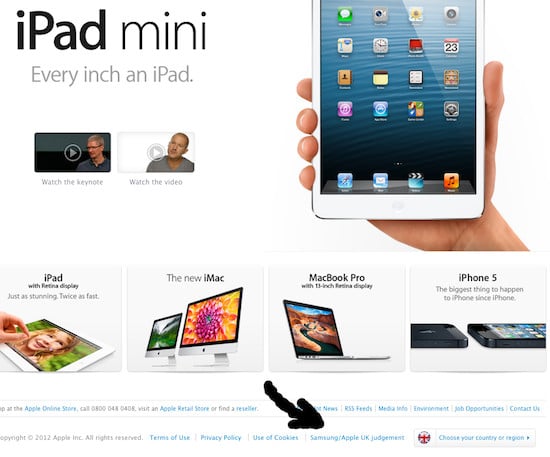 Find it OK? Apple's UK homepage
Two paragraphs acknowledge the court ruling, and four are devoted to digs at Samsung. It includes quotes from the judge saying that Samsung's fondleslab is "not as cool" as the iPad, and ends with a self-righteous declaration that courts in other countries have decided differently:
"So while the UK court did not find Samsung guilty of infringement, other courts have recognised that in the course of creating its Galaxy tablet, Samsung wilfully copied Apple's far more popular iPad."
Read that non-apology in full here.
Judge Jacob, dismissing Apple's appeal against Birss' initial ruling, specified a font and font-size - Arial, size 14 - for the print version of the statement to appear in UK newspapers, but web visitors may have a harder time finding Apple's non-apology on the UK homepage. Even with a high-resolution Retina screen bringing every detail on the page to "resolutionary" glory, it's still a small link.
The registered design at the heart of the court case concerned features of the iPad, such as it being a thin rectangular slab with four slightly rounded corners, a screen that went to the rim of the device, and an "overall design of extreme simplicity". ®