Bond on Film Keep it simple – if only the villains of James Bond had learned that lesson in Evil Medical School. All too often, though, the Ernst Stavro Blofelds and Karl Strombergs of 007's world succumb to their maniacal tendencies and plot ridiculously complicated plans to off Bond or take over the world, where a simple bullet or well-targeted nuke might have worked. Never mind respect for the laws of society - these Einsteins have no respect for the laws of physics.
Here, then, is The Reg's busting of five of some of the most criminal plots or devices from the last 50 years of Bond:
Blofeld's bling blaster
Diamonds Are Forever had a lot going for it - primarily, the first resurrection of Sean Connery as our favorite 00 following the George Lazenby excursion of On Her Majesty's Secret Service. Of all the Bond films, though, it's probably the most shamelessly daft and bears the least resemblance to the original novel as production company EON tried to put the Lazenby experience behind it. The central MacGuffin of the plot is an orbital super weapon, a laser created by Bond's arch-nemesis Ernst Stavro Blofeld to destroy the world's nuclear arsenals allowing Blofeld to take charge. This is, implausibly, fashioned largely out of diamonds in order to justify Fleming's title.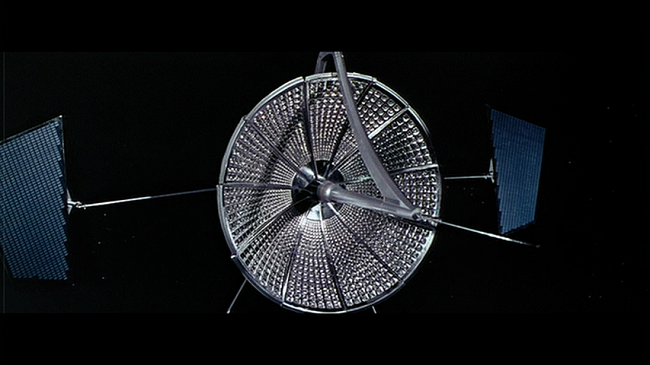 Pimp my orbital laser cannon
The idea of orbital laser weapons in itself isn't particularly mad when you consider that the US government at one point fully intended to deploy such things (or some kind of orbital directed-energy weaponry anyway) under the Star Wars program during the Reagan administration. That never happened, but the succeeding Missile Defence efforts did eventually send a functioning megawatt war-laser into the skies aboard a modified jumbo jet, dubbed the Airborne Laser and then Airborne Laser Testbed, though the project was finally shut down earlier this year.
Blofeld's answer to Reagan's Star Wars, for poorly explored reasons, required a vast array of diamonds: supposedly to help provide a means of directing and intensifying the beam of light produced by the laser.
Would a diamond-based laser be appreciably more powerful than, say, a normal ruby laser?
Potentially yes, but we're not quite there yet. For a number of years researchers have struggled to build diamond-based lasers but the problem is that natural diamonds contain impurities that lead to losses because the light will bounce off the imperfections, producing a distorted and less powerful beam.
Henry Lau, editor of physics.org, tells The Reg:
"Now, using artificially grown ultra-pure diamonds, progress has been made, promising very high powers and a wide range of applications including body scanners at airports and ultra-precision eye surgery."
While the diamonds might be improving, some very practical limitations stand in the way of actually putting the kind of optical laser envisioned by Blofeld to work.
To start with there are power levels. As all regular readers of Reg raygun coverage will know, the entry level for a combat grade laser is generally assessed as 100 kilowatts in the beam. To produce such a beam one will actually require say 500kW of power because laser beam generators are only about 20 per cent efficient. At the moment you're doing several times as much damage to your raygun with waste heat as you are to the enemy, and thus the weapon will probably melt or burn sooner than he will - so you need cooling or heatsink gear as well.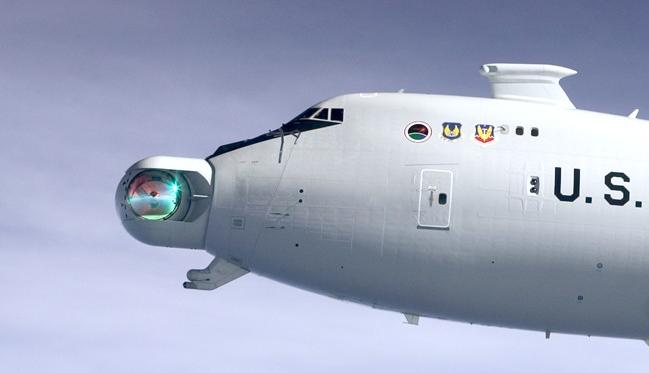 The late Airborne Laser Testbed (aka Airborne Laser). What an ICBM-busting raygun actually looks like.
In general then, even a relatively puny battlefield laser will need a massive diesel generator - think main battle tank or big-lorry engine - or something equivalent to power it, and a massive heat-management system too.
In space it gets a lot worse. To start with you probably need a monster Airborne Laser style megawatt-range weapon as a minimum at space ranges. One may note that at these power levels the option to use solid state laser tech is probably unfeasible, certainly right now. The ABL/ALTB laser generated its beam in a gas rather than a solid, to stop it melting itself. (Bin the diamonds, Blofeld.)
Then, diesel engines, turbines etc are no good in space: the mainstream power options for any sort of long duration space mission are nuclear or (more commonly) solar panels, though fuel cells as seen on the space shuttles might be OK if you only needed to fire a few shots. Solar panels aren't going to offer much of a rate of fire - the biggest solar panel array ever put into space, the one attached to the International Space Station, can achieve maximum output of only 200kW. That means that a two-megawatt beam of today's technology would need a major accumulator/pulse-generator rig to fire up at all if it were solar powered - even more kit! - and the zapper would spend around a minute charging up for every second blasting things.
So Blofeld would probably have needed to get a hefty nuclear reactor into space, which would arguably have been a lot more troublesome (and worthy of 007's attention) than simply nicking a few comparatively unimportant diamonds - which actually would have been no use anyway. And we haven't even gone into the great difficulties of somehow getting rid of all the laser's waste heat in the vacuum of space, where cooling is a major engineering challenge.
A final issue for visible-light lasers is obscuration. Rain, fog or clouds would render them largely useless. X-ray or Gamma-ray lasers, common sci-fi staples, could pass through clouds as might some infrared wavelengths: but such devices are not what Blofeld seems to have in mind judging by what's on show in Diamonds are Forever.
Nul points, Mr Blofeld.
Similar topics