N00bs vs Windows 8: We lock six people in a room with new OS
'It's like they tried to make my computer a mobile phone'
---
The design of Windows 8's user interface - The Interface Formerly Known as Metro (TIFKAM) - leaves non-technical users yearning for the good ol' Start button.
The Reg can report that finding after some rather non-scientific tests in which we offered different folks their very first experience of Windows 8. We chose representatives at different stages of life, starting with a child. None were technologists or tech enthusiasts, hence our label "civilians" or "n00bs".
The aim of the exercise was not to subject Windows 8 to a thorough usability test. Instead, we wanted to get an impression of what's likely to happen when someone sits down in front of a Windows 8 machine for the first time, so that you can understand the kinds of questions you'll get when the new OS first appears in your workplace (or friend's home, at which point Reg readers are likely to be pressed into service).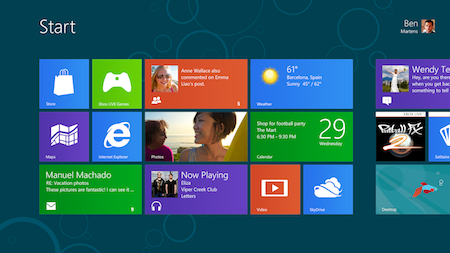 Can our test specimens handle the new Windows 8 start screen?
Each subject was asked to open a web browser and navigate to their favourite website; open a Microsoft Office application; create a file in that application; save it to the desktop; and then return to the desktop to open the file.
We ran the test in a Windows 8 virtual machine running under VMware Fusion 5 on a MacBook Air equipped with a two-button mouse and a scroll wheel. The Apple command key maps to the Windows key in VMware Fusion. The VM had nothing installed save a 60-day trial of Office 2010 and Google's Chrome browser. We ran the VM in full-screen mode.
We're aware that's not an entirely ideal test rig, but it's what we had to hand.
Here are the results, subject by subject.
Subject 1: Eight-year-old girl
This subject has grown up with computers, is familiar with Mac OS X and Windows 7, and is quite happy making animated PowerPoint presentations and using a word processor. Miss 8, as we'll call her, initially found TIFKAM odd. As Chrome is the browser her parents prefer her to use, TIFKAM's big Internet Explorer icon escaped her attention.
But the big "Desktop" tile did make sense, so she clicked on that, found Chrome in the task bar, and quickly decided to play Moshi Monsters. Job done. But once she closed the browser, Windows 8 reverted to the empty desktop and she could find no way out. Microsoft, in its wisdom, has decided to split the classic Windows desktop from a start screen of buttons in TIFKAM - a sticking point for most of our test subjects, as you'll see.
Finding an application therefore proved challenging for Miss 8, in the absence of a Start button, so she had no way of understanding how to find any software. We directed her to nudge the mouse into corners of the VM's screen and she soon found the Charms Bar, complete with its Start icon. A click later she was back on TIFKAM's opening screen, which in its unmodified form presented another challenge as the icons for Office's applications were off-screen to the right.
More aimless mousing about ensued, before gentle encouragement pointed out the scroll bar. Once she got the hang of that, opening PowerPoint, creating a file and saving it to the desktop proved … erm … child's play.
Miss 8's verdict? "It's a bit confusing and it's hard to get the mouse into the corners."
Subject 2: Tween boy
Our next tester, Mr 12, is familiar with Mac OS X and Windows, and will happily spend hours playing games or Skyping in either. He had no problems opening Internet Explorer, but struggled to find his way back to the main TIFKAM screen.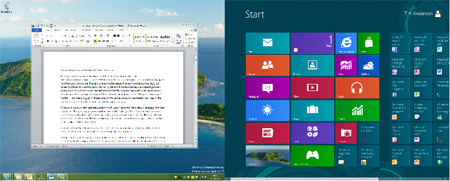 The classic desktop versus the new user interface in Windows 8
A little random mousing saw him find the corners and he quickly explored the flickers of interface that appeared at bottom left, noticed it bore a miniature version of the TIFKAM home screen and gave it a good solid poke. The scroll bar at the bottom of the splash screen again proved elusive, but once found the rest of the challenge was a doddle.
The verdict: "That wasn't very hard. Has this thing got Minecraft?"
Subject 3: Twenty-two year-old office worker
Our next subject victim was a member of the sales team here at Vulture South and therefore spends her days in front of various web apps. Not a tech expert, this subject reacted strongly to her first glimpse of TIFKAM, declaring it somewhat confronting.
It took a good minute before this tester found the Internet Explorer icon in TIFKAM. Using and then closing the browser presented no problem. But finding her way back to TIFKAM to find another app proved a lengthy and frustrating experience.
Your correspondent had to help out, again, then come to the rescue once more when the scroll bar did not quickly reveal itself. From there things proceeded smoothly again, with the subject a little miffed that saving a file dumped her back to the desktop rather than TIFKAM.
The verdict: "It's like they tried to make the computer like a mobile phone."
Subject 4: Thirty-something business owner
This subject is a Mac fan and proud of it, feeling fruity computers offer a more consistent and reliable experience.
So it came as no surprise that he breezed through all the tasks we set confidently, as he moved his mouse confidently and quickly revealed various bits of TIFKAM he needed.
But this tester's reactions were also the strongest, as he felt TIFKAM is so initially different to previous versions of Windows that it would demand lots of extra time. This tester was also the only one who dwelled in Windows 8 and did a little independent exploration after his short test. We think he did so because he was a little intrigued. The verdict: "Microsoft needs to put some tutorials in this or it will frustrate a lot of people."
Subject 5: Forty-something professional
This tester is adept with Mac OS X and Windows and has always worked with a PC on her desk during her white-collar career.
Finding Internet Explorer proved no barrier, but returning to TIFKAM elicited the quote of the test: "I could have kept trying for an hour to find how to get back to the Start screen." Finding an Office app proved a challenge, as this tester felt some of the more prominent TIFKAM tiles might represent Word or PowerPoint. She clicked on a couple, came away disappointed, noticed the scroll bar and polished things off.
Her verdict: "It looks pretty nice once you know how to use it, but it is not immediately intuitive."
Subject 6: Seventy-something retired professional
Our last tester spent the last two decades of his recently ended career with a PC on his desk, is familiar with Office, but spends rather more time on the phone to helpdesks than most. This individual has a Facebook account but would rather not see what's on it given his grandchildren are occasionally up to no good, yet could not do without a PC and internet access.
His initial reaction to TIFKAM was a somewhat bemused "everything is different". Internet Explorer again proved little challenge, as did the Desktop button. Once again returning to TIFKAM brought frustration, furrowed brows and eventually required a little education from your correspondent.
His verdict: "Microsoft will have some kind of introduction to this, won't they?"
Conclusions
Windows 8's lack of an immediately apparent way to move from the desktop to TIFKAM is not a killer, but frustrated every tester. While they all picked up either the bottom-left-corner trick or the Charms Bar quickly, all wondered why the OS lacked a more obvious signpost to return to TIFKAM.
There were also lots of raised eyebrows about the stark division between TIFKAM and the conventional Windows desktop. None of the testers thought that a good idea.
On the positive side of the ledger, the adult testers all found TIFKAM's tiles intriguing and praised its overall look and feel.
Our small sample therefore seems to indicate that civilians will occasionally strike trouble, but will generally enjoy exploring Windows 8 and TIFKAM. ®
Bootnote
Take The Reg's pre-launch Windows 8 tour. Read about the road to Windows 8 via Windows 1.0, Windows NT and Windows 95 and more and what to expect from Windows 8 on ARM.
Also, never mind the Apple tax, read about why Windows 8 Surface and ARM-tablets are priced to fail, and discover why your apps will work on Windows 8 but Microsoft wants you to rewrite them anyway.