A year ago Emulex recorded $118.4m revenues and a loss of $7.2m in its first fiscal 2012 quarter. A year later revenues are up 1 per cent to $119.3m and it has scraped a profit of $700k. Whew!
Emulex makes network adapters, and more than 80 per cent of its revenues comes from products like Fibre Channel HBAs and Ethernet adapters. Storage Connectivity products, the embedded InSpeed products inside storage arrays, largely make up the rest.
A year has passed and Emulex's revenues are effectively back where they were. What are the reasons?
CEO Jim McCluney's canned statement didn't say, instead he bragged about meeting revenue guidance and earnings targets: "I'm very pleased with our performance for the first quarter as we met our revenue target, and once again exceeded the high end of our earnings guidance."
Its first fiscal 2013 quarter showed lower revenues than the last quarter, the one before that, and the one before that, Emulex having gone nowhere. At least last quarter's thumping $28.8m loss has been turned around.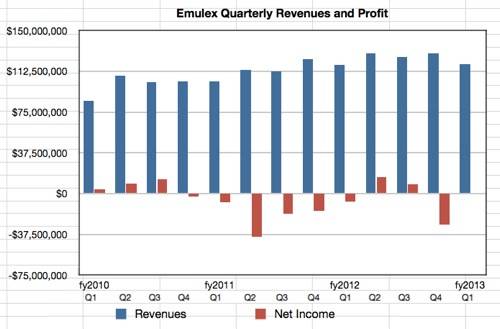 The results release revealed that storage connectivity product sales are collapsing:
Network Connectivity Products (NCP) revenues were $96.7m, an increase of 10 per cent sequentially and 12 per cent year-over-year
SCP revenues of $18.8m were 16 per cent of overall revenues and decreased 43 per cent sequentially and 21 per cent year-over-year.
Emulex's operating expense is now $62.24m, when you compare that with the year-ago level of $71.52m, it's a big improvement and one that's taken place despite a rise in legal expenses from $388,000 to $992,000 – all thanks to Broadcom (background here). But this business efficiency improvement didn't compensate for the lost $25m in SCP product sales. Last quarter they brought in $44m.
As ever, Emulex says it's well-positioned for growth, now because of being faster to market than competitor QLogic with 16Gbit/s Fibre Channel adapters, and because of "our investments in sales targeting higher growth markets". The outlook is for a rise in sales next quarter to between $120m and $124m.
The company is still waiting for a return on the investments it's made in developing Fibre Channel over Ethernet (FCoE) technology. The SCP ship is going out. When will the FCoE ship come in? ®