Knock-off iPad manufacturer GooPad has followed Apple and unveiled a mini version of its i-style slate. It packs similar specs, ish, but as you can imagine, has a far cheaper price than the real thing.
The GooPad Mini may be devoid of the highly-sought fruit logo, but with an 8in display at 1080 x 768 pixels, a 1.4GHz dual-core processor, 1GB of Ram and 8GB of storage, it certainly throws a comparable punch.
There's also a 2Mp rear-facing camera, a 0.3Mp front-facer and Wi-Fi support.
The good news for those who really want a Cupertino feel, though, is that the GooPad ships with iLaunch, an iOS-themed skin for Android 4.1 Jelly Bean.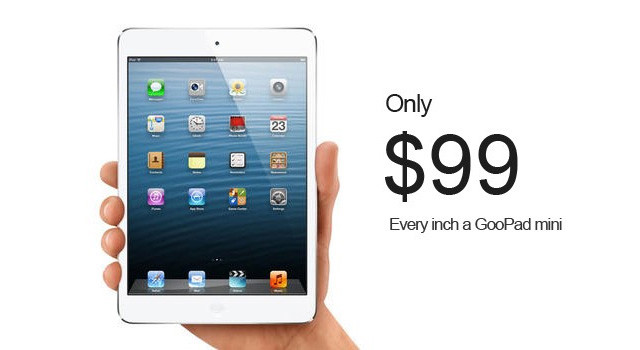 Sure, the iPad Mini does have a little more panache, but at $329 for an entry-level model, it's also three times the price.
The GooPad Mini is available for just $99 (£61). That's almost affordable enough for stocking filler. ®