Teardown Apple's new Mac mini has been torn apart by the parts 'n' tools 'n' repair-advice folks at iFixit, who pronounce it highly repairable – a rare reversal of Apple's increasing tendency to create kit that's locked down tighter than Mitt Romney's tax records.
The new mini scored an impressive eight on iFixit's one-to-10 repairability scale, a far cry from the 13-inch MacBook Pro with Retina Display's dismal score of two and that notebook's 15-inch sibling's even lousier rating of one.
One reason for the Mac mini's continued repairability, The Reg surmises, is that its latest incarnation – announced this Tuesday at Apple's "a little more" event, which also saw the introduction of the 7.85 7.9-inch iPad mini; skinny, optical-drive-bereft iMacs; and the hard-to-repair, pricy 13-inch MacBook with Retina Display – is cosmetically and physically nearly identical to the version launched in mid-2010, when Apple was less focused on locking things down as it now is.
Well, close to identical. That 2010 Mac mini lost its optical drive in its mid-2011 iteration, and the new version certainly didn't add it back. Apple is phasing out optical drives in all of its Macs these days, with only the non-Retina MacBook Pros and the seemingly forgotten Mac Pro still equipped with them.

Simplicity itself – but with a logo
As iFixit discovered, the new Mac mini is exceptionally easy to open. "A simple twist of the bottom cover and we're in," they note. Immediately accessible is upgradeable RAM – "It's refreshing to see an Apple product with user replaceable/upgradeable RAM," they write – and a fan enclosure that's a snap to remove.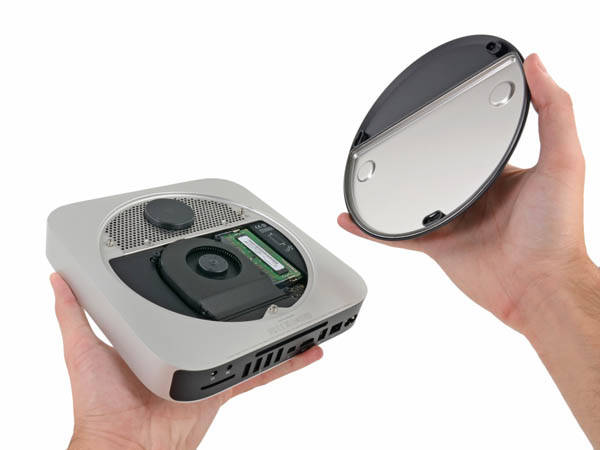 One of the reasons we feel affection for the Mac mini: it's easy to get inside (click to enlarge)
You'll need to remove the logic board to get to the hard drive, which can be upgraded to a 1TB Fusion Drive – Apple hybrid SSD-cum-HDD storage system – or 256GB of pure SSD. There's even enough room inside to add a second hard drive, should you be so inclined.
To remove that logic board, it's best to use the tool specifically designed for that purpose, which iFixit will gladly sell you. iFixit's tool costs $6.95; the official Apple version costs $39.95 – but it's shiny.
Speaking of that logic board, iFixit color-codes its chip IDs, but since we here at The Reg do not possess the 21st-century technology that would allow us to easily insert colored bullets into our text as can iFixit, we'll instead use colorfully descriptive terms to indicate the appropriate enclosing rectangles in iFixit's photos.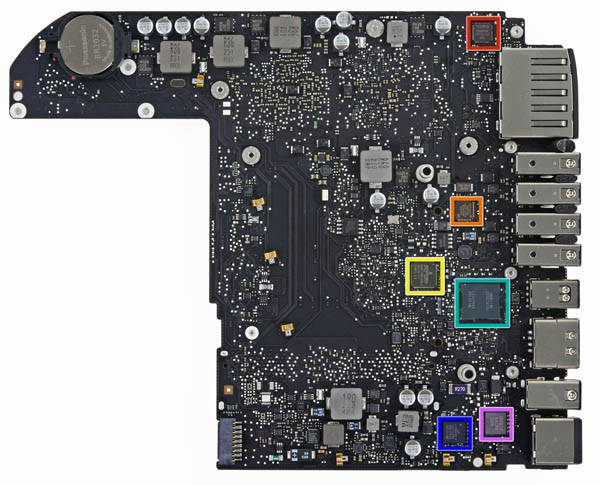 Here's the top of the logic board (click to enlarge) ...
Carmine: Cirrus Logic 4206B audio controller
Pumpkin: SMSC USB2512B USB hub controller
Daffodil: Broadcom BCM57765 Gigabit Ethernet and SDXC card controller
Teal: Intel L232TB45 Thunderbolt port controller
Ultramarine: LSI L-FW643E-2 FireWire 800 controller
Mauve: AELTA 8904C-F (unknown function)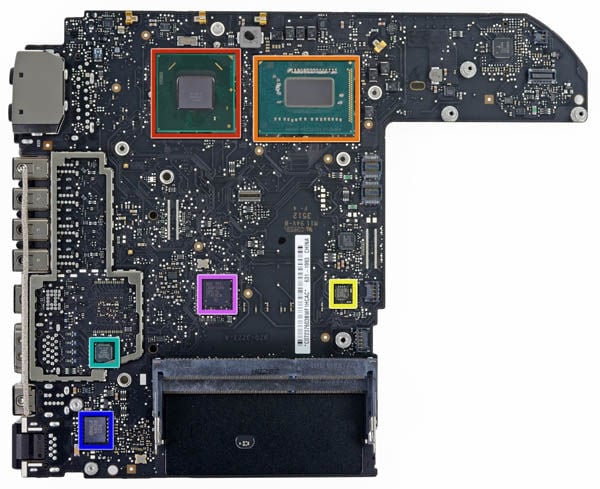 ... and here's the bottom (click to enlarge)
Brick: Intel E224B809 platform controller hub
Mango: Intel V227C254 2.5GHz dual-core i5 (i5-3210M)
Banana: SMSC 1428-7 system management bus temperature sensor
Seafoam: Parade PS8401A HDMI/DVI level shifter
Cerulean: AELTA 8904C-F (unknown function)
Hollyhock: TI Stellaris LM4FS1AH microcontroller
If anyone can help us out with the function of that AELTA 8904C-F chip, we'd be greatly obliged.
The entire Mac mini is simple to disassemble – and, for that matter, reassemble – but it does have a few niggles that keeps it at an eight rating on iFixit's one-to-10 reparability-rating range: the processor is soldered to the logic board so it can't ge upgraded – perfectly normal, but still limiting – and you have to strip the whole puppy down to get to the power supply, should it need replacement.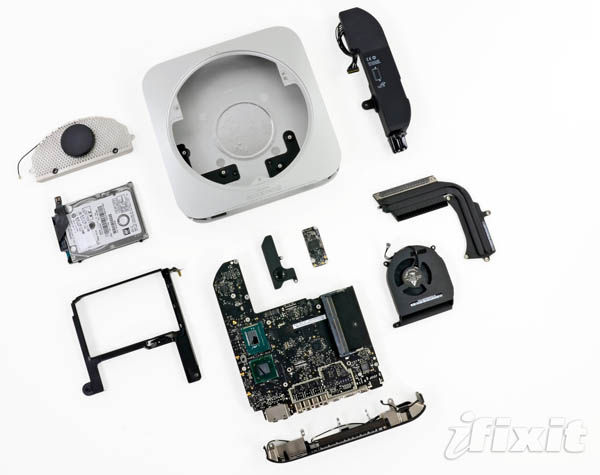 Not quite as easy to field strip as an AR-15, but close enough (click to enlarge)
But that's it. The rest of the Mac mini is a snap to disassemble. That is, this version is – there's no predicting whether or not Apple will lock it down in its next iteration.
Hardware-teardown junkies should take a moment or three to peruse the full teardown on iFixit's website. It's replete with 35 photos and detailed commentary – although, sadly, with nary a winsome kitten to be seen. ®
Similar topics