QLogic reported revenues of $117.9m for its second fiscal 2013 quarter ending 30 September, down 13.5 per cent on the year-ago quarter, and down 9.6 per cent on the first 2013 quarter. It made a profit of $11.9m, way down on the year-ago quarter's $28.7m and the preceding quarter's $18.4m. The business is shrinking.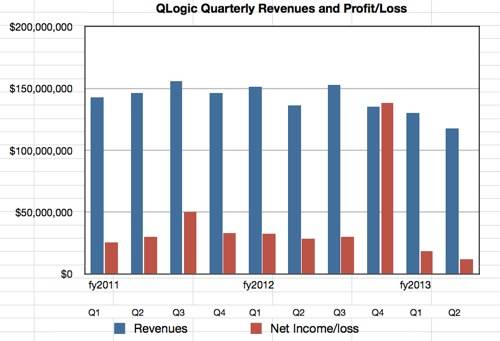 President and CEO Simon Biddiscombe talked of a "challenging macroeconomic environment and weakness in enterprise server sales," and "difficult times." No change in strategy though: "We remain committed to our long-term strategy of focus and investment in both our core and expansion markets to drive our future growth and shareholder value."
There are three QLogic businesses: Host Products which are the network adapters; Network Products which are switches and storage routers; and Silicon Products, which are ASICs. Host products did $103.4m a year ago and fell by $!3.8m to the latest quarter total of $89.6m. Network Products did $19m a year ago and declined to $17.6m, while Silicon Products did $13.9m a year ago and $10.7m this quarter.
All three were down, but slumping adapter sales did most damage to revenues and the bottom line. Perhaps Q should been quicker off the mark with 16Gbits/ Fibre Channel adapters, but it's more likely a mark of continuing weakness in the server sector.
Q has a breakout strategy of adding flash to its adapters – background here – and if that works, then revenues and profits, should rise.
Emulex and QLogic
Emulex and QLogic are rivals in the network adapter business, both outselling any other adapter suppliers by a large margin. Comparing their quarterly revenues, we can see from the chart below that Emulex's revenues have been rising and QLogic's falling to the point where they are now tracking each other closely. Whether that level-pegging will continue is a good question. No doubt QLogic hopes that it won't and that its strategy of adding flash storage to its adapters will re-ignite growth and enable the company to head towards $200K revenue quarters and beyond.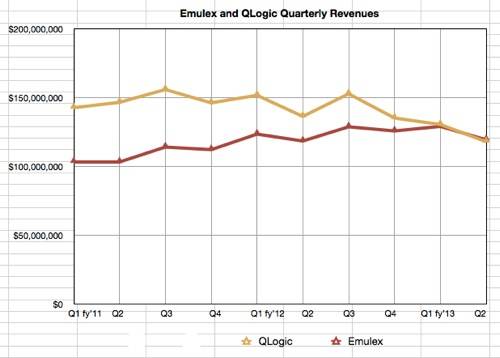 The chart uses QLogic fiscal years and quarters but the Emulex figures are aligned properly.
Emulex will, hopefully, continue to garner 16Gbit/s Fibre Channel adapter revenue but doesn't appear to have a product strategy enabling it to add more value to its network connectivity products analogous to Q's flash strategy. Any FCoE sales rise will benefit both companies and, if Emulex can get out of the InSpeed business and shake itself free of the Broadcom legal entanglements, then it could exceed Q's revenues if, and that's a big "if", Q fails with its flash enhancement strategy. ®