Updated There are a fair few people cursing their displays and tablets this morning after a series of outages took down Google's App Engine, as well as the Tumblr blogging site and a host of smaller operators.
"Early this morning App Engine began experiencing slow performance and dropped connections," a spokeswoman told El Reg via email. "The Google App Engine team is diligently investigating this issue now and is working on restoring the service for affected users." Further updates are promised as the situation develops.
Google's problems kicked in at around 8:30am Eastern Time on Friday, with the Tumblr blogging site tumbling down at about the same time. Access problems at Dropbox and Instagram have also been reported, although both services appear to be up at running at time of our going to press.
Coinciding with the outages, the amount of US internet traffic took a major hit. According to data from Internet Traffic Report, the amount of traffic over US networks dropped by around 10 per cent this morning, with packet-loss rates soaring at around the same time.
So far there's no word as to the cause of the drop in traffic. Friday is traditionally one of the slower days of the week for many online properties, but not on this scale.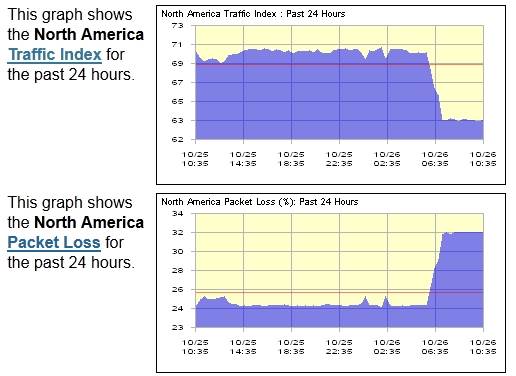 Where have all the packets gone?
Meanwhile, service providers and data centers on the US East Coast are bracing themselves for the impact of Hurricane Sandy, which is due to come ashore at around midnight on Friday.
The category-two hurricane is most likely to hit in the New Jersey or New York area, and there's a lot of processing centers in its predicted path. After Amazon's outage earlier in the week, cloud providers could soon be making payouts over service-level agreements. ®
Update
Google reports the App Engine is now back up and running:
"Google App Engine has now been restored and users should see service returning to normal. Our team is still continuing to investigate and determine the root cause of the issue. We know that many of our customers rely on App Engine for their mission critical applications. We apologize for the inconvenience caused by this outage and we appreciate our customers' patience," Google said.
Meanwhile Internet Traffic Report figures show that US data flows are now back up to normal levels.