With the US presidential election less than two weeks away, social networking users can be forgiven for having grown tired of reading online political rants. Now, thanks to a new Chrome extension, fed-up Facebook fans can nip their friends' tirades in the bud.
When installed in the Chrome browser, Unpolitic.me sifts through the user's online feeds looking for keywords that indicate political commentary. When it finds them, it removes the offending posts, replacing them with content from image-based RSS feeds of the user's choice.
The default image feed? Pictures of cats, naturally.
The extension is the product of a collaboration between Buzzfeed and the makers of Unbaby.me, an earlier plug-in designed to filter baby pictures from users' news feeds.
While Unbaby.me only worked on Facebook, however, the new plugin is equally adept at flushing unwanted political speech from Twitter. The only catch is that while Unbaby.me is available for both Chrome and Firefox, so far Unpolitic.me only works with Google's browser.
Among the preprogrammed – although deletable – keywords that trigger Unpolitic.me's filters are the names "romney," "obama," "ron paul," "paul ryan," and "reagan," among others, in addition to such red-flag words and phrases as "deficit," "taxes," "trickle down economics," "binders," "fox news," and "how messed up is this country."
Users are free to add their own keywords as additional hot-button topics emerge.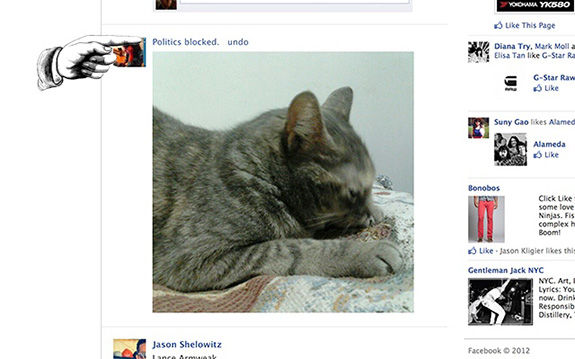 Wouldn't you rather see a nice, relaxing photo of a cat? Knew you would
"This is surest way to ride out the rest of the election (and or life) without bothersome posts, opinions, and links from your politically savvy 'friends,'" the plugin's website explains. "Install the app. Refresh your Facebook newsfeed. Enjoy an Obama AND Romney free life."
The latter seems to be a bit of an exaggeration, however. Here at El Reg's San Francisco aerie, the only thing we can say with certainty about the upcoming election is that we'll spend the next four years stuck with one or the other. ®