Mode selector
The highly-engrossing career mode returns with crazy attention to detail, featuring a greater number of pre-match press conferences and additional emphasis on what's happening elsewhere. All scores from across the league are now read out at the end of each game, which can be rather irksome. Where's that mute button? The big thing this year is that managers can now take the reins of an international club and, as you build experience, the opportunities arise to manage both in unison.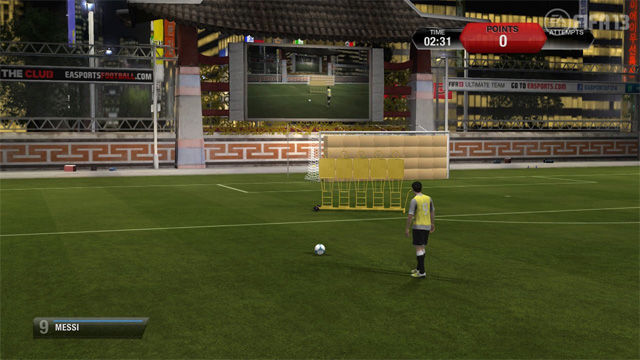 Big train
The enjoyable online modes have also been suitably boosted to provide an additional angle for achievement. For instance, in Online Seasons, players can work their way up through divisions, earning points accordingly for their head-to-head encounters. Division titles can be earned with cups proudly stored in the trophy cabinet. Nice touch.
There's still no online multiplayer option for guests to join in, although it can be achieved over a local network. If you're a Billy Nomates, though, the online modes will probably keep you bashing the pad until Fifa 14, regardless.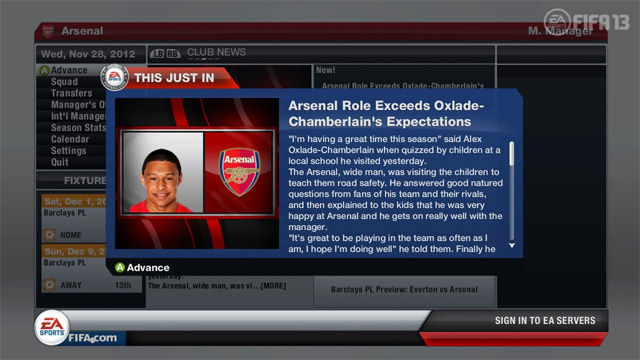 Hot on the Ox
Indeed, EA has pushed the boat out with utilising the network, updating team and player statistics as the season progresses. You can even replay your favourite Premier League matches from the weekend passed with identical squad and weather conditions, all adding to that realistic experience.
There's also the addition of Kinect and Move functionality, not that it's anything other than a gimmick to tick the feature box. I find using my pad quick enough for implementing tactics without shouting them out over my Microsoft motion sensor, but perhaps I'm just old-fashioned.
The Wii U version of the game is said to omit various modes such as Ultimate Team and lacks the same tweaks to the Player Impact Engine, tactical defending and precision dribbling made to Fifa 13 on Xbox 360 and PS3. It'll be interesting to try things out with Ninty's new slate-pad, though. I found little to separate the versions on current consoles, aside from feeling slightly more accurate with the Xbox controller.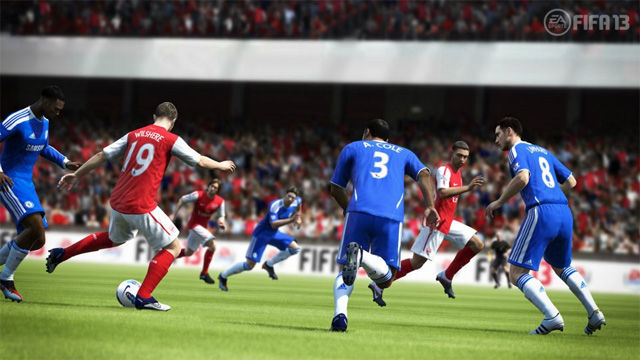 Jack, in the box...
Verdict
While the Fifa franchise is refreshed annually with marginal changes, the wealth of content is hard to discredit. Considering we're all likely to play our beloved footie game through most of the 12 months that follow release, its value can't be beaten. The tweaks continue and there'll always be more to add ahead of a next-gen graphical update. As it stands, Fifa 13 is the most realistic football game I've ever played and, as such, is worthy of serious praise. ®
More Games Reviews

Resident Evil
6
Dishonored
Borderlands
2
Guild Wars 2
Darksiders 2

Fifa 13 game review
In a field of its own. Available on PS3 (tested), Xbox 360, Wii U, PC, Mac, Vita and 3DS.