Ballmer bets 'all in' on Phone 8 and Windows
Claims other smartphone UIs are old or stolen
Steve Ballmer is promising Microsoft is "all in" on the Windows 8 system and took to the stage, along with a mystery celebrity, to push the latest version of Microsoft's smartphone operating system at a launch event in San Francisco.
"Today we're bringing phones into the Windows Family with Windows Phone 8," he said. "If you're one of the hundreds of millions of people that will use Windows 8 in the next year, there is no better phone for you than a Windows phone. All Windows 8 devices share the same iconic look and feel."
The new phones are being rolled out globally from this weekend in Europe, with a full rollout of hardware for the US and the rest of the world in November for the all-important Thanksgiving/Christmas spending orgy. Nokia, Samsung and HTC were the sole hardware providers mentioned at the launch.
Microsoft used the event to position itself rather cheekily against other handsets. Apple had invented the model smartphone UI and Android had copied it, said Windows Phone program manager at Microsoft, Joe Belfiore. But Microsoft (perhaps with patent issues in mind) appears to be taking a different tack.
Windows Phone 8 has been built around a customizable interface made up of "live tile" applications which constantly update new data, he said, touting this move as being about making the phone about people, not applications. Nevertheless, he was keen to stress that apps was what it's still all about.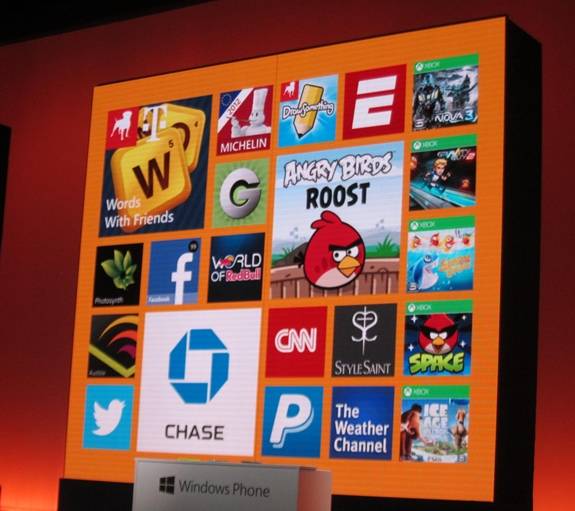 Microsoft is promising major apps support for Windows Phone 8
Microsoft has correctly figured out that if it can't make Phone 8 attractive from an applications perspective then the operating system is doomed, so it made a big deal of the subject. There are over 120,000 applications ready in its store, Belfiore said, and claimed that Windows Phone 8 has 46 of the top 50 mobile apps in use today.
He promised the smoothest Skype experience ever on the phone, which isn't surprising considering Microsoft has owned it for year. But he also said the software could be left on and not drain the phone's battery, something regular users will appreciate.
There are also a host of other big names developing for the platform. Facebook has a custom application for the Phone 8 system, which allows the application to display constantly updated images of news feeds on the handset's lock screen – something Belfiore dubbed as "awesomely delightful." Other apps can manage this too, he said, and Microsoft has also done a deal with Pandora that will see a year's advert-free use of the internet radio service for Phone 8 users.
All this is going to make data use an issue, but some Phone 8 users (depending on which operator Microsoft has done a deal with) will get a software called Data Sense, which tracks all data use against set monthly caps and advises on the best way to save those bits and bytes. The system will break down data use by applications and adjust settings to keep the user on-plan.
According to Belfiore, the Data Sense system can also increase the number of websites that can be viewed within a data allocation by 45 per cent, by using better compression. So far only Verizon in the US has been cleared for the new code, but other operators should have access later.
Using Microsoft's SkyDrive cloud service, documents and files that are stored online can be accessed from Windows 8 and phone platforms. That goes for music too, apparently via the Xbox streaming platform, although there was no detail on how this works from a licensing perspective.
For phone contact organization, Microsoft has taken a hint from Google+ and Facebook with the Room function. This allows you to group contacts into separate silos and just share information like updates, shared calendars, and collaborative documents with Phone 8 users, while iOS and other would get limited Room access.
On a similar note, Belfiore wheeled out his children on-stage to demo a feature dubbed Kids Corner. Parents can set up a separate section of the operating system for their kids, choosing what applications they can access. This last feature was also extolled by the celebrity visitor, actress Jessica Alba.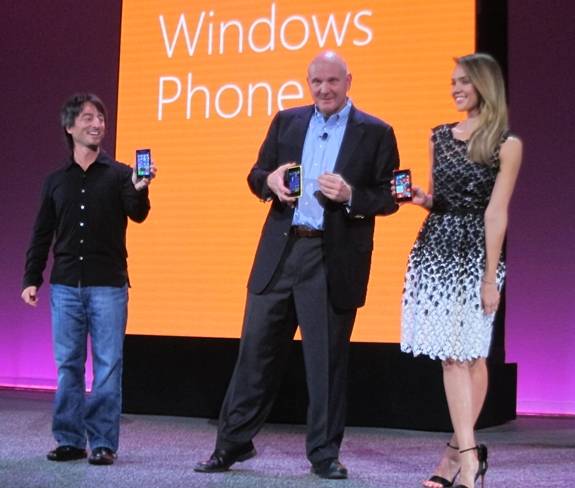 Three typical Phone 8 users
Alba said her daughter had managed to post gibberish on her mum's Twitter feed after she gave the tot her iPhone to play with, and said Kids Corner was just what she was looking for. Alba, described by Belfiore as just the kind of busy mum Windows Phone 8 had targeted the feature at, wobbled up on stage in impossibly high heels to shill for the software.
"It's like her little space where I can curate her content," she said. "I don't have to worry about my kids going into my social media networks or emailing my partners or anything like that."
On the face of it, Microsoft's got a good case to make for Phone 8 as it stands. The hardware looks reasonably good, although in the US AT&T has a lock on what looks like the best handset (Nokia's Lumia 920) and Verizon's exclusively getting the latest Samsung hardware once its ready.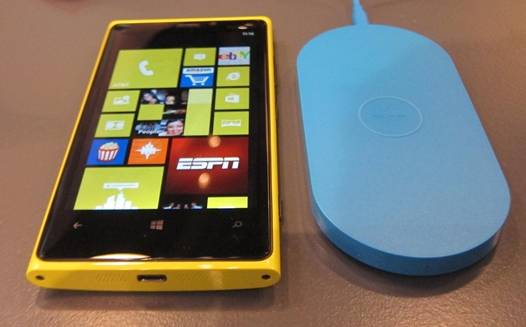 Nokia's Lumia 920 (with wireless charger) looks impressive
On the software side, for those people who are already heavy Microsoft users there's a lot of truth to Ballmer's argument that this is the best phone you can have, particularly if you're a big SkyDrive user or early adopter of Windows 8. But whether this is enough to tempt Apple and Android users, or convince Windows 7 operators to upgrade and/or switch, remains to be seen.
Ballmer, who is his younger day was renowned (along with Bill Gates) as one of the toughest poker players in Harvard, was clear that Microsoft is betting all it has on the success of the new Windows 8/Surface/Phone 8 package.
"Our hardware partners are all in, companies like Verizon and AT&T are all in, there are hundreds of operators and retailers around the world who are all in, developers are all in, and – if anyone wasn't convinced yet – Microsoft is all in." ®