Bond on Film It's the details that embellish James Bond's character: the martini, the Aston Martin, the Walther PPK.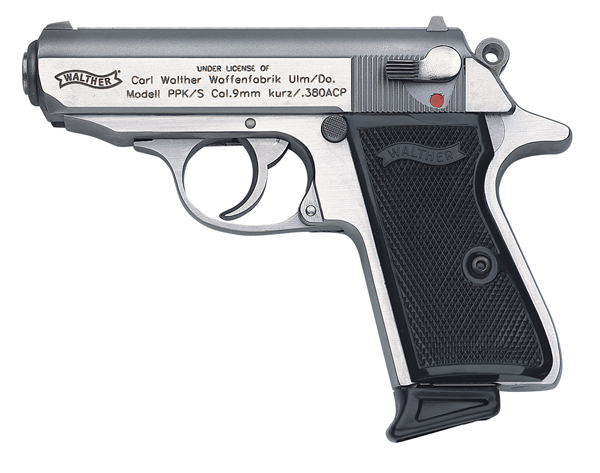 A bit of a handbag gun really ... but there's no point telling people
We're talking about an individual from a certain social background, somebody who possesses a deliberate and definite sense of choice and taste.
But Bond author Ian Fleming was inspired by the world of the 1940s and 1950s; so how do you keep the legend fresh yet true to the original?
One of the people handed this challenge on the latest Bond outing Skyfall is property master Jamie Wilkinson: and his favorite prop is the Walther PPK pistol, a timeless weapon that's been updated for a world where absolutes such as the "best" weapon of choice have been pushed aside by the stampede of crowd-sourced truthiness.
Skyfall's look is ultramodern and contemporary with a story line tackling hackers and computers and with Bond sporting an aggressively minimalist buzz cut. How do you update something as small, simple and distinctive as the PPK to fit in with this?
Wilkinson's worked in films for 15 years and admits to Moonraker being his favorite 007 film. Like anybody, he has his own ideas of who Bond is, or should be, and he admits he was thrown a little by Skyfall's tough, modern look.
As in Moonraker, technology is woven into the Skyfall story - in fact it's central, with hackers and encryption being key elements of the plot; but unlike Moonraker, which came at the dawn of NASA's Space Shuttle era, Skyfall's take couldn't be less camp.
"You get your own ideas," Wilkinson says. "A lot of this stuff [in Skyfall] is industrial simplicity and stripped back, so I was on the back foot."
Take the PPK. Wilkinson worked closely with an armourer on how to bring a gun that dates from the 1930s into the 21st century.
There were lots of discussions, but eventually it was decided less was more. The big new addition is a fingerprint recognition system that makes it impossible for anyone but Bond to fire his PPK, with the hand grip moulded to Craig's shooting hand. The design needed final approval by manufacturer Walther, Wilkinson says.
"After lots of discussions we kept it virtually identical. We used the original PPK with a very, very simple design around the grip - why change it for the sake of changing it," Wilkinson says. "Nothing is over-designed ... it's a very, very subtle and beautifully designed prop."
The computers used by Skyfall's hackers also got a makeover, but not so much as to appear totally different from real kit you might get from PC World. Sony donated the machines, but their portrayal involved talking to director Sam Mendes and the film's designer for their vision, before going online to see what the kids are doing these days.
On the interwebs Wilkinson came across gamers overclocking their machines to squeeze out more performance, cooling their overheated hardware with water, gas or even liquid nitrogen.
The Sony PCs got modified to look as though they'd been physically accelerated; up to three monitors were provided per workstation with screens tipped on their sides.
Wilkinson had to be careful, he says, and deliver something that seemed credible to an audience. While he couldn't just plonk a fresh-from-the-box PC and monitor on a desk, neither could Wilkinson go too far in the other direction, and deliver something apparently out of Flash Gordon or an exotic rig recognisable only to a hardcore overclocker.
"You have to hit a happy medium," he says. "You have to hit something that's pleasing as a problem but nonetheless the audience knows what it is."
Wilkinson, whose dad was a prop master on GoldenEye, describes how his passion for Bond started.
"Roger Moore was my baptism into Bond," he reminisces. "I remember The Spy Who Loved Me - I remembered you could only see a trailer and everybody was talking about the Lotus and how it flew into the water and then the wheels start turning up. That's one of my most iconic memories of Bond," he says.
As for Jaws:
"I don't think they've had anything to top that until Skyfall - the baddy needs to be bad."
Wilkinson might be biased: but before you assume he is, it might be worth remembering Javier Bardem - who's playing the villain in Skyfall - in the Coen brothers' No Country for Old Men and then trying to look at a US 25-cent coin the same way again.
The litmus test, though, will be how well Bardem's baddy stands up to a remodelled Walther PPK. ®
Similar topics