This article is more than 1 year old
Toyota Prius Plug-in Hybrid car review
A huge leap forward for the world's most popular hybrid
Extended electric-only driving range has been a long time coming to hybrid cars but with the arrival of the Vauxhall Ampera and now Toyota's Prius Plug-in the breed may finally shake off the reputation of vehicles that only exist because Americans don't like diesels.
The mains attraction: Toyota's Prius Plug-in Hybrid
In a nutshell what we have here is a Toyota Prius with a larger battery pack that extends the electric-only range from just over one mile at speeds below 31mph to more than 15 miles at up to 51mph. Realistically, those 15 miles could cover typical daily tootling around for urbanites.
If you need more range, as suggested by the name, charging the traction battery can now be done from a power socket as well as from regenerative braking and the petrol engine. Mechanically the plug-in Prius is near enough identical to the standard car. Under the bonnet is a 98bhp (73kW) 1.8L Atkinson cycle VVT-i petrol engine mated to a CVT gearbox and a 60Kw (80bhp) electric motor.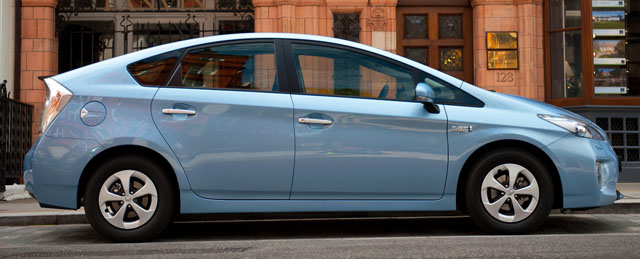 Note the charge socket cover – petrol goes in the other side
It's the type of battery that has changed. Out goes the 1.31kWh nickel-metal hydride pack and in its place is a 56-cell 4.4kWh lithium-ion unit. The new battery is 38kg heavier, a significant portion of the car's 55kg overall weight increase. It's bigger too but you only lose 3 litres of luggage space.
Charging the battery is a simple matter of grabbing the cable out of the boot cubby and plugging it into a wall socket. A full charge never took longer than 2 hours and worked perfectly well using the 13amp 3-pin socket in my hallway and an extension cable.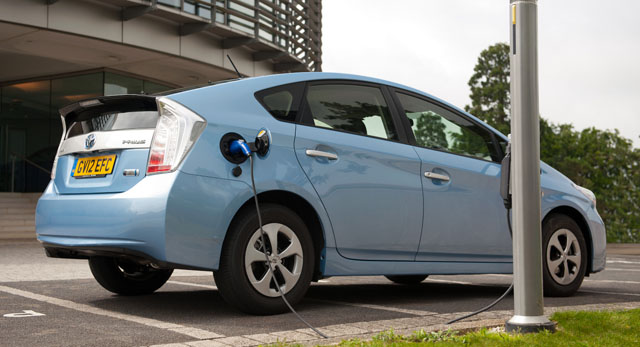 Warning: charge points like this are still rather scarce
There's a practical consideration here too: As it can be charged in such a short time, I could juice it up without leaving it plugged in overnight and risking someone stealing the charge cable. Toyota recommends using a custom socket in a wall box and has partnered with British Gas to instal them and specifically advises against using extension cables but as I say, it worked just fine for me.