This article is more than 1 year old
Steve Jobs' Apple-powered yacht makes belated first trip
T'was on the good ship Venus
A custom yacht designed by Steve Jobs, dubbed Venus, has set sail just a year after the Apple founder's death.

The good ship Venus, minus the intended captain
Jobs, French designer Phillipe Starck, and Apple's Jon Ive all collaborated on the ship, which is based on a minimalist design that most fans will recognize. At 70-80 meters in length, Venus is smaller than the water craft of other technology titans such as Microsoft's Paul Allen and Netscape's Jim Clark, but more than enough for a family outing of the kind Jobs envisioned.
"I know that it's possible I will die and leave Laurene with a half-built boat," Jobs told his biographer Walter Isaacson. "But I have to keep going on it. If I don't, it's an admission that I'm about to die."
Unsurprisingly, Apple technology plays a major role in the craft. The bridge's instrument controls are displayed on seven 27-inch iMac systems, according to images from the Dutch blog One More Thing. Workers on the boat even got given specially engraved iPod nano's once the ship sailed.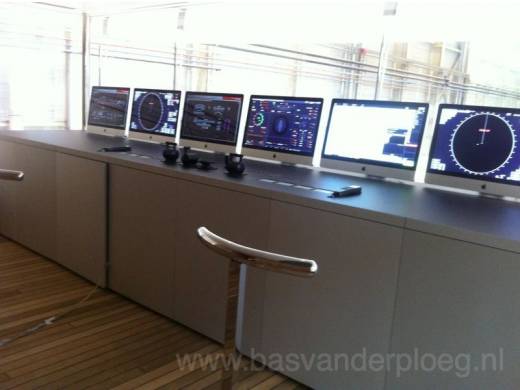 Jobs wanted his own hardware on board
The ship's hull is made entirely from aluminum for lightness, and has a band of floor-to-ceiling windows around the outside, topped off with teak decking. There's a Jacuzzi on the top of the craft and two floors of superstructure above the deck area.
The design suggests this isn't really an ocean-going craft, since those hull windows would be a liability in very rough seas and the doors and windows of the superstructure aren't slanted but run at a 90 degree angle from the deck. This make the ship trickier to steer in high winds and much less resistant to wave damage.
Venus was launched in the presence of Jobs' widow and their children from the boatyard of Dutch shipbuilder Koninklijke De Vries. Once final testing and outfitting is completed, it will be loaded onto a container ship and sent to its final destination, presumably a marina somewhere on the California coast.