This article is more than 1 year old
AMD to partner with ARM for server CPUs by 2014
SeaMicro's fabric is the 'secret sauce'
AMD and ARM have entered into a partnership that will see 64-bit ARM-based Opteron server processors appear from the Intel competitors, with release planned for 2014.
"We look to disrupt the status quo," AMD CEO Rory Read told reporters and analysts at a San Francisco briefing on Monday afternoon. "We look forward, to drive the industry to where it needs to go."
Where it needs to go, Read explained, is towards mega–data centers running on lower-power, ARM-based servers powering cloud services.
"There's no doubt that the cloud changes everything," said Read. There's also no doubt that AMD needed to do something dramatic to reverse its dwindling fortunes – and the ARM partnership is a dramatic part of the company's move to "reset and restructure" itself, as Read said when announcing AMD's disappointing financial results earlier this month.
"We're the first company to offer both 64-bit ARM and x86 server processors," Read said. "Dense serving is the key to our long-term strategy and growth." That said, Read didn't indicate that the ARM partnership would be limited to server chips. At this point in AMD's history, anything is possible.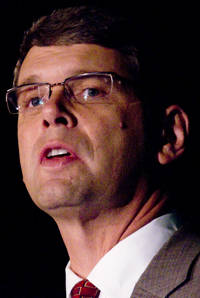 AMD CEO Rory Read
Read was careful to make it clear to his audience that what he referred to as the company's "ambidextrous architecture" did not mean that AMD was abandoning x86 chip development – or, for that matter, that ARM was the future and x86 the past.
"This is not a debate about x86," he said. "That instruction set has lots of applications and data – it's going to play a huge role in our future." Accordingly, Read said that AMD's work on x86 chips, including the company's line of APUs for client and mobile platforms, will continue.
Read was joined by the general manager of AMD's Global Business Units, Lisa Su, who emphasized that a key part of the chip and system development being undertaken under the ARM partnership will be the "Freedom" fabric clustering technology that AMD acquired when it bought SeaMicro this March.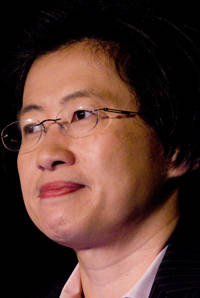 AMD SVP and General Manager,
Global Business Units, Lisa Su
"The fabric technology is the secret sauce," Su said. "This is what will make AMD's solution different from other vendors that will be offering ARM-based systems in the data center."
Su cited ARM CPUs' advantages as being low-powered and well-suited to parallelized workloads. The Freedom fabric, she said, is essential to clustering "hundreds or thousands" of ARM-based CPUs without simply connecting them via a network. "We're going to embed this fabric in our ARM-based CPU offerings," she said.
"This is the only fabric that's production-tested," she asserted. "It's been in the field for over two years. We've run millions of hours, and we are trialing this at many of the large mega–data center customers in the world."
Like Read, Su didn't rule out non-server partnerships with ARM. "Today, our relationship that we are announcing is around servers," she said, "but we certainly believe that the fundamental underlying principles in terms of microprocessor design, in terms of system-on-chip capabilities, in terms of system integration, are applicable across multiple markets."
Neither Read nor Su would offer specifics about which ARM architecture – or architectures – that AMD would be using in its forthcoming server chips, but instead deferred to ARM's Simon Segars, who was also present at the event, who will release more details at ARM TechCon 2012, which opens Tuesday morning in Santa Clara, California.
Segars will present the opening keynote at that event. The Reg will be there, so presumably we will have more specific details to share after sitting in with the chipheads at that conference to hear what Segars has to say. ®