Bond on Film "A distressingly large amount of rubbish is talked about cocktails," Noel Jackson, top boffin at the Life Science Centre in Newcastle-Upon-Tyne, tells The Reg.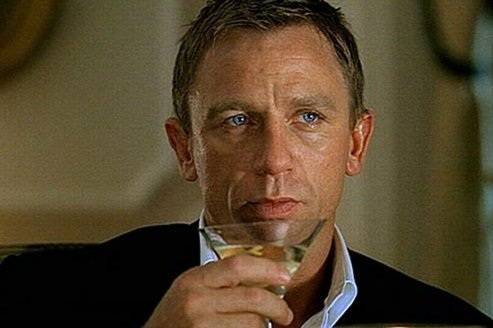 You know, that's not half bad. I'm going to have to think up a name for that
Jackson, a Cambridge-University-educated chemist, has all the straight-up science on alcohol.
"We do a lot of debunking of things that people think are true," he tells us. "There's this business of shaken versus stirred. Once you heard it said from people in the cocktail world that shaking 'bruises' a liquid! That's rubbish."
The Reg, as part of our ongoing celebration of James Bond's fiftieth year on film, was talking to Jackson about one of the signature elements of the 007 package: the dry vodka martini. Shaken, not stirred.
Jackson comes on the best of recommendations. We were put onto him by the boffins of the UK's National Physical Laboratory, who have been instrumental in such developments as packet-switched networking and the "Dambuster" bouncing bomb of World War II fame.
"What he doesn't know about drinks, doesn't need to be known," they told us.
We spoke to Jackson about chemicals and thermal dynamics. We start with flavour, and that means talking alcohol.
As all keen Bond geeks know, it wasn't always a vodka martini for 007. Creator Ian Fleming had Bond order his own very individual martini in the first novel, Casino Royale, dubbed the Vesper after traitorous minx Vesper Lynd.
"Three measures of Gordon's, one of vodka, half a measure of Kina Lillet. Shake it very well until it's ice-cold, then add a large thin slice of lemon-peel. Got it?" Bond barks at a hapless barman.
Casino Royale was written a time when gin was the - British, anyway - alcohol of choice for a martini, not vodka. This is a significant matter, as gin contains plant extracts (botanicals) which purposely give it a lot of flavour, varying significantly from brand to brand. Vodka, by contrast, is supposed to be an almost pure mixture of alcohol and water. A vodka martini relies almost completely on the vermouth* for flavour, whereas the choice of gin in a gin-based mixture will impart a lot of flavour of its own.
Gin, and vermouth - like food - get their flavours from long chains of chemical compounds called esters.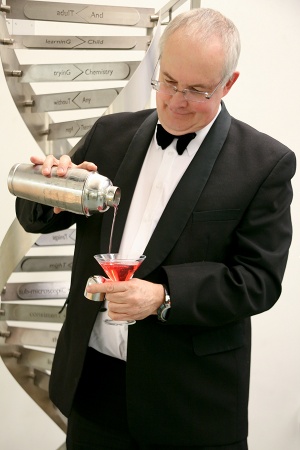 Q Branch bartender in action
"The addition of water via ice to the cocktail is critical because it releases H2O that slices the esters open to release smaller, more volatile chemicals that in turn release vapours on your palate - the point at which you get the flavour," explains Jackson. "Gordons is packed with juniper, cassia, cardamom, and peppers while Lillet contains lots of herbs."
And let's not forget the lemon-peel garnish of the Vesper. All citrus fruits contain their chemicals in hydrocarbons called terpenes, which are oily and bitter; those tiny globules floating on top of your martini are the oil from the lemon that contains the terpenes.
"They give a bitterness and that makes it more of a grown-up taste," Jackson tells us, no doubt causing some horror among those who consider an olive or two bearing their small cargo of salt essential to a proper martini.
"The Vesper martini is quite a subtle drink: well chosen vermouth*, a mix of vodka and gin - understandable given the time - and his choice of garnish is subtle," says Jackson. "While the Vesper isn't one of my personal choices, you can't knock it for class and subtle flavour."
The bar at Dukes Hotel in St James', London, is believed to be the true home of Bond's martini; it was where Fleming used to drink. Dukes bar manager Alessandro Palazzi has consolidated the legend. He's selected lemons for the twist specifically from Italy's Amalfi Coast, he tells us - over a cold, crisp pour.
Second, Palazzi also selected the bar's own vermouth, from a micro distillery called Sacred based in Highgate, London. He reckons it gives a flavour like that of the old-time Kina Lillet specified by Bond. Sacred supplies Dukes with a dry amber vermouth that Palazzi says is "very English" - the Reg's choice - and a spicy red version, presumably for use in other drinks.
Ice and the importance of shaken versus stirred
Chilling is vital: neat or almost-neat spirits are hard to drink at room temperature and chilling keeps the alcohol cold until it hits your oesophagus, where it starts to evaporate, making it easier to drink. Ice is also vital for one other factor: melting water produces the infusion of unattached H2O that snips open the esters.
Shaking the alcohol mixture with ice, as opposed to heretically stirring it, is probably one of the best ways to chill the cocktail. The best would be to put the ingredients plus glassware in the freezer beforehand and then add some merely cool or room-temperature water while mixing, but the use of room-temperature ingredients and ice in a shaker might produce more meltwater and yield a "wetter" and - accepting the theory of ester-snippage - potentially more flavoursome cocktail.
"As long as you get some melt on to the ice you're laughing," Jackson says. "If you have everything in the freezer and it's all below zero you won't get any melt."
It's doubtful Fleming was too concerned with the physics and thermal dynamics of shaken versus stirred in 1952, but his pick was significant. It meant that Bond, even in a modern world full of freezers, favoured the classic method: shaking was the way cocktails were made between the wars, in the better bars and clubs and country houses.
Fleming introduced Bond's martini to make a point. He had moved in Bond's supposed milieu while drinking at Dukes and mixing quietly with the elite of Westminster and Whitehall during WWII. Fleming wanted to show that his hero - an intelligence officer - not only mixed with the big boys but drank like them too: hence a martini, and certainly gin in that crowd at that time. (Fleming revealed to his doctor at the end of the war that he was polishing off a bottle of gin every day.) Adding vodka? A nod to the modern.
You'd be forgiven for walking straight past Dukes, which is buried in a quiet back street off tourist-filled Piccadilly. Occasional Reg research/team-bonding trips have also shown that it can be hard to remember where it is (or anything else that happened that evening) even once you've been there.
Talking in his bar, free of music and flat-screen TVs, Palazzi is unequivocal about the impact Bond has had on the martini in drinking culture. Quite simply, he's popularized it: Palazzi claims to mix 200 martinis on a busy day in his tiny bar. Also, he reckons, gin is on its way back - just as the classic Vesper is now seen in the movies in preference to the simple American-style dry vodka martini of yesteryear.
Ironically, for all his talk of physics and style, Jackson the scientist's favourite moment in Bond when it comes to the martini is 007's least sophisticated. Asked how he'd like his martini at one point in Casino Royale, Bond snaps back:
"Do I look like I give a damn?!"
"That's interesting because it's the anti-image, and that is there in the books because he is fussy and does care about what he gets!" Jackson says. ®