Cloud computing juggernaut Amazon Web Services has cut prices and fattened up its offerings.
AWS was founded to sell raw compute and storage like any other kind of retail item like a CD or a can of beans, and as a subsidiary of the world's largest e-tailer it takes very seriously an ever-expanding shelf of products and price cuts that make it tough for competition.
To those ends, AWS has done two things to its Elastic Compute Cloud (EC2) service. The most important part of the announcement that AWS made through its blog is a price cut for existing first-generation EC2 instances
The other development is the creation of a second-generation of virtual servers that have fatter main memory and more CPU oomph allocated to them compared to those first-generation EC2 instances. Just to make it's move maximally confusing, AWS calls the first iteration of EC2 instances m1 and the second iteration m3. (We're not kidding – that's not a typo.)
The standard EC2 instances come in T-shirt sizes – small, medium, large, and extra large – and have a certain amount of virtual main memory and a certain number of compute performance, as gauged by Amazon as an Elastic Compute Unit, or ECU, running across a specific number of virtual cores (generally a thread in a physical processor) atop Amazon's own implementation of the Xen hypervisor.
This ECU metric was established when Amazon first took its cloud public in 2006, and an ECU is roughly equivalent to the performance capacity of a 1.7GHz Xeon processor of 2006 vintage or 1.2GHz of performance from an Opteron or Xeon processor of 2007 vintage.
Amazon uses a mix of processors inside the EC2 cloud, and as El Reg explained last week, not all EC2 instances of the same type are created equal, and it is possible to try to game the cloud by shifting your workloads to newer iron with higher actual performance regardless of the theoretical ECU ratings.
On the four existing EC2 standard instances, prices have been cut as follows: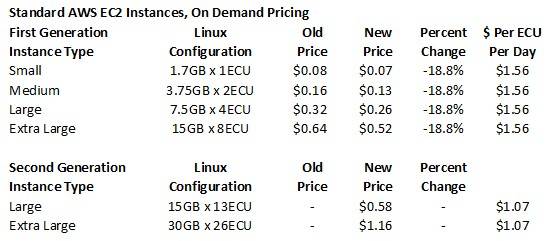 Amazon EC2 instances, m1 and m3 generations
As you can see, the price cut is 18.8 per cent off yesterday's price – and, by the way, this marks the 21st time that Amazon has cut prices on its EC2 cloud in the past six years.
These price cuts only apply to EC2 instances running Linux. Those of you running Windows on standard EC2 instances on an on-demand basis don't get a price cut. And the price cut is at the moment restricted to the US East AWS region (the data center in North Virginia that has had its share of issues lately) and the US West region (in that shiny new Oregon data center).
With the new second-generation or m3 variant of the instances, AWS is starting out with only large and extra large instances, which have twice the virtual memory and over three times the allocated ECUs for roughly twice the price. That not only gives customers larger virtual machines in which to plunk applications that want lots of compute and memory, but also considerably better bang for the buck at 31.4 per cent lower cost per hour for an ECU.
The interesting thing about the new large and extra large EC2 m3 instances is that they don't have local storage affiliated with them, but rather make users pay for Elastic Block Storage. So although the bang for the buck is better, you need to add EBS to it – which is not free.
The other funny thing is that while EBS is the storage for these new instances, EBS-optimized storage, which was available on the EC2 m1 instance types as an alternative to local storage, is not available.
"With this wide variety of instance types at your fingertips, you might want to think about benchmarking each component of your application on every applicable instance type in order to find the one that gives you the best performance and the best value," Jeff Barr, evangelist at the AWS unit, said in the blog post. Always good advice, of course. You might want to bring a spreadsheet along, too, to calculate bang for the buck across the instances and storage you'll need. ®