International Space Station crew members are currently spacewalking around outside the cosmic laboratory to configure one of its solar arrays.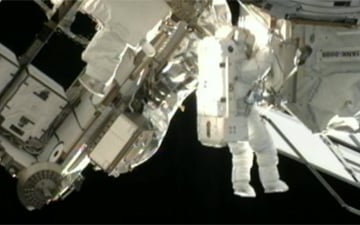 Commander Suni Williams and flight engineer Aki Hoshide started their space stroll at 12.30 (GMT) and will spend 6.5 hours taking care of the station's port side 2B solar array power channel's photovoltaic thermal control system, which is leaking ammonia.
The photovoltaic radiator on the P6 truss of the system needs to be isolated to shut off the flow of ammonia through it. The crew then needs to reroute the ammonia through a spare so the system stays operational.
If this bit of rejigging works, mission boffins will have to decide if that's a good enough fix or if they want some other 'nauts to get out there and replace the radiator another time.
Expedition 33 leader Williams has walked into space six times before this and spent over 44 hours out in the cosmos, the record for a female astronaut. This walk will also give flight engineer Hoshide the record for the longest time outside out of all Japanese 'nauts. ®