Teardown It's no wonder why the iPad mini assemblers at Foxconn rioted – its innards are fiendishly complex and tightly packed.
Well, to be honest, we don't really know if the iPad mini's complexity contributed to those Chinese workers dissatisfaction, but if what the tool-parts-and-repair folks at iFixit discovered when they disassembled Apple's $329-and-up shrunken fondleslab, we can certainly imagine more than one of them saying, "我忍无可忍,我不打算把它了!" *
According to an iFixit email, "We had to do some sleuthing to find some of the screws on this thing – several tiny screws were hidden underneath covers and inside crevices." And when they say tiny, they really mean tiny. "Apple wasn't joking about 'mini';" they write, "this iPad contains some of the smallest screws we have ever seen!"
Before disassembling the little fellow, iFixit grouped the iPad mini together with a third-generation iPad and an iPod touch – which they dubbed a "slightly smaller iPad Mini" – for a family photo: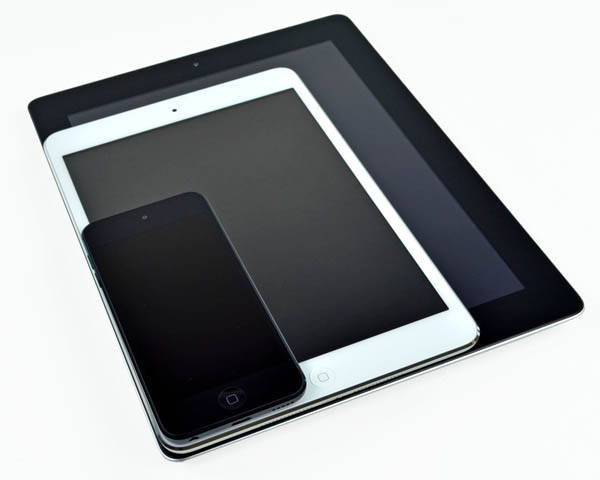 The three Cupertinian fondleslabs, from the smallest to the largest (click to enlarge)
The iFixiteers melted the "copious" adhesive holding the iPad mini together with their new iOpener tool, a microwaveable heating pad that – along with the prying prowess of eight iFixit guitar picks – enabled the teardown artists to pop open the iPad mini's case.
Once inside and after the display was freed, a total of 16 screws – some hidden – held down a metal plate covering the iPad mini's internals. As we mentioned above, some of the screws inside the iDevice are quite small. "Don't sneeze too hard while taking them off," iFixit warns.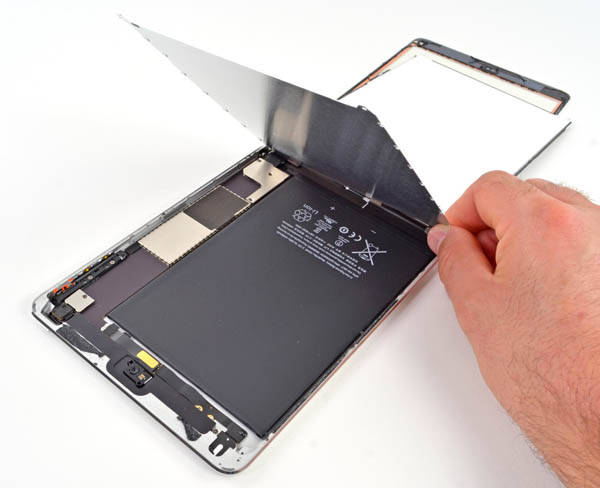 Inside the iPad mini, after some extensive de-screwing (click to enlarge)
Among those internal goodies are a pair of stereo speakers – a bit of a surprise, seeing as how Amazon's iPad mini attack ad lists one of the Kindle Fire HD's advantages over the iPad mini as it having dual stereo speakers versus the iPad mini's mono speaker.
It appears that you got that one wrong, Amazon marketeers. The Reg wonders whether a UK judge or three will order Bezos & Co. to apologize.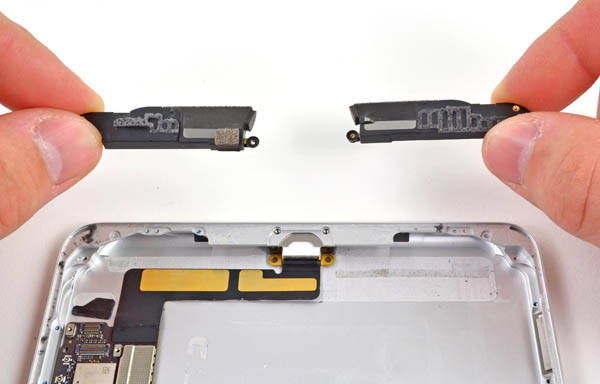 Two speakers – that would indicate stereo sound, correct? (click to enlarge)
The iPad mini's logic board, as expected, is built around an Apple A5 processor. iFixit also discovered that the A5 has 512MB of RAM. "How do we know?" they write. "The package markings E4064P3PM-8D-5 indicate the A5 has two 33 nm, 2 Gb, LP DDR2 RAM dies inside, according to Chipworks."
The A5, of course, is not the sole resident of the iPad mini's logic board. To identify it and its compatriots, however, we'll forego attempting to decode iFixit's colorful labling scheme, which we explained in flowery language, straightforward descriptions, RGB values, and hexidecimal codes in our earlier reports on their teardowns of the Mac mini and Microsoft Surface, none of which satisfied some of The Reg's loyal readers.
Instead, we've defaced one of iFixit's fine photos with a simple numbering scheme – our apologies, iFixit. Note that the function of some of these chips is as yet unknown by the iFixiteers – and thus, by us as well – in part because Apple is characteristically not forthcoming about the functions of their proprietary chippery.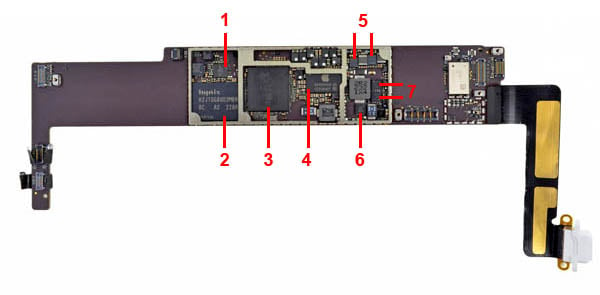 The iPad mini's logic board, replete with proprietary Apple ICs (click to enlarge)
Apple 338S1116
Hynix H2JTDG8UD2MBR 16GB NAND flash memory
Apple A5 processor
Apple 343S0593-A5
Apple 338S1077 B0MB1228
Fairchild BC7BE F0MC 6683
Fairchild PCHPS FDMC 6676BZ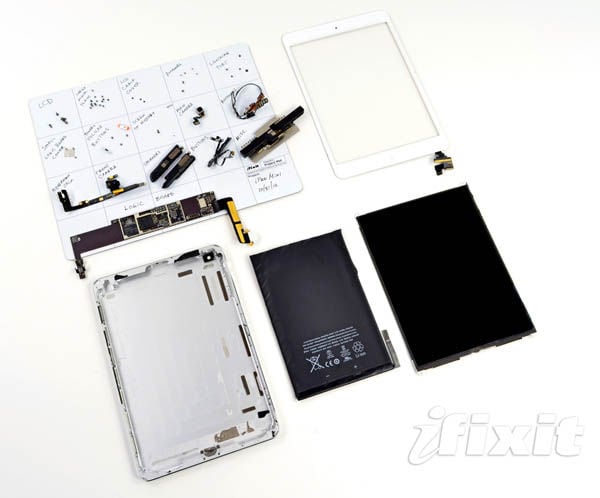 The iPad mini, 'Stripped Bare by Her Bachelors, Even' (click to enlarge)
As for ease of repair, the iPad mini didn't impress iFixit, which scored it two out of 10 on their reparability score – unsurprising, seeing as how Apple's kit is notoriously locked down. The 13-inch MacBook Pro with Retina Display, for example, received the same score, and it's 15-inch sibling scored an even lower one out of 10.
That said, the iFixit folks commend Apple for not fusing the display and its glass together, thus allowing each to be replaced independently. They also note that its battery isn't soldered down, making it more easily replaceable.
Speaking of that battery, its exact capacity is a wee bit difficult to track down, owing to some contradictory labeling. It appears, however, to be somewhere between 16.3 to 16.9 watt-hours, far less capacious than, for example, the 43Wh battery in the third-generation iPad.
For more on that battery and the images that explain iFixit's confusion, you'll have to check out the entire 45-image, one-video teardown. Trust us: if you're even the tiniest bit a hardware geek, it'll be well worth you time. ®
* Bootnote
That would be Simplified Chinese for "I'm mad as hell and I'm not going to take it anymore!" – well, according to Google Translate, at least.
Similar topics