Seagate saw a 9.3 per cent slip in enterprise disk drive sales in its first fiscal 2013 quarter and revenues fell to $3.732bn compared to the previous quarter's $4.482bn.
However, revenues were higher than the year-ago quarter's $2.8bn, when a profit of $140m was made. In the latest quarter profits were substantially higher at $582m - or 15.6 per cent of revenues, which contrasts with profits at 5 per cent of revenues a year ago and at 22.6 per cent of revenues in the final fiscal 201 quarter. The drive shortages resulting from the Thai floods drove up prices and this effect is now being worked out.
Seagate shipped 57.6 million hard drives in the quarter. Rival WD shipped more in its latest quarter, 62.5 million, and earned more revenue at $4.035bn but less profit at $519m, 12.9 per cent of revenues. Seagate sold fewer drives but earned more profit.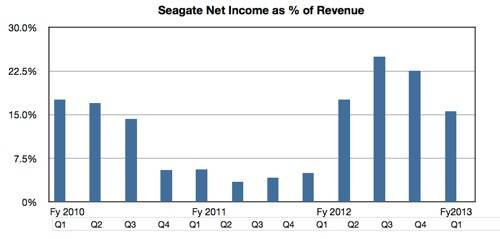 A chart comparing the two companies' quarterly revenues shows that WD has overtaken Seagate and both suppliers have entered a downturn in their latest quarter.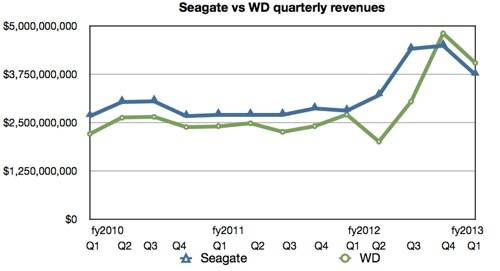 Highlights of Seagate's numbers were:
Enterprise class shipments decreased per cent year-over-year to 6.3 million. These results include 3.3 million hard drives for mission critical applications and 3.0 million hard drives for nearline applications.
Client compute shipments increased 2 per cent year-over-year to 40.7 million disk drives, including 20.3 million mobile hard drives and 20.4 million desktop hard drives.
Non-compute shipments in the September quarter increased slightly year-over-year to 10.6 million hard drives, including 5.8 million consumer electronics ("CE") hard drives and 4.8 million Seagate branded hard drives.
The company says it is moving to sell more higher-value drives. ®