There are now more small cells than bigger 'macro' base stations, with the vast majority located in users' homes but an increasing number rented out to network operators wanting coverage.
Globally there are a shade under six million cellular base stations as we'd recognise them, according to Informa Telecoms and Media, but they are now outnumbered by small cells - short-range, low power, intelligent, base stations which bear more resemblance to a cereal packet than a traditional base station.
Most of the small cells currently deployed are providing coverage to one house, plugged into a domestic broadband connection, but some are being stuck into coverage blackspots by third parties who intend to rent them out to network operators.
A good example of the latter is Virgin Media, whose LTE trials are (according to Informa) a precursor to VM dropping small cells around its fibre network and hiring them out to network operators looking to increase network coverage or offload some of their traffic. Such routing is increasingly practical, and with network operators already sharing 3G and 2G radio infrastructure, it's not a huge jump to see coverage being bought and sold.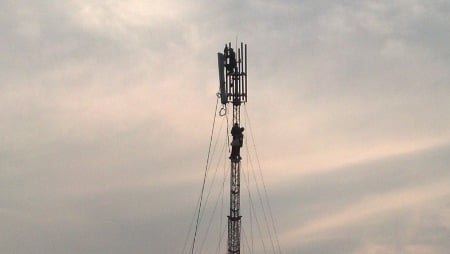 Engineers fitting a macro cell in Bahrain, but such cells are in a minority these days
But for the moment it is in-home femtocells which are driving up the numbers, with operators around the world extending coverage that way and all the UK operators now offering some sort of in-home network expansion. Vodafone is the most obvious, as it sells the Sure Signal box, but all the others are now offering femtocells as a freebie to profitable customers who complain loudly enough.
Small cells, including femtocells, are self-configuring, so instead of sending out a skilled team to map the radio environment, align antennas and select suitable frequencies, the small cell is fitted by anyone who can plug in some power and an Ethernet cable (with PoE even the power isn't required). The hardware monitors the radio environment, detects the macro network and finds itself a suitable radio frequency.
The backhaul is handled over an IP network, generally over a best-effort-IP infrastructure, but QoS can be supported if the operator has control over the Ethernet network (as Telefonica did for its deployments in the London Olympic park). Some small cells can also report their GPS location back - thus enabling the network operator to compile and maintain coverage maps and ensure the device isn't using radio frequencies it doesn't own (an issue in countries with non-national licences, such as the USA).
As each cell has a specific capacity, the advantages of making them smaller isn't restricted to extending coverage; a number of cells covering an area can also increase the capacity within that area at the cost of more wires and greater power consumption. All of which brings us to the concept of the HetNets (heterogeneous networks) - swarms of small cells which only kick in when the macro network gets overloaded, ensuring that there will always be more small cells than big ones. ®