There'll be grumbling in Costa del Sol tonight after the Daily Telegraph started charging expats and other folk overseas to read its website.
The broadsheet newspaper today introduced a porous, or "metered", paywall similar to the schemes successfully operated by the Financial Times and the New York Times.
The Telegraph will remain free to read online in the UK, but readers beyond Blighty's shores will be allowed to tut sadly at 20 stories before they have to cough up £1.99 a month to continue moaning about how the old place has gone to to the dogs.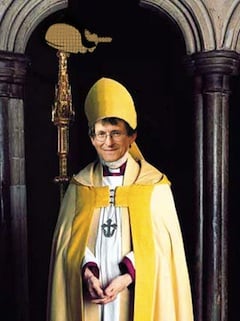 No money changes hands in his temple:
Guardian editor Alan Rusbridger
The Audit Bureau of Circulations (ABC) reports that the Daily Telegraph's website was visited by 51.4 million unique web browsers in September, third behind the Graun (65m) and the Daily Mail's soaraway MailOnline (101m).
In the mania of Web 2.0, newspapers were urged to give away all the material they generated for free. However, their websites failed to rake in enough advertising cash to support the preposterously expensive business of producing a daily paper - a reality that prompted an industry-wide rethink.
The New York Times launched a porous paywall 18 months ago, and noted media visionary Cory Doctorow published a list of eight compelling reasons why it would fail. But now analysts say the NYT paywall generates enough revenue to recoup the costs of its digital operation.
The Guardian has taken a different tack: investigative reporter David Leigh suggested introducing a monthly tax on every broadband household of about £2. There are roughly 20 million broadband households in the UK - so the windfall would raise about £480m a year. Trebles all round?
Alas, the Leigh Tax merely achieved something hitherto thought impossible. The warring tribes of the Gruan's Comment of Free put down their swords and united in one voice to declare: what a rotten idea.
El Reg readers chipped in by composing a charity single to save the upmarket paper - which you can find here. ®