El Reg acquires wildly dangerous laser cannon (with lightsabre option)
Soon to be mounted on head of a shark. Or maybe donkey
---
Once a year, El Reg's Special Projects Bureau compiles a hardware/office supplies acquisition list for the coming 12 months, which is ceremoniously laid before management in the hope the Vulture Central coffers are particularly cornucopious.
The trick is to slip in the more provocative items amid the usual litany of unremarkable items, as this extract from the 2012-13 offering shows:
Paperclips
Spare 500MB drive for NAS box
Printer paper
USB hub and cables
Huge frikkin' laser
Shark
Gigabit Ethernet board for main PC
Susbscription to New Boffin magazine.
Coffee filters
So, did you spot the two items which didn't make it past the finance soviet? That's right, so it was straight on the blag and after a few emails to international shark dealers and Goldfinger-style laser suppliers, we'd at least got a bit closer to realising our dream of a laser-armed shark offensive capability.
Cue a delivery from Wicked Lasers, which heard our call and very kindly sent over a couple of its Spyder III models, in Krypton Green and Arctic Blue flavours.

The Spyder III is proclaimed the planet's "most advanced and powerful handheld laser", and the Arctic version caused a bit of a rumpus a couple of years back. One shaken laser safety expert described the beast as "horrendously dangerous", while a trembling Trading Standards operative confessed she was "seriously concerned about the sale of these products which should only be for industrial use".
Well, before we could get down to some hideously risky non-industrial experimentation, we had to unpack the rest of the kit, which included safety specs, rechargeable Lithium battery and an "expanded lens kit", boasting "flashlight, focus, galaxy, flood, line and cross" options, three of which are shown below.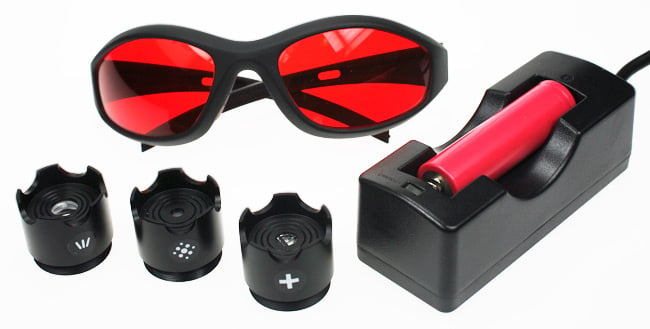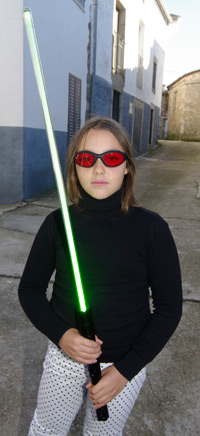 Also in the box were a couple of polycarbonate "LightSaber" blades, much to the delight of my daughter Katarina, although we had to wait until after dark to get the full effect.
In the meantime, we had a chance to completely familiarise ourselves with the laser and its controls. The first impression is that it's a solid piece of kit, with a hefty aircraft grade aluminium body, "Mil-Spec Type III hard anodized in black".
The whole thing weighs in at roughly 420g, including the supplied holster, so it's hardly suited for corporate brainstorm laser pointer duties, but then at its full output of up to 1W, you certainly wouldn't want to be waving it around the boardroom anyway.
The Spyder III is a powerful beast indeed, so Wicked Lasers has made sure it's well secured against accidental/unauthorised use. To get the thing fired up, you have to first press the on button on the bottom (see 1, below), then input a "morse code" sequence using another button on the side (2).
It takes five clicks - three short and two long - to produce dazzling laser illumination, and as you progress, the status is indicated by one, two or three LEDS (3) in various combinations.
This process takes a bit of getting right, so it's fair to say you can't inadvertently power up a Spyder III. When you finally do get the hang of it, it takes around 10 seconds to get a low-power beam (approx 20 per cent) beam bursting from the aperture (4) in initial "strobe" mode.
Further clicks on the button switch the laser between low power continuous, high power strobe, high power continuous, SOS and beacon modes.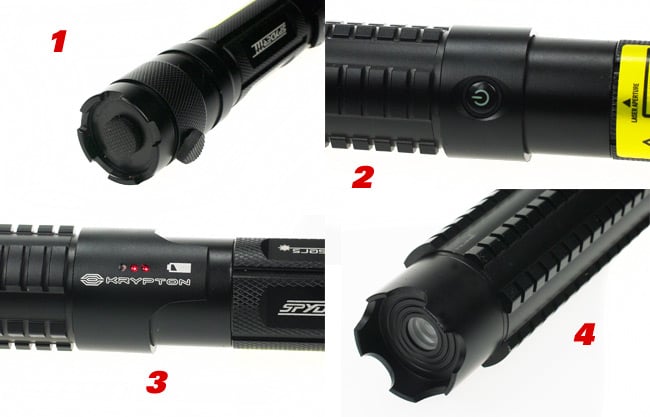 For complete peace of mind, you can disable the laser by removing the "Safety Interlock" pin seen on the side of the body in pic 1. If that's not enough for you, then unscrew the "Contact Guard" metal plate opposite the Safety Interlock and that will also render the device inoperable.
So, with the fire-up sequence mastered, and the two lasers clamped to stands, it was time for a blast: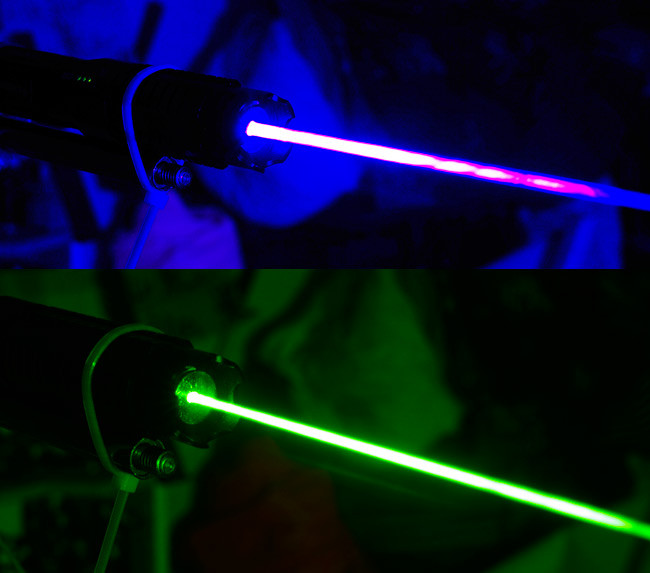 The output of the Spyder III is impressive, to say the least. So impressive, it's important to make sure you have the safety glasses on at all times, since even looking the beam's dot against a white wall will have you seeing spots for some time afterwards. It's particularly important to take care with the Arctic, whose 445nm wavelength poses a particular risk to eyes.
According to Wicked Lasers, the Arctic's Nominal Ocular Hazard Distance (NOHD) - "the distance that a laser beam does not cause immediate or long term damage to a person ... based on a 0.25 second accidental (unaided eye) exposure" - is 149m at a power output of 1W.
The beam has a power of 0.25 lux at 6,856m, according to the blurb, which notes that this is "the standard that flashlights are measured against", namely the FL1 Standard for beam distance.
By comparison, a substantial Maglite 3-Cell D flashlight's FL1 is 364m.
For real penetration, though, check out the stats on the 532nm green Krypton. At full power, its NOHD is the same as the Arctic - 149m. However, its FL1 is a staggering 137,120m.
This extra penetration is offered by the Krypton's tight 2mm diameter beam, compared to the Arctic's 2mm x 5mm spread. That's reflected in the price difference between the two models, as you can see on Wicked Lasers' website.