In 1985, Commodore held the UK launch of the Amiga 1000 at the World of Commodore Show at the Novotel in Hammersmith. Twenty-seven years later, Microsoft used the same venue to host the Technical Launch of Windows Server 2012.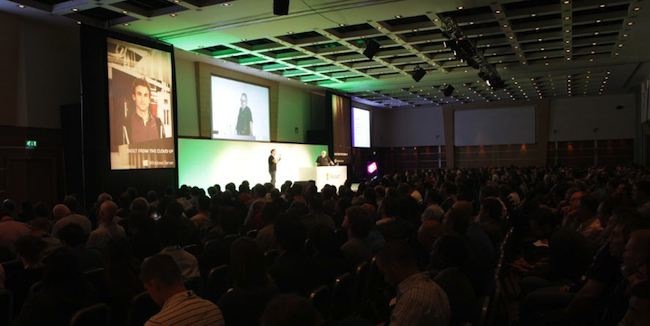 The Amiga was Commodore's response to the radical – but very expensive – Apple Macintosh, and your humble seventeen-year-old correspondent was one of the astounded and lust-stricken crowd at the show. Nobody had seen anything like the Amiga's multimedia capabilities before – or at least, not this side of dedicated workstations costing north of a year or two's salary.
Windows Server 2012 has a similar role towards VMware, or as a Microsoft rep half-jokingly called it, the "leading legacy virtualisation supplier". The 2012 version is a radical update to Windows Server, albeit it's not a big-bang version-one-point-zero product like the original Miggy.
WS2012 is of course the server version of Windows 8, which is the successor to the popular and successful Windows 7. Under the covers, though, Windows 7 cheerfully admits that it's really version 6.1 – a minor, mainly cosmetic update to Windows Vista.
The server versions are a bit more conservative and forthright – whereas "Vista Server," Windows Server 2008, was a big step on from Windows Server 2003, the server version of Windows 7 was just billed as "Windows Server 2008 R2", reflecting that it had few extra features or abilities over its predecessor.
This means that Windows Server 2012 is the server version's first big update in four and a half years, and Microsoft is ready for a new push. Windows Server doesn't really have any competitors as a multi-purpose file, print, Internet and applications server – its Unix-based rivals mostly focus on Internet servers and Java apps, and even the most integrated of the Linux server distros, such as SME Server, ClearOS or Zentyal, can't match it for features and really only aim for small businesses and single-server networks.
So with Windows Server a mature product on its ninth release and with no direct rivals, Microsoft clearly feels that the time is right to take aim at VMware. There's not much money to be made out of desktop and low-end virtualisation: Microsoft VirtualPC, VMware Player and Oracle's VirtualBox are all freeware, as are VMware ESX and Hyper-V Server on the server side of things.
VMware makes its real money on the more advanced features of its management platform vSphere – handy facilities such as the ability to migrate live running virtual machines (VMs) from one host computer to another. This is precisely the area where WS2012 moves significantly ahead of its forebears: virtualisation of IP addresses, Fibre Channel adaptors and storage arrays, plus direct support for locating virtual hard disks on remote fileservers, making it easier to move VMs around. This facilitates an important new feature: shared-nothing live migration.
And such is Microsoft's licensing scheme that all these premium features come bundled into the Windows Server platform, rather than as expensive extras – which will eat directly into VMware's pricing scheme.
Playing with the big boys now

So, at the UK technical launch, Microsoft was keen to talk about how tried, tested and proven is Hyper-V – that Bing has been hosted on Hyper-V since its launch and how Microsoft's Technet and MSDN have been running on WS2012 for over a year. The underlying message is, of course, that for four-year-old Hyper-V is ready for prime time, up against the eleven-year-old and now industry-standard VMware ESX Server.
Virtualisation aside, the message from the opening talks was "business as usual – but improved". Whereas Modern Windows 8 apps have a new style of user interface and new development tools, the same is not true on the server side, so the introduction emphasized that WS2012 would be something familiar: the same programming languages, the same administration methods and the same familiar platform, where existing apps and techniques can still be used.
For instance, one session was devoted to PowerShell 3, which is vastly expanded in WS2012. Another focused on Windows Azure, Microsoft's cloud offering, and how you could migrate existing server functionality and configurations into the cloud this way without retooling and rebuilding for Linux.
The Register spoke to some of the event attendees and found most of them were favourably impressed – although in some cases, unmoved. Many were consultants, either independents or from small consultancies, and for the most part were not running a lot of virtualisation at all – in several cases, none.
This was reflected when various speakers asked the audience to put their hands up if they were running a high-availability cluster, or hundreds of VLANs on their switches, or wanted 64 processors in a VM – and very few hands appeared. However, there are other new features of interest to them, such as simplified licensing, the new ReFS disk format and built in file deduplication.
But as the queue for after-talk sessions with speaker and MVP Aidan Finn showed, the people who want the high-end virtualisation stuff really want it and are very excited by the prospect.
Outside of the main talks an array of partner companies pitched their wares: XIO with hybrid SSD/HD storage blades, Datacore's storage virtualisation, Inframon's Microsoft System Center consultancy, Veeam monitoring tools and servers from Dell and Fujitsu.
All were upbeat – for instance, the server vendors noted that while Server 2008 didn't have enough compelling features to tempt everyone over from Server 2003, WS2012 does over both; and in any case, hardware from the 2003 era is now reaching the end of its life, so they expect a wave of upgrades from both the earlier generations.
It's high time to replace Vista-era servers – or even older ones – and WS2012 is what is going to do it.
It's designed to ease the transition, both by helping customers virtualise their older workloads plus annex extra capacity on demand from the cloud. It's going to be the destination of choice for those moving on up from the last three generations of Windows Server, and it's also Microsoft's response to the rise of both Linux and VMware. It's a big change, but it's a strong contender. It's going to be an interesting ride. ®
Windows Server 2012 - three videos
The View from a Systems Integrator
Steve Waterman offers advice for those who might be thinking of dipping a toe into cloudy waters.
A lightning bolt through Redmond's Cloud OS
Microsoft's Turi Widsteen and Jeff Woolsey give El Reg readers a lightning tour of the new product.
MVP takes us under the bonnet
Damian Flynn, a Microsoft MVP, tell us what is in the box - for developers and IT pros.
Bootnote
Join All-About-Microsoft's Mary Jo-Foley; Reg regular and ITwriting author Tim Anderson; MVP and co-author of the Great Big Hyper-V Survey Aidan Finn, representing Microsoft; and fellow Reg readers in a Live Chat to talk about what's in Windows Server 2012 and why exactly it's starting to turn the tide on market-leader VMware.
Speak your Brains on at 2pm GMT, 9am Eastern, 6am Pacific, on 5 November.
Similar topics