This article is more than 1 year old
Apple must apologise for its surly apology on its website on Saturday
But you can read the mandatory frontpage text here, now
Apple will have to apologise for its rubbish apology as well its patent infringement claims against Samsung when it publishes a statement on its UK website tomorrow.
The three sentence statement that Apple will have to display on its homepage will say:
On 25th October 2012, Apple Inc published a statement on its UK website in relation to Samsung's Galaxy tablet. That statement was inaccurate and did not comply with the order of the Court Appeal of England and Wales. A correct statement can be found at this link.
The link will then lead to a corrected statement in more detail on a separate page of Apple's UK site, patent lawyer Gary Moss - who was present in court - told the Register. The statement will have to run until December 14. Apple has 48 hours to post the correct statement, so will be expected to do so by midday on Saturday.
Samsung had complained that the initial apology which ran on the UK homepage last week did not comply with the spirit of the court order, and judges yesterday morning agreed with them.
Apple ran a print advert in the Guardian today, giving notice of the lawsuit judgment in Samsung's favour. A print ad appeared in the Financial Times yesterday.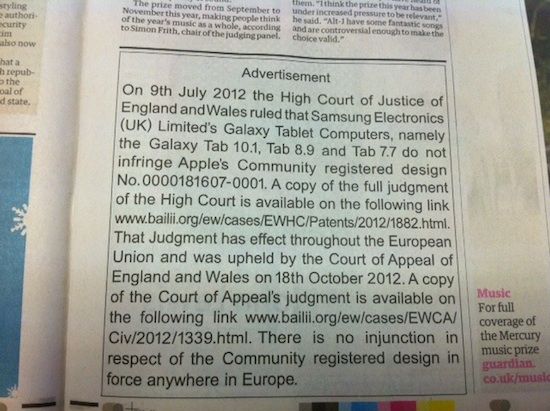 That statement in full, The Guardian, page FIVE, 2nd November
The iPad-maker was supposed to have run five print adverts by the 25th October - something it failed to do.
Moss said: "They held up their hands and admitted that."
Today's statement in the Guardian was a blink-and-you'll-miss-it box on page 5, that complied with the point 11 Arial font requested by the judges. We haven't heard about Apple statements in the other three requested outlets: the Daily Mail, T3 and Mobile Magazine.
It would be up to Samsung to allege contempt of court if they wished to.
We also owe thanks to Gary Moss for reporting the effect of a Register headline when read out in the courtroom yesterday, described as "throwing a petrol can onto the bonfire". ®