Nationwide to perform IT equivalent of 'replacing jet engine mid-flight'
On my count: Pull it all off mainframes and onto SAP
---
Nationwide Building Society will become the first big UK banking firm to pull its core computing functions off mainframe computers and run them on SAP servers in the next few weeks.
It's an operation that an insider described as like replacing the engine on a jet plane, mid-flight.
The launch of the five-year project is slated for this month. No Nationwide spokespeople were available for comment before launch but it's interesting to sketch out the benefits and risks of this pioneering computer change before it lands.
The £300m, five-year project - named Voyager - is in collaboration with IBM and CapGemini, and will plonk all the building society's banking transactions, previously crunched by Unisys and Fujitsu mainframes, on virtualised servers.
Germany's Deutsche Bank began a similar move off its 40-year-old legacy system to SAP in 2010.
Billed as a business transformation plan, 80 per cent of the cash will go on tech: configuring the SAP servers to do the same tasks that the Big Iron - the mainframe - has handled for decades.
The stated goal was to streamline business processes, improve turnaround, and speed up processing on applications and transactions.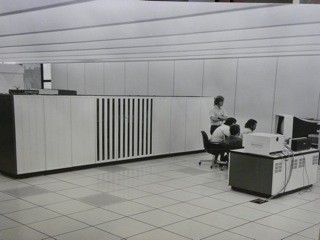 Mainframes have been at the heart of banking IT since they were
invented: An Amdahl 470V/6 mainframe computer from 1975
How it works now
Mainframes have clocked bank transactions since they were invented. They are huge computers, generally running z/OS, mostly produced by IBM and they process transactions in batches.
In banking, all the day's back-and-forth transactions are run up into batches and processed in sequence.
When you buy a £3 coffee on your card, that £3 will appear to be debited from your account and credited to Starbucks in real time but it won't be sent there until that night. The coffee transaction will be be filed up in a batch along with the millions of other customer transactions that day, and processed, in sequence, by the mainframe computer.
Mainframes work, but as the nature of banking changes - transactions have massively increased and there is more demand for real-time banking - Nationwide has decided they want them out.
Nationwide's director of business systems transformation Darin Brumby told Computing in 2008:
Our previous system was a known legacy infrastructure that was restrictive to Nationwide's future growth plans.
It is about performance not cost-cutting, Brumby said. And given the crash at RBS/Natwest over the summer, bank management is much more acutely aware of how important the performance of their IT is, and sensitive to the fact that cost-cutting can cost more if things go wrong.
It was a mistake configuring a batch for the mainframe that put 17 million accounts out of sync and sent the transaction processing centre juddering to a halt for several days. RBS had to spend at least £125m in compensation and other costs. Then there was reputational damage of course, particularly unwelcome in the banking sector.
So what have Nationwide got to gain by jumping ship to SAP for Banking:
Pros and cons
Getting the staff: New grads aren't coming out of uni trained in COBOL - the transaction processing language run on mainframes. Having more commonly used systems such as SAP means more people can use them. At a time when banks are going global, staff are employed around the world on short contracts, not trained for years in head office. Like the new labour market or not, it seems to be how the world is going.
Real-time: Having real-time transactions suits a world where the quantity of transactions has massively increased. Instead of having to wait for batches to fill up and clear, banks will know be able to locate their money and pinpoint transactions quickly, and it could help to catch anomalies quicker.
Flexibility: Mainframes are hugely expensive - both to buy and to maintain - and need to be run at close to max capacity to get a reasonable return on investment. Servers can scale up and down to demand and that's cheaper for banks.
Insights: SAP has bundled up its transaction software with business services and running the transactions through SAP servers will give banks a better grasp of what's going on and when.
And the risks? Transferring the transactions of a national bank mid-operation is a huge risk. But transfer terror aside - it's virgin territory for a bank of this size so it remains to be seen what the downsides are.
Bystanders will fear that some of the reliability and rigorous checking procedures built into mainframes will be lost.
Only one way to find out. ®
Similar topics
Narrower topics