This article is more than 1 year old
Oracle's mighty Sparc plug fries Fujitsu, bigs up new processor
El Reg drills into database giant's decision to go it alone
Analysis Oracle and Fujitsu may be partners when it comes to Solaris, but they are going their own separate ways when it comes to processor and system development.
A year ago, a senior Oracle bod hinted to El Reg that the new Sparc M4 processor will be produced by Oracle rather than Fujitsu, which ordinarily builds the M-series of cores. The new M4 will instead be based on the database giant's Sparc T4 and T5 chips, allowing it to run the Oracle VM Server for Sparc aka the LDom bare-metal hypervisor.
In effect, Oracle - which bagged the Sparc technology when it bought Sun in January 2010 - had grabbed the wheel from Fujitsu and slapped the M4 label over its own beefy Sparc T RISC architecture.
However since that time, Oracle has refused to talk about future Sparc M chips, which are aimed at midrange and high-end systems. And interestingly, in its public keynotes at last month's OpenWorld extravaganza, Oracle's top brass did not bring up these future M-series processors.
And, to be honest, in the absence of information, The Reg was beginning to doubt the veracity of what Markus Flierl, Oracle's vice-president of Solaris engineering, told us a year ago about M4 chips using T-series cores.
Fujitsu talked up its 16-core Athena Sparc64-X processor at OpenWorld and Oracle said nothing - so more than a few of us doubted that Oracle would invest in two lines of processors when Fujitsu had a perfectly good one in the works. It just seemed unlikely that, given the declining Sparc system sales for both Oracle and Fujitsu, the two corporations would go it alone and Oracle would etch its own M4 chips and not use the Athena chips in the Sparc Enterprise M servers. But that is, in fact, what is happening, even if the companies did not come out and say it expressly in their public statements.
Blotting the Ms and crossing the Ts
Oracle, to its credit, has been perfectly blunt about its long-term Sparc server roadmap: it very clearly outlined its goals with rough timelines. That is more than rivals IBM, Intel and Hewlett-Packard do with their high-end system roadmaps, which can be found if you mooch around the internet long enough for someone to accidentally posts something interesting.
At the OpenWorld 2011 show, John Fowler, Oracle's executive vice-president of hardware, showed a faster-paced Sparc T and M-series processor roadmap. Yet at this year's OpenWorld, Fowler only showed a stripped-down Sparc T-series chart, which showed the 16-core Sparc T5 processor being nudged back to early 2013.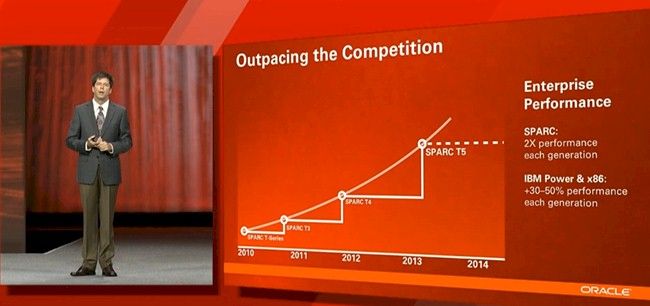 The Sparc T series roadmap showed by John Fowler at OpenWorld 2012
However soon after this year's event, Oracle published a new Sparc T and M roadmap [PDF] that shows the basic feeds and speeds of the next two generations of Sparc T and three generations of Sparc M processors - and their estimated delivery dates. These are the same processors Oracle has been talking about since it acquired Sun Microsystems, but as you can see they are shifting around a bit.
Here's the overall Sparc family roadmap that Oracle put out in September 2011: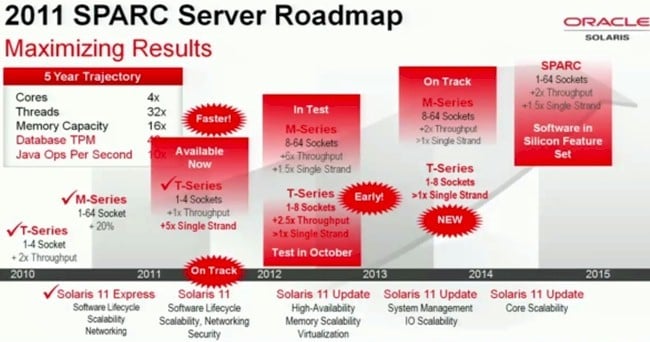 Oracle's 2011 Sparc processor roadmap
And here's the latest one, which Oracle popped onto its website in October this year but did not discuss in its keynotes: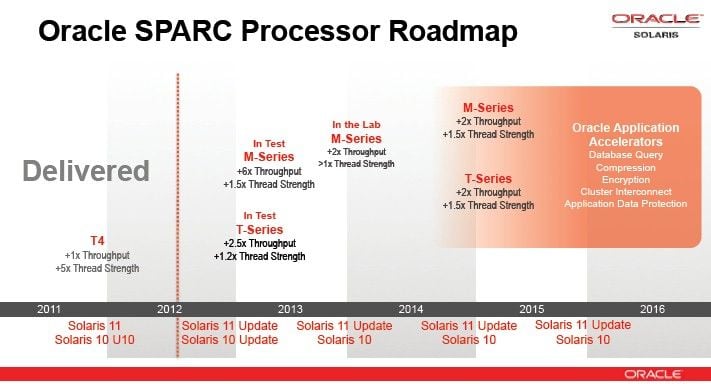 The 2012 Sparc processor roadmap
In late 2010, Oracle hoped to deliver the M4 chip by the end of 2012, and the Sparc T5 processors were due in early 2013 or so. Clearly the M4 chips have taken longer to come to market than expected. Most of us who watch the enterprise server space assumed that this delay was due to negotiations and collaboration between Oracle and Fujitsu on future Sparc Enterprise M servers.
In the 2011 roadmap above, the Sparc T5 processors, which Oracle divulged some details about back at Hot Chips in July this year, were due to be launched more or less with the M4 chips sometime in 2012. But as you can see in the latest roadmap, the Sparc T5s are back out in early 2013, where they originally were once Oracle took control of Sun, and now the M4 chips are pushed out a little further in 2013. The M5 processors, of which Oracle has said next to nothing, are still on the roadmap for early 2014, and now we know that the undefined Sparc chip slated for early 2015 is an M-series processor.
The other interesting thing in this 2012 roadmap compared to the 2010 roadmap is that there is a Sparc T6 processor, which was also on the 2011 roadmap slated for early 2014. It now looks as though Oracle is going to push the Sparc T6 chip out a year to early 2015 to coincide roughly with the Sparc M6 launch.
El Reg asked Oracle about this new roadmap and some tip-offs from readers about the M4 processors. As is usual, Oracle refused to make an executive available to talk about Sparc technology. (And kudos for the Solaris team for making execs available, as they have done at least some of the time.)
We've got all the M4 details we need, anyway
One reader, commenting on our report on the Sparc T5, linked to photos taken during a briefing that Oracle gave at OpenWorld 2012. The slides clear up any confusion sowed by Oracle and Fujitsu: M4 is not the same thing as the Fujitsu Athena chip.
The software guys at Oracle got it right, but conditions change and so do plans. With Fujitsu making it clear that it was going to converge its commercial and HPC Sparc64 processors, it was entirely possible that Oracle might tap the 16-core Athena Sparc64-X processors for its high-end servers instead of making its own M4 chip. It would have been called M4 no matter what, just like the Sparc64-VII+ chips are called the M3s.
If you poke around the intertubes, you'll see that the snaps were published by a Hungarian IT publication called HWSW, and were taken at a presentation given by Masood Heydari, senior vice-president of engineering for Sparc systems at Oracle. That story shows the basic specs of the Sparc M4 processors as well as the three new Sparc T5 systems coming sometime during the first half of 2013.
Let's talk about the Sparc T5 machines first. The T5-2 is a two-socket machine with cores running at 3.6GHz, and 1TB of memory. This is basically double the cores and main memory of the current Sparc T4-2 machine plus a 26 per cent clock speed boost as well as on-chip accelerators for databases and other functions. The T5-4 is a four-socket box with 64 cores running at the same 3.6GHz speed and backed by 2TB of memory. The T5-8, which is the real interesting box in the T5 server lineup, has eight sockets for a total of 128 cores and 4TB of main memory. That's a lot of computing to pack into something that looks like 8U of rack space.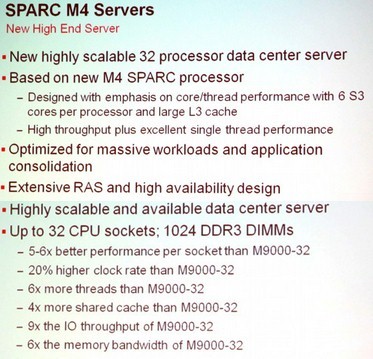 Specifications of the Sparc M4 processor and systems
In the 2011 Sparc roadmap, Oracle promised that the M4 processor would span systems with 8 to 64 sockets and offer 1.5 times the "single strand" performance (what you and I call the single-thread performance) of its Sparc64-VII+ (aka M3) predecessor and six times the throughput. As you can see from the current roadmap, Oracle is sticking to those basic performance specs with the M4.
And in the M4 presentation, which Oracle refused to share even though it knew the data was out there, we see that the new chip is a beefy version of a Sparc T series chip: it sports six S3 cores that debuted with the eight-core Sparc T4 processors and are used, in a modified form, in the forthcoming Sparc T5 chips. Those cores will share a 48MB L3 cache, a lot more than the 8MB of shared L3 cache used in the 16-core Sparc T5 processors. Presumably the S3 cores used in the M4 have the same 16KB L1 instruction and 16KB L1 data caches, and 128KB of L2 cache, that each S3 core has on the Sparc T4 and T5 processors.
You will notice that the new Sparc roadmap doesn't talk about sockets any more. That's because Oracle will step back to 32 sockets from the 64 first promised. The M4 system will have up to 1,024 memory slots and will use DDR3 main memory, and as Oracle pointed out when it announced the tweaks to Solaris with the 11.1 update last week, the main memory manager inside of Solaris has been updated to span up to 32TB.
"This brings a whole new meaning to the term in-memory database," Flierl told El Reg about Solaris 11.1, which has been fiddled with to support the M4 processors just as it can run on the forthcoming Sparc T5 parts and any upcoming x86 chips.
The Oracle M4 presentation says that the chips will have a 20 per cent higher clock speed than the M3s used in Sparc Enterprise M servers, which means that the M4 will run at the same 3.6GHz clock speed as the Sparc T5 chips. Oracle is also telling customers that the M4 chip will offer from five to six times the performance per socket as a 32-processor Sparc Enterprise M machine using the 3GHz Sparc64-VII+ processors. With eight threads per S3 core, the 32-socket M4 system will have six times as many threads as a Fujitsu-designed M3 box, and also sports six times the memory bandwidth and nine times the I/O bandwidth on top of that.
Oracle clearly feels it doesn't need to rely on Fujitsu for engines. Its CEO Larry Ellison can afford to indulge in his own two-cycle Sparc processor lineup. Fujitsu is committed to doing its own Sparc64 designs, too, for corporate as well as nationalistic reasons. More is certainly better for customers, particularly in the Solaris market, which saw innovation stall in the mid-2000s, leaving an opening for IBM to come in and take control of the Unix server racket. A resurgence of Sparc and Solaris would make this more interesting, that's for sure. ®