Tape is sexy again - so why can't Quantum stop drowning?
When the bathplug pops out you'd best get hold of the baby
---
Quantum's share price is dropping, dropping and dropping, despite positive product announcements and a general swing in opinion about tape storage products. So what lies behind its loss of 62 per cent of share value and market capitalisation in nine months?
We hear that, at EMC World in May 2011, the infamous "Tape Sucks" EMC World with its monster tape ball, Quantum exhibited its own backup-to-disk product, which competed with EMC's Data Domain product. Oops.
At the time EMC was Quantum's biggest reseller, accounting for some $25m a year of Quantum products sold. Quantum had been EMC's top Select partner since 2002. Happy days, but the happy days are over and that competitive product exhibition at EMC World seems to have been a catalyst.
Now EMC has signed a tape library reselling deal with SpectraLogic, which has become a Select partner, and Quantum is vanishing from the EMC reselling scene. An EMC contact said the Quantum partnership ended some time ago and, if EMC customers need a tape storage facility, then EMC will satisfy it via SpectraLogic.
SpectraLogic exhibited at EMC World in June this year (background info here) and, we can assume is getting the benefit of the 2012 equivalent of the $25m of tape library gear that EMC sold in 2010.
SpectraLogic is going from strength to strength. It has just been confirmed by a third person "familiar with the situation" that Amazon's Glacier archive service uses SpectraLogic tape libraries, thus enabling its low cost. If the world's biggest cloud storage service provider uses tape for long-term back-up, then there is a message there for every business needing to store petabytes of cool and cold data over the long term.
Of course Amazon is not publicly admitting it's using tape, almost as if it is embarrassed at using the technology instead of some whizzy-dizzy virtualised, object-storing, spin-down-disking DIY disk array technology. SpectraLogic won't or can't publicly admit it either and questions to its execs get nowhere.
Quantum not benefiting
Anyway, the net of it is that there is a renaissance beginning to be apparent in tape's fortunes, yet Quantum is not benefiting from it. Look at its results; revenues are trending down and it's making losses - the chart shows the picture.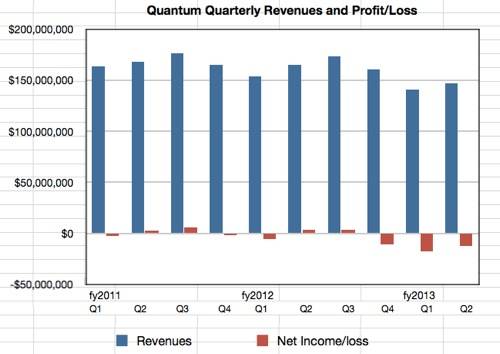 It's had sales problems, with weaknesses in enterprise tape sales, big deals, and Europe. It's also seen a big change in leadership, with a new worldwide sales head, Ted Stinson, appointed in June 2011, and a new European sales head, Xavier Guerin recruited from EMC Isilon in May this year, as this story showed, and this one too.
Steve Mackey, Quantum's Northern Europe sales director, left in June 2011, and was snapped up by SpectraLogic. With his experience of Quantum sales as an EMC Select partner he ought to be able to help SpectraLogic, EMC's new tape Select partner, capitalise on the EMC-Quantum deals that are coming up for renewal. Quantum must be hopping mad that its ex-sales exec is now helping SpectraLogic win deals in Europe coming in through the EMC Select programme door.
Quantum has also lost Mike Shrimpton, a European regional sales manager and ex-UK and Ireland country manager, who walked in September this year and joined Oracle in October. He joined Quantum in 2006 with the ADIC acquisition. See LinkedIn for details.
Investors losing faith
Quantum's stockholders appear not to believe in the company. They are aware of its shrinking revenues and size following a tape market shrink and the unwinding of the EMC Data deduplication deal as EMC bought Data Domain. The chart shows Quantum annual revenues and profits/losses from 2005 onwards to illustrate this: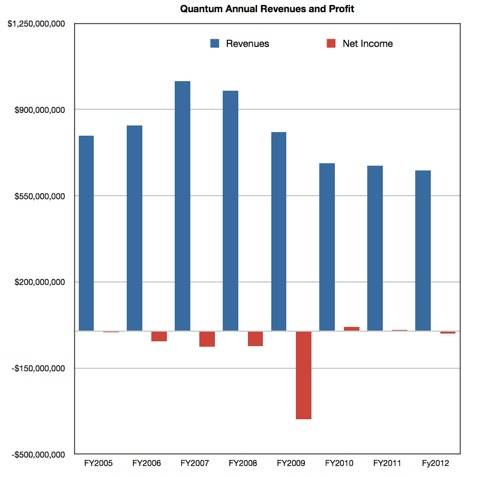 The steep revenue declines over 2008 to 2010 have stopped but revenues still declined, albeit more slowly. Two small profits in 2010 and 2011 were followed by a $9m loss in 2012, and the first two quarters in fiscal 2013 are showing a $29m loss. It ain't good. The puzzle is that it ain't so bad either, yet the share price is dropping.
Quantum is re-building, strengthening and extending its product and service lines. There has been a continual stream of good news throughout the year to this effect, such as adding Amplidata object storage to the StorNext file management product unifying disk and tape, and DXi deduplication product performance and price/performance improvements. Revenues are not falling off a cliff. Losses are not disastrous. Debt is being refinanced. Management has a grip and is working on its sales organisation, marketing, etc. Yet the share price sinks and carries on sinking.
Look at this Yahoo! Quantum stock price chart for 2012:

At the beginning of 2011 the stock price was $4.30. It started 2012 at $2.40 and climbed to $2.87 in February. It is now at $1.05, with precipitous declines in July and October. What is spooking the investors? Quantum is valued in market capitalisation terms at $252.5m. It was worth $689.3m in February, a fall of 63 per cent.
The loss of the EMC reselling deal is just another blow but not, you would think, enough on its own to send investors rushing to the door.
Questions
How long can this go on? Can the share price dip below a dollar without the board reckoning that a fundamental re-shaping of Quantum's strategy is needed? Is there a large company waiting to be built in prospect or, far worse, a smaller company waiting to emerge? Where is the big growth prospect in Quantum's product lines?
Can it, as a stand-alone data protection and storage data management hardware and software company, find a prosperous role in the market between the big beasts of EMC, Dell, HDS, HP, IBM, NetApp and Oracle on the one hand, and the software-heavy Symantec and small software data protection players on the other.
Is Quantum effectively in the same boat as Overland Storage, another, far more troubled tape system vendor, with no growth exit from its present troubles possible? That surely isn't be true but investors can't see the growth on-ramp for Quantum and management hasn't yet produced a magic rabbit from its collective executive hat, just floppy bunnies so far.
There's a saying: When the tide goes out you can see who's swimming naked. The economic tide has been going out and Quantum is swimming ... It needs to get a pair of Speedos on before the company's market capitalisation drops below $150m. At that point the board would surely get up off its collective ass and say enough is enough. ®