The Data Storage Institute (DSI), one of the many research groups at Singapore's Agency for Science, Technology and research (A*STAR), has taken the wraps off a hybrid disk drive said to consume less power than a comparable solid state disk while also being small and light enough enough to satisfy Intel's specs for use in Ultrabooks.
The 'A-Drive' is a 2.5 inch beast just 5mm thick, with a double-sided platter bearing 500GB on each side. 32GB of solid state memory is also aboard, along with the usual hybrid drive goodies that ensure frequently-accessed files reside in flash while the Fleetwood Mac albums you can't bring yourself to delete remain on spinning rust.
DSI executive director Dr Pantelis Alexopoulos told The Reg the Institute won't manufacture or market the drive itself, because its role is to develop storage technologies that others can productise. Singapore is home to several important players in the disk-making caper - Alexopoulos said storage is responsible for 11,000 local jobs, S$8.7 billion of revenue and S$1.5 billion of annual investment. DSI's research efforts are valuable because they help to preserve the island nation's status as a spindle hub for the storage industry.
The desire to remain relevant in the face of solid state disk was therefore the prime reason for the disk's development.
"I said to the disk industry: 'You will lose the market for Ultrabooks and for tablets and you will die'," Alexopoulos said. The disk industry pushed back. Alexopoulos said Western Digital's senior management retorted with a query about whether he was building a toy or something they can actually manufacture.
Alexopoulos is confident he's achieved the latter outcome and hopes A-Drive innovations like the new axial motor in the A-Drive give disk companies a fighting chance. The new motor is said to require 70% less power than competing components, thanks to arrangements that make for simpler gearing and allow lower torque.
Power consumption is so low, Alexopoulos told The Reg it is 12 or 13 per cent lower than that required by SSDs. Alexopoulos admitted to being surprised by that achievement and said it came about once the DSI team measured the amount of energy required for wear levelling, the technique SSDs use to shunt data around cells in flash to ensure slower burnout of the drives. When researching the A-Drive, Alexopoulos said DSI found wear levelling uses plenty of power and that a well-designed magnetic disk can therefore beat the all-silicon machines' performance.
The presence of a single ring-shaped magnet is also important as radial motors, the disk industry's current favourite, use eight smaller magnets and therefore require a more elaborate manufacturing process. Alexopoulos said manufacturing the A-Drive's axial motor requires five steps, compared to other motors' 70.
Another innovation sees the drive's CPU use its chassis as a heat sink. The chassis itself has been shaped to reduce vibration. A new head manufacturing process means more accurate reads and writes, while even imperfectly-made heads are recoverable for use in lower-capacity drives.
The news isn't all good as the disk spins at just 5400 RPM, well below the 15k drives beloved of storage speed freaks and also well below SSD speeds.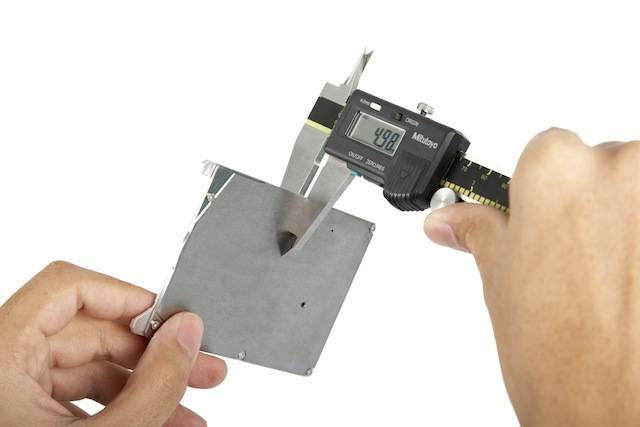 The A-Drive gets the caliper treatment
While DSI launched the drive amid considerable fanfare – Singaporean Ministers made the journey to a new five-star resort for its unveiling - Alexopoulos isn't sure if the drive will ever become productised. That's not a problem, as DSI is already discussing how various elements of its design could be used by component-makers that supply the big disk-makers. DSI has already had nibbles from the likes of Nidec, the globe's dominant drive motor maker.
System builders are also in DSI's sights, thanks in part to Intel apparently noting at a recent Beijing event that the A-Drive may not be an SSD, but ticks all the boxes to meet the Ultrabook specification.
Alexopoulos also said Taiwanese tablet-makers are considering the drive, as a one-terabyte tablet is an impressive differentiator given the locked-down Surface and iPad hardware specs. DSI has even run up a demonstration unit of the drive in the role of a small wireless NAS serving data to Android devices. Another potential application will see the drive paired with a small e-ink screen to form an iPod challenger with what Alexopoulos said could be seven days of battery life.
The data centre is also in DSI's sights, as it is keenly aware that a thin, cool, disk drive can deliver the desirable outcome of \greater storage densities in arrays.
Just when the A-Drive will land in the data centre or any other application is hard to say. But Alexopoulos, a suave Greek expat and former CTO of Maxtor, is very persuasive and feels Apple's recent decision to slot a hybrid drive into the iMac has given his baby a better chance of success.
And as your correspondent's taxi departed Sentosa Island, a government-decreed leisure zone dotted with theme parks, golf courses and resort hotels promoted as 'Asia's favourite playground', it was hard to imagine the A-Drive will not bob up somewhere, sometime soon. ®
The Reg travelled to Singapore for the Canalys Channels Forum. The A-Drive's launch conveniently took place after the Forum's final session.