We don't talk any more... on the commute
Do gadgets really make us antisocial?
---
Something for the Weekend, Sir? "Is this the train to Faversham?" asks a woman as she boards.
A regular commuter returning to the southeast London suburbs, I always get off at the first stop and have no idea where the trains eventually end up two hours later. "I'm afraid I don't know," I reply.
"What?" she cries incredulously. "Don't you know what train you're on?"
Later that night, I finally think up a withering reply along the lines of "No, you don't know what train you're on, you flatulent, hideous old bint," but alas it's too late. At the time that a withering reply would have been most effective, my actual response was "Er, um".
This pretty much happens to me every day. There must be something about my demeanour that makes people want to ask me about train schedules. Not just any people, mind: only the kind of people who would sprint into a station, dash along the platform and leap into my carriage seemingly without caring which train they have boarded until they see my face.
I once considered carrying some timetables with me for these situations but I have since settled upon a compromise response: "Faversham, I think," I exclaim. "I certainly hope so!"
I don't really hope the train goes to Faversham, least of all when it's supposed to be heading for Gillingham, but it makes me sound helpful and earnest but untrustworthy enough for the enquirer to seek a second opinion from someone else.
This flies in the face of everything I've read recently about people not talking to each other on public transport "any more". The argument is that the explosion in the availability and popularity of smartphones, e-readers and tablets has turned the workers of Britain into mindless robots, staring with blank faces into their digital devices at the expense of human interaction with those sitting next to them.
What utter cock.
For a start, these digital devices are switched on and displaying information: users are not staring blankly at blank screens but reading, watching, scrutinising and otherwise being challenged by what they see on them.
Half-life wife tells me that she was a bookworm as a child and her parents hated it. "All you do is bury your head in books!" they'd cry as if this meant she was doing nothing.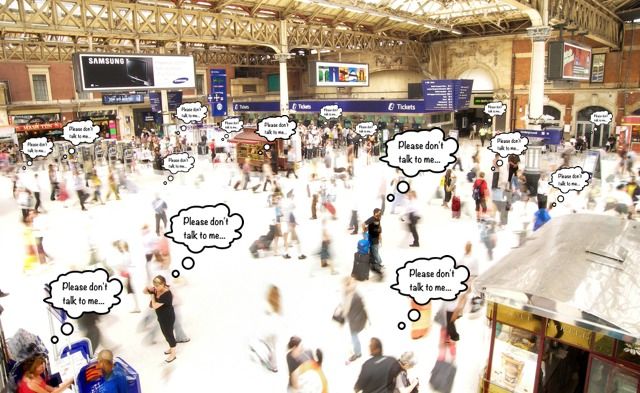 Original photo: Yandle @ Flickr
Secondly, what the hell does "staring with blank faces" imply? What kind of ludicrous facial expressions should we be expected to pull while reading an e-book or responding to an email or watching BBC News on iPlayer? Hilarity? Shock? Feline sensuality? Mild horror combined with sarcasm and sexual arousal with a hint of pessimism to express the ironies of this world?
My first full-time job involved commuting. This was in the late 1980s before the proliferation of handheld display devices, and let me tell you, no one spoke to each other then either. They read newspapers, browsed magazines, pored over books, listened to personal stereos, scribbled on printouts, stared into space or - get this, kids - smoked. With the exception of smoking, nothing's changed.
No, that's not true. By playing with digital devices, people on public transport are interacting with fellow humans like never before – but at a distance. It's like when my son sits in front of the computer for a whole Sunday playing games and I suggest that he go out and meet up with his friends, whereupon he explains that he is with his friends: they're all there, playing online with him, and they're all chatting and giggling away via their headsets.
In fact, my impression is that public transport has become noisier in the last ten years as people not so much talk to as shout at each other, whether on the phone or into each other's faces. Taking a regular train up to Leeds the other week, I found myself in the middle of a cacophony of chatty, laughing and generally lively conversations taking place all over the carriage. At one point, someone put on some music and, far from making a complaint, fellow passengers expressed their pleasure and simply shouted even louder over the top.
I didn't mind. I just plugged in my earphones and caught up on some episodes of Yu-Gi-Oh Abridged on my iPad. I confess I may have chuckled a little.
The other day, the inevitable guy who boarded the train only to interrogate me on my knowledge of South Eastern Trains timetables decided to sit next to me and talk. This was my fault as I should have seen him coming. I momentarily forgot the advice of a stand-up comedian - I forget who - saying that the best way to stop someone sitting next to you is to look in their eyes, raise your eyebrows, pout a little and rub the adjacent seat cushion in a circular fashion.
Anyway, this guy talked and talked. Specifically, and seemingly without a hint of irony, he talked about the fact that people don't talk on trains. He rejected out of hand my suggestion that people who aren't talking are probably thinking, and ignored my question when I asked him about his preferred alternative time and place for reading. Just incessant blah, blah, blah with nothing to say, like an American rapper.
People don't talk to each other any more? Hardly. You can't shut the fuckers up. ®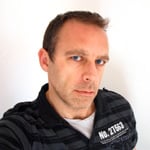 Alistair Dabbs is a freelance technology tart, juggling IT journalism, editorial training and digital publishing. Happy, happy, happy talk - not. He is a firm believer in keeping quiet when you have nothing to say... with the exception of this weekly column, of course.