Post-pub nosh deathmatch: Souse versus scrapple
El Reg mixes it up with the Pennsylvania Dutch
With the souse set for serving, we got stuck into scrapple, which is a mush of ground pork and cornmeal in loaf form, served as fried slices.
Our scrapple uses shoulder of pork ("pork butt" in the US) as the meaty heart of the recipe. If you want to get old school, then ask your butcher for hog offal, and throw the head, heart lungs, liver, etc, into the pot to create your scrapple base.
Here's the full roster of requirements...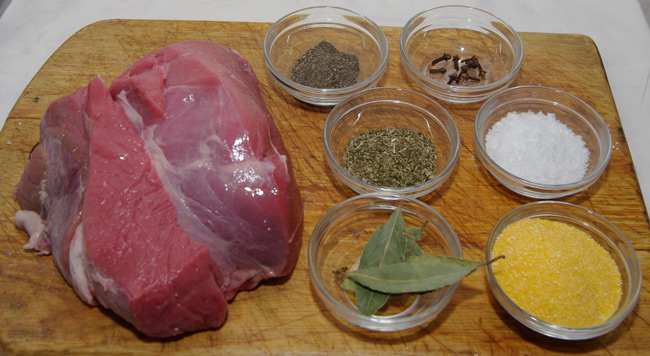 ...which comprise:
1.5kg pork shoulder
5g ground black pepper
8-10 cloves
5g dried sage
20g salt
2-3 bay leaves
500g cornmeal
Predictably, getting our hands on a proper coarse cornmeal proved impossible hereabouts, so we're obliged to Jude Karabus in El Reg's London bureau for arranging an emergency airlift of polenta, which worked just fine.
Here's the proof, in our step-by-step photo guide: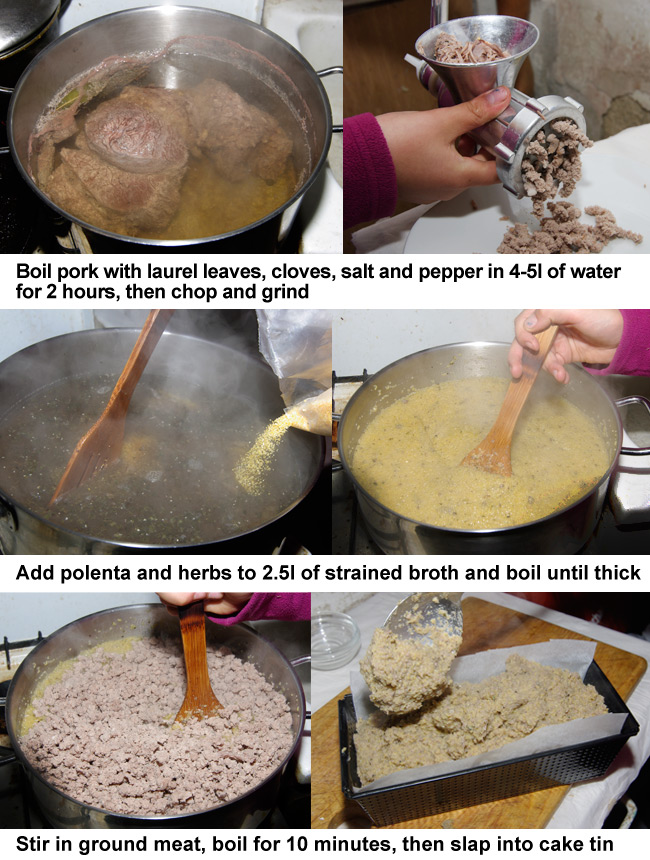 A couple of points. It's important to make sure the cornmeal mush is pretty stiff before you stick in the meat. The spoon should stand up in it, although it shouldn't be too thick. If if does look like it's starting to display the properties of drying concrete, stick in a bit more broth.
The seasoning is vital in scrapple. Check your brew and add extra to taste. You might like to throw in some thyme and nutmeg to the boiling broth, and we even considered adding a smidge of chilli powder, before deciding to hold on that for a future scrapple experiment.
It's worth lining the sides of the cake tin with greaseproof paper, as we did, since it helps get the scrapple out, after a night of solidification in the fridge: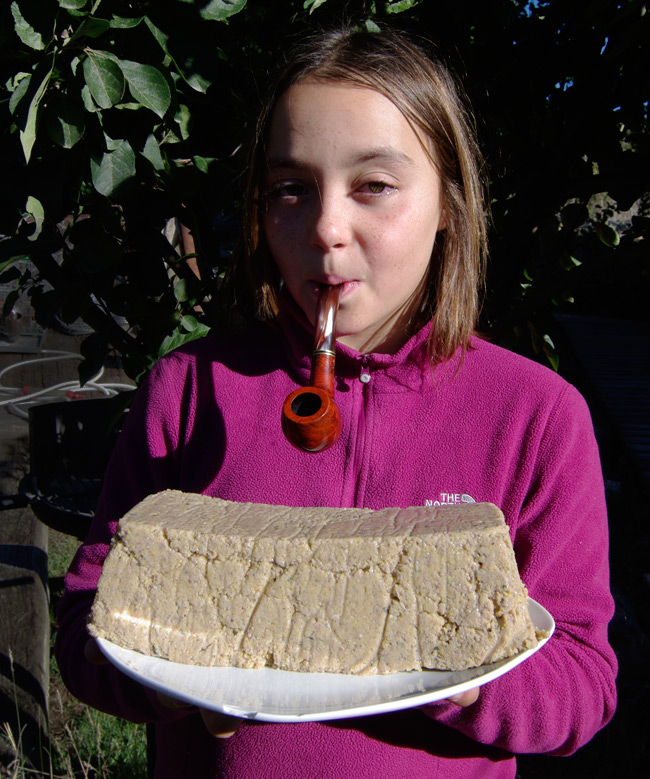 With our magnificent loaf ready to roll, we hit Bar Almanzor, in my local town of El Barco de Avila, where the usual tasting panel had already quaffed several ales in anticipation of the impending deathmatch.
The verdict on souse can be summarised as follows: Spaniards don't like cold tongue action. Local builder Fernando's face says it all: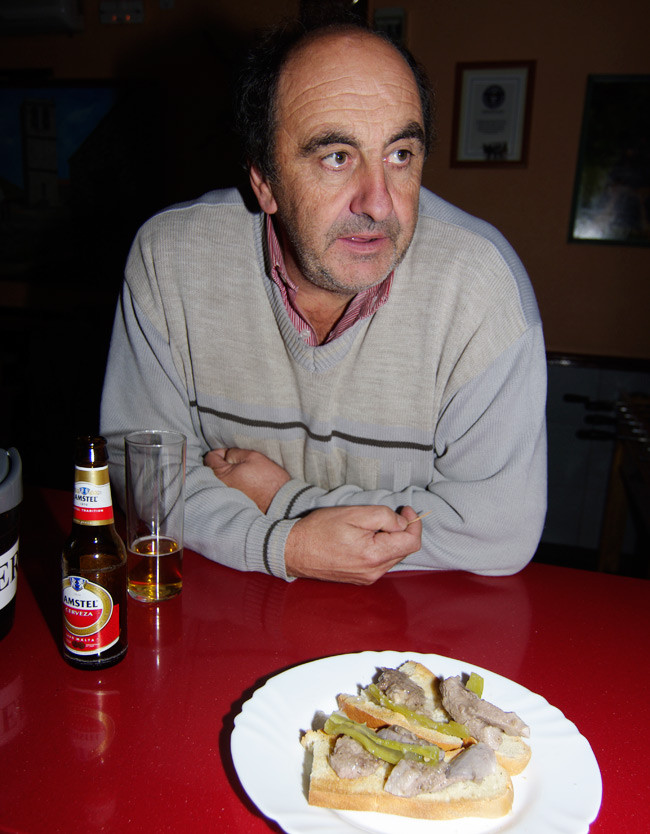 "It'd probably be fine if it was hot," he grimaced, ignoring my attempt to explain the effect of a microwave oven on the gelatin.
In fact, souse is delicious on a slice of toast, although I'm prepared to concede it's probably not to everyone's taste, and certainly won't be gracing Fernando's plate again in the near, or indeed distant, future.
It's safe to say, though, he'd neck another platter of scrapple at the drop of a hat, as would his missus Lourdes and bar owner Juanjo: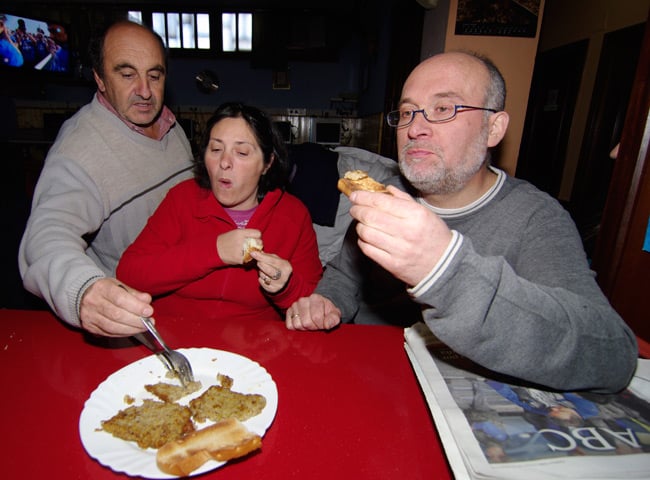 Likewise, my daughter Katarina didn't take much persuading to get stuck in with a fork: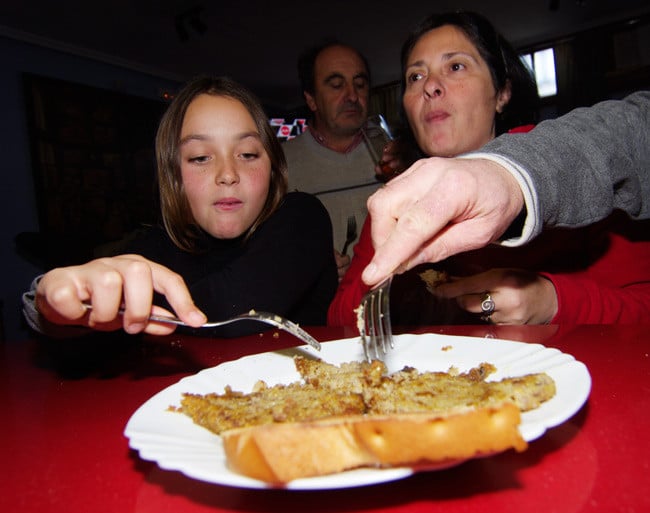 The result of this deathmatch is pretty clear, then, although to my mind both recipes offer excellent post-pub fare, once you done the legwork.
Souse has the advantage of being available for immediate consumption, while you actually have to go to the bother of frying scrapple, if you can manage that in a sozzled state without torching the kitchen.
A safer option is to reserve your scrapple for the hangover breakfast, which is exactly what I did. Delicious...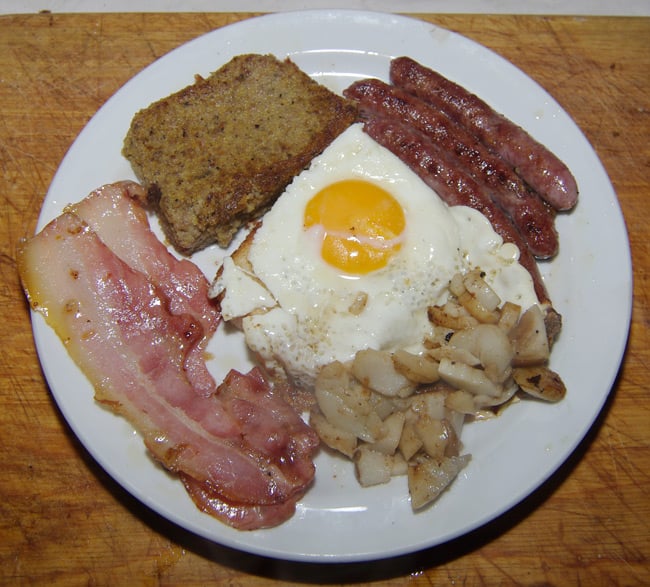 For the record, the above platter boasts a special treat: fried Boletus edulis - the cep, or penny bun mushroom. Thanks to Tito, he of Bar Tito and our Paper aircraft Released Into Space (PARIS) mission, for donating a couple for my post-post-pub-deathmatch fry-up. ®
Bootnote
If you'd like to nominate your favourite nosh for a future deathmatch, we welcome suggestions here.