This article is more than 1 year old
Pristine WWII German Enigma machine could be yours
A lot cheaper than capturing a Nazi submarine, too
A World War II German Enigma cipher machine is on the block at Bonhams, the London auction house, this month.
The 1941 oak model, described as an "extremely rare example", is expected to go under the hammer on 14 November for an estimated £40,000-£60,000.
In 2010, a 1939 Enigma fetched £67,250 at auction - that model was furnished with a modern power supply and had some restoration. The Bonhams machine is in working order, completely untouched and unrestored, Bonham's Laurence Fisher, says.
"Many machines were picked up by the allies as souvenirs during the final stages of the second World War and as such, in later years, tended to be 'mixed and matched', where rotors, outer cases and head blocks were replaced with another machines' parts. This one has all elements bearing the same serial number, making this totally complete and original throughout."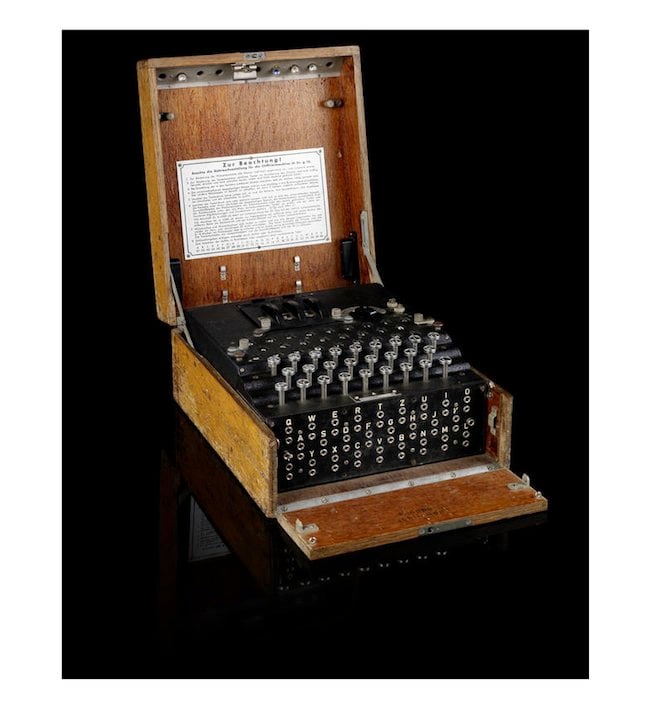 Built by Heimsoeth and Rinke in 1941, this Enigma is the 3 rotor version, used by Germany between 1938 and 1944.
Turing Bombe
Some 100,000 Enigma machines were made in all, but only a few bore the Enigma name and logo. By 1939, most Enigmas were in use by the German military.
Military Enigma machines have three rotors, each with 26 positions, to create 17,576 possible combinations for each letter. They were thought to be unbreakable, but in 1940, British code breakers at Bletchley Park designed the Turing Bombe, an electromagnetic machine which automated the process of cracking Enigma code.
The website Dirk Rijmenants' Cipher Machines and Cryptology has a very good account of Enigma, complete with technical details, here. ®