This article is more than 1 year old
Atlassian junks nine years of user forums
Sparks up UI with gamified Q&A
Atlassian has cast the concept of user Forums to the "IT history books" overhauling its nine year old system to a gamification based, community curated Q&A site, Atlassian Answers.
Answers was launched last year as a successor to Atlassian Forums. The two ran concurrently for a time, but the Forums are now history.
Atlassian insists the nine years of conversations in the Forums won't be missed.
"With mouldering content, a growing spam issue, and outdated systems architecture, the time was nigh," Atlassian Director of Audience & Community Jon Silvers said on the company blog.
When designing Answers, Atlassian focused on the user experience, constantly making changes to OSQA, the open source app that powers Atlassian Answers,that included redesigning user profile pages, developing authentication through my.atlassian.com and creating an entirely new list of badges. To amplify the user experience Answers also rolled out gamification tricks such as 'Karma' reward points.
The new platform has 10,300 users, with over 19,000 questions asked and an answer rate tracking at 85%.
The company also emitted the death notice below. The caption is Atlassian's.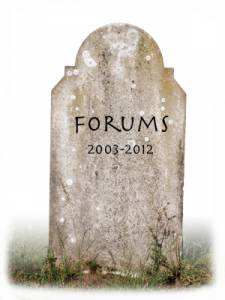 On its deathbed, Atlassian Forums whispered, "remember the LISTSERVs,"
before one last HTML exception took it down
Atlassian has also bolstered its reputation as the leading technology house to work for winning two Australian HR Awards for Best Recruitment Strategy and Most Innovative Use of Technology awards.
The software house was recognised for the "Europe, We're Coming to Steal Your Geeks" campaign in which the company set out to hire 15 developers in 15 days with a bus and pub tour through four European cities.
"Finding talented engineers in Australia is possible, but not easy due to a technical skills shortage we're experiencing in Australia. We decided to draw programming talent from Europe by showing them the benefits of relocating to our Australian 'Silicon Beach',"said Atlassian's Vice President of Talent Joris Luijke.
Atlassian's in-house developed MoodApp, an iPad app created to monitor staff mood secured Most Innovative Use of Technology award.
iPads are strategically positioned at the exits of all Atlassian buildings globally, the app asks employees questions about different aspects of their workday and then automatically shares the updated aggregated survey responses. ®