Detached Retina
I won't defend Apple over this. The inability to view every pixel of an HD movie on a display only 160mm wide is something that will matter to some people more than others. You can play at 720p resolution externally from the iPad Mini wirelessly using AirPlay and an Apple TV, or physically through an HDMI cable and a £39 Lightning-to-VGA or -HDMI adapter.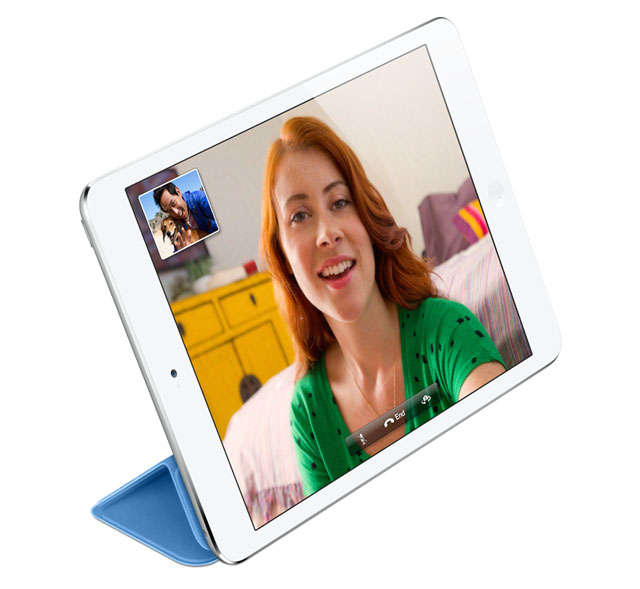 FaceTime supported by a mini Smart Cover
As usual, Apple stands to earn plenty of moolah by selling a whole new generation of adapters like this, having ditched the long-standing 30-pin connector for its smaller Lightning connector as first seen on the iPhone 5.
You can, however, capture video in 1080p and 720p, or photos in 5Mp or 1.2Mp, with the tablet's rear- and front-facing cameras, respectively. Unfortunately, the miserable weather over the weekend made it impossible to test these thoroughly, and there's no iPhone-like flash to assist with indoor shots. But I felt a lot less conspicuous holding up a Mini to take a picture than I did last time I took one with a regular iPad. And I do see a fair few folk out and about taking photos with tablets.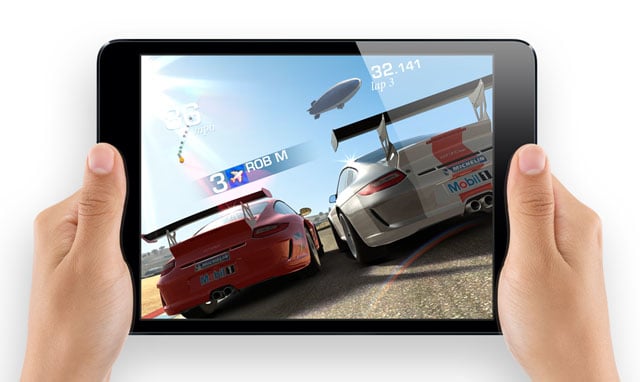 Makes light work of gaming
Apple's iOS framework continues to prevent you from doing anything as simple as transferring videos and images from device to computer via a cable, or even directly over the air by Wi-Fi or Bluetooth, at least not without running iTunes. Third-party file-transfer apps, such as Ecamm's PhoneView, will at least let you drop files over a cable into downloaded apps' sandboxes.
The iCloud service and improvements in iOS 6 have made it a little easier to share your media files but getting at your 100MB+ videos continues to be a major pain in the arse. Email them to yourself? Yeah, right.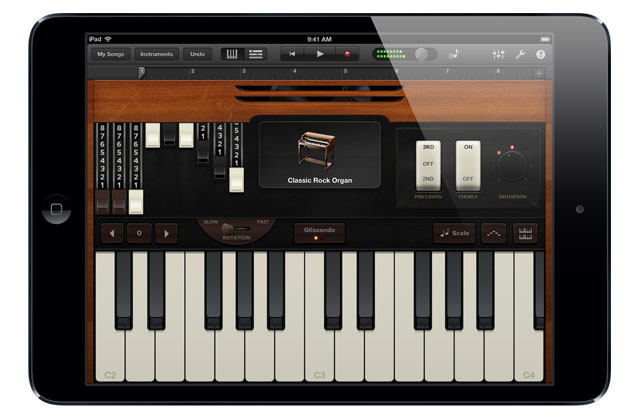 Thumbing a tune on GarageBand
I don't want to brush these limitations to one side, but it's one thing to bitch about Apple's connectivity policy and another to pick up an iPad Mini and play around with it. The size and weight make it ideal for so many everyday situations. I wouldn't dream of heaving out my iPad 3 to read a book or newspaper or magazine on public transport for fear of dropping it or having it stolen, but I don't think twice about whipping out the iPad Mini.
Somehow playing a quick game, dashing off a brief email, interacting with Facebook and twiddling with Garageband – with thumbs! – seems so much more convenient on a smaller screen, as any iPhone owner will tell you. Frankly, I couldn't leave the bloody thing alone. Even back at work, the iPad Mini took up so little space on my desk that I left my full-size iPad in my bag.