Brocade barges into virtual networking with Vyatta buy
Virtual switch and OpenFlow controller needed
---
Brocade Communications started out lashing servers to storage, but through its acquisition of Foundry Networks four years ago it jumped into the Ethernet switch and router business. Since then, it has been driving convergence across server and storage switches, following the lead of rival Cisco Systems. But convergence is not virtualization, the next phase in networking, and so Brocade has snapped up virtual networker Vyatta.
Financial terms of the Vyatta acquisition by Brocade were not divulged, but Brocade is paying all cash to acquire Vyatta. The company has raised $40.8m in four rounds of funding, including infusions from ArrowPath Venture Partners, Panorama Capital, and Velocity Interactive Group back in 2006 with Comcast Ventures, Citrix Systems, and HighBar Partners, and JPMorgan Chase kicking in funds during the later rounds.
Considering the huge multiple that VMware paid for virtual networker Nicira, which cost the server virtualization juggernaut a cool $1.26bn back in July, Brocade could have paid a pretty penny for Vyatta, but probably not anything on that order. For one thing, Vyatta has not developed an open source virtual switch, which runs on hypervisors and plugs into virtual machines, and for another, it has not created an OpenFlow virtual switch and physical switch controller.
Also, most importantly, Brocade doesn't have billions to throw around like VMware does. The company doesn't announce its fiscal fourth quarter financial results until November 19, so we don't know how much dough Brocade has in the bank right now. But as the fiscal third quarter came to an end in July, Brocade had $581.4m in cash and short-term investments and $621.2m in debt. So technically, Brocade doesn't have any money with which to buy much of anything.
Vyatta will be tucked up into the Routing, Application Delivery and Software Networking Group at Brocade, which is headed up by vice president Ken Cheng. Brocade said in a statement that it expected the all-cash deal to be finalized by the end of the year.
If Brocade did have more money, it might even take a run at Big Switch Networks, which has developed an OpenFlow controller and which just trousered $25m in Series B funding last week.
Vyatta was founded in 2005 and brought out its first big release two years later. The company has created a virtual router, suitable for replacing chunks of Cisco's ISR and ASR router lineups; and a virtual firewall; and virtual private networking appliances that are aimed at Cisco's ASA security appliances. Vyatta has been chasing other makers of routers, VPN appliances, and firewalls, too. But Cisco is the big target.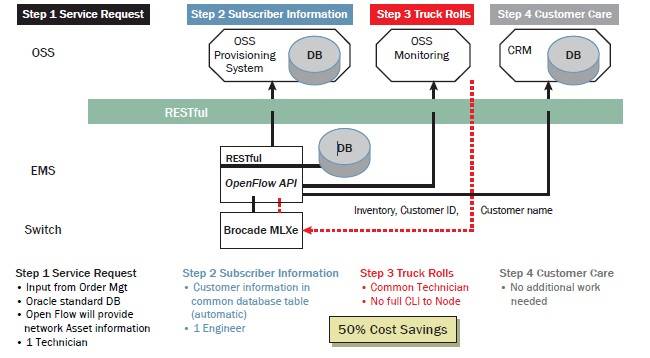 SDN provisioning as Brocade sees it
The Vyatta Network OS is open source and based on a variant of Debian Linux. Like many open-source software suppliers, Vyatta has an open-core model, where the core product is open source but if you want extra goodies, you need to buy a support contract to get access to them. In this case, if you want to move beyond command line to a GUI interface, you need to buy Vyatta Network OS Enterprise Edition, and you need to buy that support if you also want access to the integrations with the CloudStack and OpenStack cloud control freaks, the Chef and Puppet management tools, or the RESTful API stack for programmatically controlling the network OS. The support contract also entitles you to access other minor releases that have not been opened up.
With the Vyatta acquisition, Brocade now has physical and virtual routers and could decide to move out into virtual switches and OpenFlow controllers. The vPlane routing software, previewed in April (but not yet shipping), already splits the Layer 3 forwarding plane from the control plane, as is the style in OpenFlow networks. It is hard to imagine Brocade staying in physical Layer 2 switching but not engaging in virtual Layer 2 switch, too. So expect more noise here, depending on how much money Brocade has left after eating Vyatta. ®